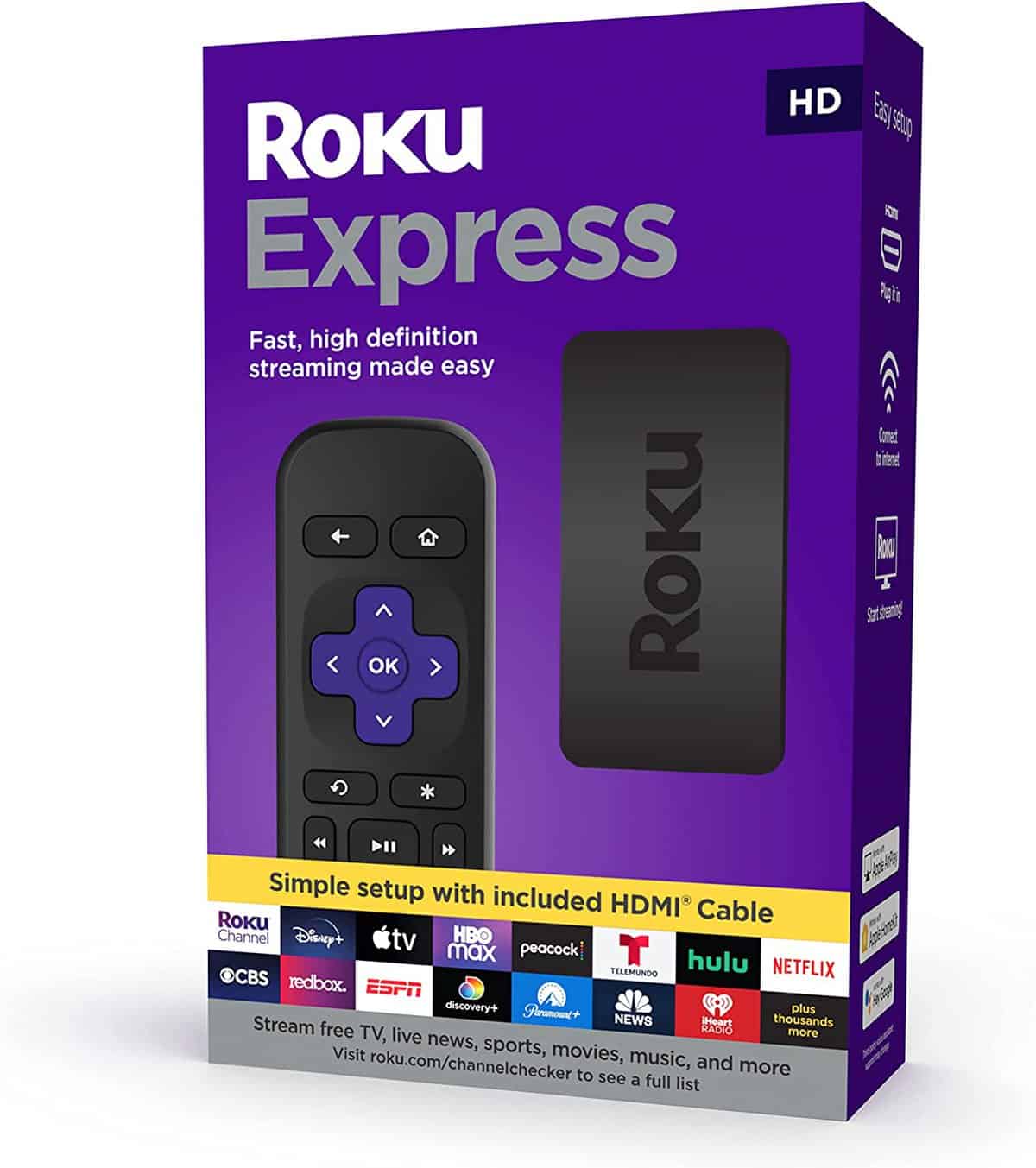 Last Updated:

More people than ever are 'cord-cutting', deciding to ditch traditional cable TV and opt for online streaming services instead.
For those considering the switch, Roku is one of the most popular smart platforms available, with hundreds of millions of users worldwide.
It lets you access a variety of video streaming services through your TV or monitor – all you need to get started is a good internet connection, and either a Roku box, Roku stick, or Roku-compatible Smart TV.
Let's take a closer look at what Roku has to offer.
What is Roku?
Roku is a smart platform – it's software that lets you run apps for streaming services like Netflix, Disney+ and more. Some TVs come with Roku built-in as their smart platform, but for others you might need to plug in a separate Roku device.
Roku is one of the companies that pioneered home video streaming, with more Roku products installed than Google Chromecast, Amazon Fire TV, and Apple TV.
Roku Pros and Cons
Pros
Roku has one of the easiest interfaces to navigate
Enjoy a massive range of channels and apps
Some models support 4K and HDR including Dolby Vision
Cons
Regular software updates can be unreliable
Best features are limited to a pricey device
How do Roku devices work?
Many modern smart TVs come with Roku pre-installed – TCL models in particular. For those that don't, you'll just need to plug a Roku device into an HDMI port on your TV, and then follow the on-screen instructions to connect to your WiFi network. Then you can start signing into the specific apps or downloading any that aren't on the device as standard.
There are four Roku devices to choose from:
Roku Express
Roku Express
Features
Voice assisted, Apple Airplay
Roku Express 4K+
Roku Express 4K+
Connectivity
Premium HDMI cable
Features
Voice assisted, Apple Airplay
Roku Streaming Stick 4K
Roku Streaming Stick 4K
Connectivity
Built-in HDMI
Features
Voice assisted, Apple Airplay
Roku Ultra
Roku Ultra
Connectivity
Premium HDMI cable
Features
Lost remote finder, voice assisted, Dolby Atmos
The Roku Ultra is definitely the one to go for if you don't mind the extra cost upfront. You'll only get the most out of it if you have a soundbar or home cinema with Dolby Atmos support, but it is more powerful, so that already fast interface becomes lightning-quick to navigate.
What channels are on Roku?
The channels available on Roku vary depending on where you live. In the US, all of the major streaming apps are available including Disney+, Apple TV+, HBO Max, Peacock, Netflix, Hulu Plus, ESPN, Paramount+ and Discovery+. Prime Video isn't advertised on the Roku packaging, but it is available too.
And that's one of the reasons why Roku is great – if your smart TV or games console doesn't have all the apps available, then you have to switch back and forth between inputs when you want to watch a different show or movie. Roku brings everything together in one place.
There are some more niche options too, with hundreds of apps you can download, including fitness channels, weather apps and more.
ost people will stick with the bigger names, but you can get lost down a bit of a rabbit hole once you start scanning the channel store.
Roku voice control
If you have the Roku Express 4K, Roku Streaming Stick 4K or the Roku Ultra, you can use voice control to save the effort of typing in search requests using a remote.
It's really easy too – just hold down the voice search button on the app for a second, and you'll be prompted to speak into the remote. It's pretty good too – it doesn't tend to struggle with accents and can determine what it is you're looking for pretty accurately most of the time.
These same devices also work with other voice assistants, so if you've got Google Home, Alexa or Siri speakers then you can also ask those to fire up an app while you're in the kitchen prepping the popcorn.
The Roku app
The Roku app turns your phone into a second remote, which is great when one is on the other side of the room, and you don't want to give up the comfy spot on the couch. You can use it to navigate menus, download channels and search with voice controls.
Plus, Roku can play the audio through your phone, so just connect some headphones and you don't need to disturb anyone else with your movie.
Roku: FAQs
Is Roku Free?
A lot of smart TVs these days come with Roku pre-installed, and if this is the case, it's free. Otherwise, you'll need to buy a Roku device to connect to your TV. This is a one-off cost – the Roku platform itself doesn't have any subscription costs involved, nor does the Roku channel that's included. But, if you want to use apps like Netflix, Apple TV+ etc. you'll need to pay the subscription fees for those.
Can you cast to Roku?
Yes, you can cast from your mobile device to any of the Roku devices. It works with regular casting or with Apple AirPlay, making it effortless to either mirror your screen as you browse social or to share photos, videos and more from your phone.
How do you add channels to your Roku?
You can add channels to Roku via the device itself or the mobile app, and it's straightforward. On your Roku, just press the 'Home' button, choose 'Streaming Channels' from the menu, select which you'd like to add, and then click 'Add Channel'.
If you're using the app, just select 'Devices' on the home screen, tap 'Channels', and then make your way to 'Channel Store' to find the ones you want to download. When you next go to use your Roku device the channel will be waiting for you.
Final Word
So, what is Roku? It's probably the best streaming device you can add to your TV. The reason that Roku's so popular is because it just brings all the rest of your apps together in one place, and it's really responsive too, especially if you pay a little extra for a Roku Ultra.
You won't be waiting long at all for apps to load, and you'll have no trouble bouncing between boxsets or movies across different platforms with barely any delay.