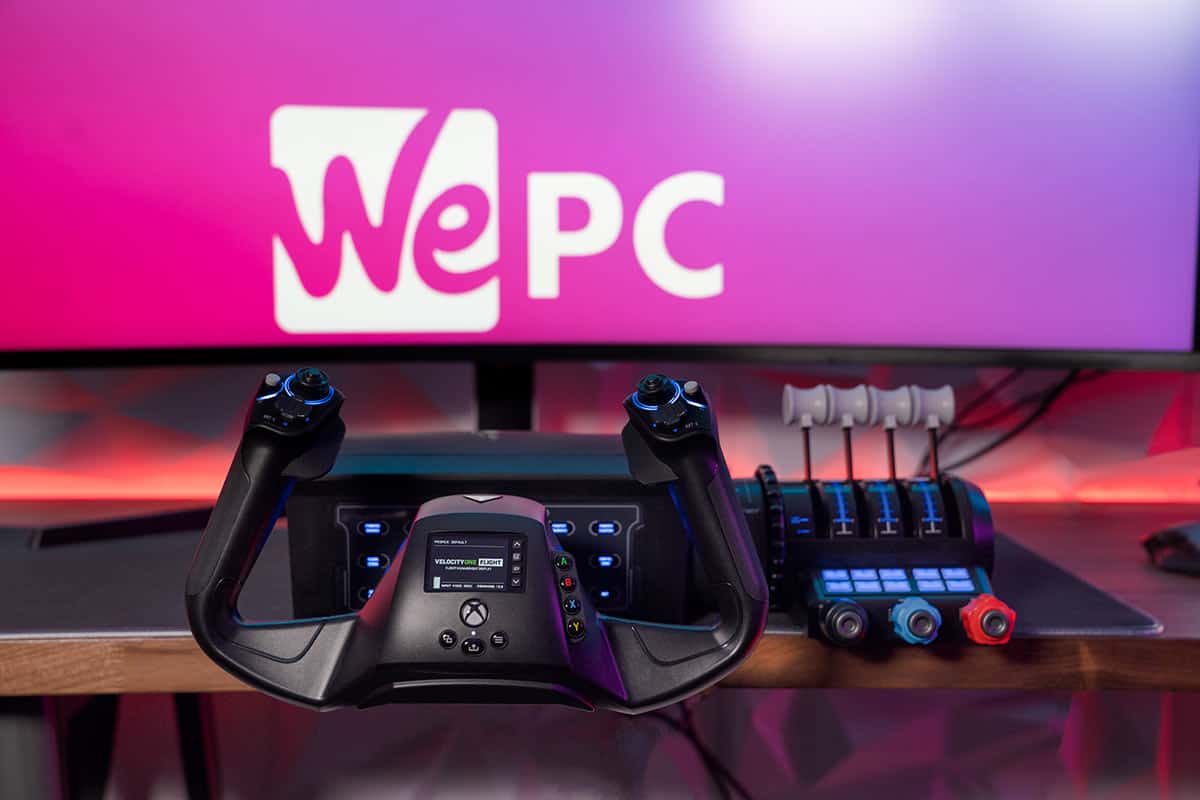 Last Updated:

Word of an approaching flight sim controller spread quickly around the WePC office. We're no stranger to top-tier tech, ranging from huge gaming monitors like the Samsung Odyssey Neo G9 to haptic gaming headsets like the Razer Kraken V3 Pro HyperSense. Despite this, we've never had a full-on flight sim control system in the house. Happily, this changed when we took delivery of the Turtle Beach VelocityOne Flight Universal Flight Control System. This is a particularly exciting time as it allows us to write our first ever review of a HOTAS, well, technically, a HOTAS-adjacent product. So, let's take a closer look to see what the VelocityOne from Turtle beach has to offer.
Turtle Beach VelocityOne specs
Turtle Beach VelocityOne Flight Universal Flight Control System
Connections
USB, 3.5mm jack
Compatibility
Xbox Series X/S, Windows, Microsoft Flight sim, Games with HOTAS support
Axes
12 Axes. Hall effect sensor on main yoke axis. Optical encoder (trim wheel) and variable resistor (levers)
Buttons
2x 8-way POV switches, 2x 4-way HAT switches, 6x front-facing push buttons, 2x rear-facing push buttons, Xbox system buttons, 10x quadrant buttons
Pros



Perfect integration with Microsoft Flight Simulator




Tactile controls




Vivid reactive lighting




Flight management screen is very useful




Great levels of immersion




Attractive overall design
Cons



Too much plastic




Some build quality issues, for example, the loose throttle levers




At $350, might be out of budget for many people
Xbox Series X/S, Windows, Microsoft Flight sim, Games with HOTAS support
12 Axes. Hall effect sensor on main yoke axis. Optical encoder (trim wheel) and variable resistor (levers)
2x 8-way POV switches, 2x 4-way HAT switches, 6x front-facing push buttons, 2x rear-facing push buttons, Xbox system buttons, 10x quadrant buttons
Flight Management Display – Full color, 320 x 230 with adjustable backlight
RGB LEDs, adjustable via VelocityOne™ Flight Management Display
12x RGB LEDs with 3x included swappable backlit status panels
Integrated desk clamp, 3x threaded hard mount holes
Given our inexperience with flight controllers, this review will be a learning experience, and we can't wait to get into it. So, let's start with some familiar areas of focus, before moving into the more aviation-specific aspects of this review. Let's have a look at the unboxing and setup process of the Turtle Beach VelocityOne.
What's in the box & setup
The VelocityOne comes in a pretty huge box for a gaming peripheral, measuring 53.5cm wide, 36cm in height, and 25.5cm deep. Similar to the Turtle Beach Stealth 600 headset, the box is constructed with pretty sturdy cardboard and bordered with Xbox livery, alongside some featured images of the VelocityOne, with an annotated image showing the controls on the reverse.
Opening the box we are greeted by the steering yoke and throttle quadrant side-by-side, in their own cardboard inserts wrapped in plastic. Given the amount of cardboard and plastic wrapping, we are fully confident in the safety of the VelocityOne during transit, which is unsurprising as it goes for $350, so Turtle Beach has put enough effort into the packaging to ensure that they won't have to replace one broken during delivery.
The setup was simple enough, just open the flap positioned behind the yoke and grab the included hex key, Then unscrew the two bolts to extend the clamps until they can slide over the edge of your desk, then re-tighten them to secure the VelocityOne to the desktop. For the hardcore flight sim enthusiasts among you with a proper cockpit setup, there are also three threaded screw holes on the underside that are spaced as such to be compatible with the standard mounting setups on most flight sim cockpits. These will result in a far more solid fit than clamping the VelocityOne to a desk.
It's worth noting here that it won't mount 100% securely if you have a desk pad as tightening the clamps to a point where it doesn't move around results in the rear of the yoke housing lifting off of the desk. If you choose to move your desk pad, Turtle beach has also included sticky anti-vibration pads for a very secure fitment on a standard desk.
After this simply connect the helpfully color-coded USB Cables. The blue one goes from the throttle quadrant to the main housing and the red one goes from the main housing to a vacant USB port on your PC. After this, the VelocityOne will be recognized automatically by any compatible game.
Design
Given that the VelocityOne is designed specifically (though not exclusively) for Microsoft Flight Simulator, Turtle beach was limited in how creative they could be with the design and general layout as they had to adhere to pre-existing slight sim control conventions.
Despite this limitation, we really like how it looks. Front and center we have the 320 x 230px full-color screen, with the inevitable Y, X, B, and A buttons in a vertical row to the right. Positioned behind the yoke there are 12 backlit status indicators, saying things like 'FLAPS DOWN' and 'MASTER WARNING', which we have to assume are fairly worrisome.
To the left of the yoke housing is where the throttle quadrant clips in, this is also fully backlit with four individual throttle levers and three plungers. The levers come with replacement caps of different colors and shapes, presumably so you can color-code them to assist in remembering which one does what.
Between the levers and plungers, there is a bank of ten individually backlit fully programmable buttons to assist you in your piloting duties, and to the left of these, there is a trim wheel to help keep your flight perfectly level. Overall the design is both ergonomic and utilitarian, with everything closely mirroring the interior of an actual cockpit, at least to our knowledge. Regardless, during our testing period, there was a pretty tough learning curve to get over, but the layout of the controls and vivid lighting certainly helped.
Build quality
Large parts of the Turtle Beach VelocityOne are built super solidly, others would benefit from a little more reinforcement and a little less plastic. The largest cause for concern is the housing for the yoke. It's made from very cheap-feeling plastic and produces a very hollow sound when tapped, which makes suspect that it's mostly empty.
Moving closer to the main yoke things begin to improve, with the yoke connected via a firmly sprung chrome stanchion. We aren't exactly sure how the resistance is dialed in, but it feels fantastic with pulling up and down producing some agreeably firm resistance. Rolling your aircraft of choice on the longitudinal axis presents less resistance, and we find the relationship between the two to be bang on.
The yoke itself is constructed from the same nasty plastic as the main housing which is unfortunate, as you can twists the handles far too easily, which has the potential to cause damage when steering aggressively to avoid dive-bombing a mountain in Microsoft Flight Sim or performing evasive action to avoid a dastardly space pirate in Elite: Dangerous. The grim plastic, however, brings us to a section of the build quality that exceeds all expectations, the buttons.
Given how many individual inputs there are on the Turtle Beach VelocityOne (we counted almost 50!), almost all of them feel fantastic. Areas for commendation are the yoke inputs as they are all satisfyingly tactile with a definitive click, which inspires confidence for each and every aviation input during your long-haul flight or spacefaring quest. These complements extend to the programmable buttons between the throttle levers and plungers. Unfortunately, the throttle levers do feel pretty loose and have a strong rattle to them, and we'd prefer a little more resistance to their movement to allow more precision. These issues are present with the plungers too, as they are a little too easy to yank for our liking. Additionally, the left and right main triggers have no damping
Gameplay performance
The truth of the matter is that there are no hardcore flight sim people at WePC, however, we still devoted some time to testing the VelocityOne in a few different flying-based games, Primarily Microsoft Flight Simulator and Elite: Dangerous. We concentrated mostly on Flight Sim as this is the game that this control system was designed for. It worked well for Elite Dangerous, but Elite is designed for use with a full-on HOTAS (hands-on throttle-and-stick), so we knew it was going to be a less-than-perfect control system going in.
In terms of flight performance, the VelocityOne is a joy to use, as all the controls are responsive and accurately calibrated out of the box so far as we can tell. Additionally, there is a helpful 'training mode' on the flight management display that shows you a visual readout of the controls which makes it really simple to figure out whether or not it's properly calibrated.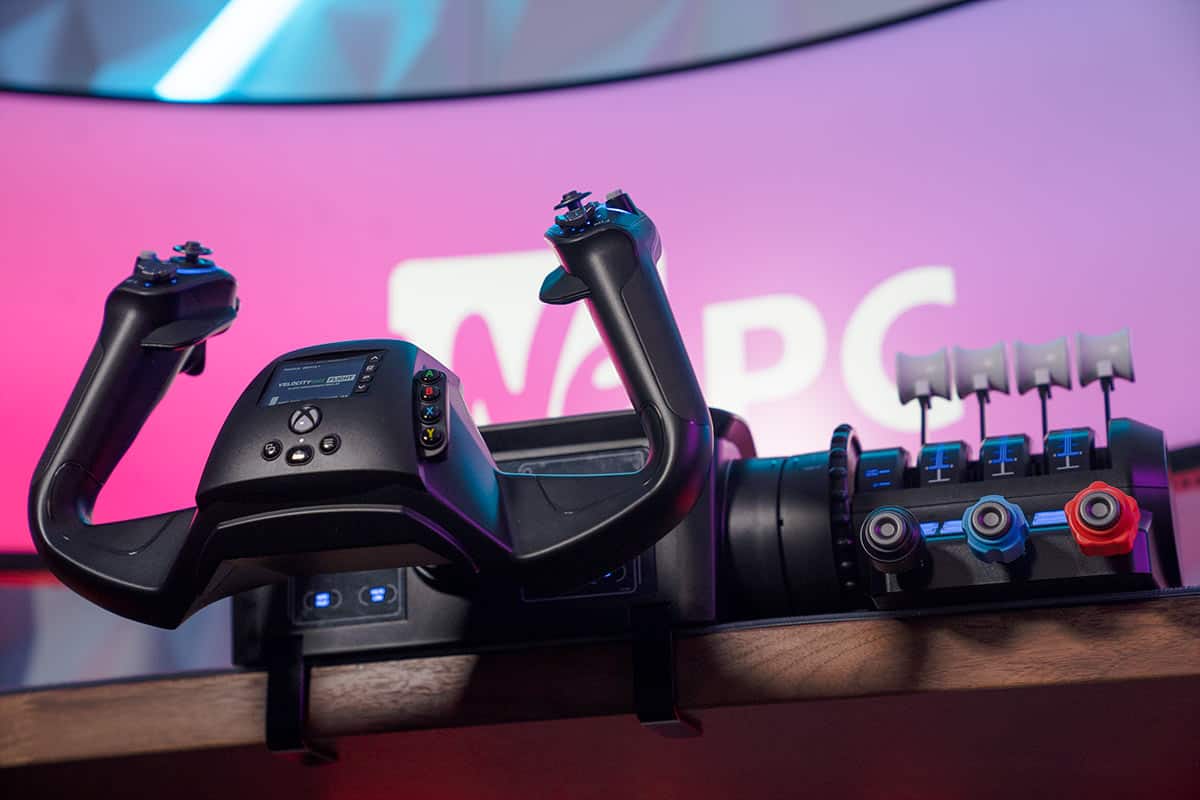 Our first proper test flight was one of considerable difficulty as we aren't experienced virtual pilots yet. Amusingly we found ourselves tilting our heads, and in some cases, entire torsos in the direction we were trying to go. So, it definitely adds to the immersion of gaming in a flight sim.
We feel compelled to mention that if you're using the Turtle Beach VelocityOne with any game other than Microsoft Flight Simulator, you'll have to spend a while in training mode binding all the input and trying to remember where exactly they are. This resulted in a lot of flying around like a headless chicken in Elite: Dangerous which was equal parts amusing and frustrating. After a while, we managed to get along with the new controls and successfully destroy a few errant barrels of space waste. So take that, intergalactic fly-tippers.
Turtle Beach VelocityOne Microsoft Flight Sim performance
Of course, the true test of any yoke + throttle quadrant sim controller is the venerable Microsoft Flight Simulator, beloved of retirees and aspiring pilots everywhere. We are happy to report that the Turtle Beach VelocityOne works perfectly, instantly assigning itself to all the correct controls and allowing us to fly the way we want. The way we want being absolutely awfully, causing quite a few 'emergency landings' which were fairly unsuccessful. We even paired the VelocityOne with a Samsung Odyssey G9, making for the most immersive experience out there, outside of Virtual reality.
There were a few calibration issues here and there that caused unexpected issues. Our favorite was when it decided to roll the plane into a dive, entirely of its own volition. We didn't have enough time to calibrate the VelocityOne to perfection, but we got it close enough to know that it's a great flight control system and a worthy addition to any flight sim enthusiast's current setup.
Final verdict
We were mostly impressed with the Turtle Beach VelocityOne flight control system. It integrated instantly with Microsoft flight sim, and really took the simulation immersion to a new level, especially when compared to using a controller or gaming keyboard. The build quality is great, with a few caveats and too much cheap plastic which may affect longevity, but didn't affect the gameplay experience at all.
Setup was very easy, however, as clamping it to a desk and plugging in two cables took a grand total of two minutes, barely delaying your first flight which is always a bonus. As mentioned earlier, users of a desk pad might find the fitment a little loose, but nothing too worrying.
The in-game performance is where the VelocityOne truly shines, perfectly emulating the main controls of a commercial-grade aircraft, and perfectly integrating into flight sims with no additional effort. There's a steep learning curve for the first-time pilot, but give it a few hours, and you'll only be crashing occasionally, and you'll have fantastic fun the whole time.