I'm sure you've winded up here because you've failed to find a "recent" 2021-2022 laptop with a CD DVD Drive.  

Truth be told….
They are becoming increasingly difficult to find.  USB drives, the cloud plus the ability to download pretty much anything from the web is just making companies only manufacture very very few models with a DVD Drive (Usually 17" inch laptops because they can easily fit in one).
So yes….
You should be able to find a few MODERN laptops with a DVD Drive. Mainly because IT professionals still find them useful and they're huge consumers in this market. 
Anyways…
Average Joes like us just want to store family photos and videos on DVD, pull out a DVD drives on an internet-less flight or maybe to toy around with legacy software. 
In my case…
I just have one because the internet reception where I live (Reno, Nevada) is pretty bad (I work in a facility away from the city and close to the desert)  so there are a few days of the month where I just have to pop up my DVDs and binge-watch Star Wars until the connection is restored.
External Optical Drive: 
Before you pull the trigger….
If you're happy with the speed your laptop has, you can  just buy an an external optical drive. It will be attached to the USB port.
      2. If you don't have a laptop right now. Buy whatever laptop you want and buy the external optical drive too. You can even buy a Mac because there is also an external optical drives for it.
Relax, I know most of you knew all of that and you refuse to use an accessory. 
But you don't want that 2005 laptop with the built in Drive either either.
Sure…
Those CAN read CD/DVDs and all but what's the point of doing that when they're too slow to even handle Windows 10. 
So what we'll do here is list MODERN 2021-2022 laptops ONLY.
Yes they'll be a little more….
On the expensive side compared to those 2005-2010 models but because these are MODERN they'll super FAST for just about every basic day-to-day computer tasks like video playback, coding, office software, streaming and even gaming.
The hardware will get better as you go down the list (better CPU & better GPUs) but that also means they'll be more expensive. Regardless ALL of them will have a BUILT-IN CD DVD Drive.
---
Best Laptop with CD DVD Drive – Cheapest

CPU: Intel Core i5 105G37  | RAM: 8GB 3200MHz DDR4 | Storage: 512GB PCIe SSD | GPU: Intel UHD Graphics | Display: 17.3" FHD IPS  | Weight: 6.17 lbs | Optical Drive: DVD Reader and Writer

I'll just be blunt and save you the time to go through this post by telling you right off the bat this is the best laptop with a CD DVD Drive right now.
It's very rare to find a 17" laptop with a FHD display and an SSD and let alone a CD/DVD Drive on board for ~$500.
I suggest you grab it ASAP because at the time of this writing there are only 10 units on stock at this price (~$500) with all the hardware goodness you see above. Here are a few links to other sellers (though they are a little more expensive).
 Performance
How can you tell these are not older machines? The RAM is DDR4 and it's also got an SSD (or the option to add one).  Having Windows 10 on it doesn't necessarily make it modern.
Which brings me to my next point: modern CPU. You need a 10th or 11th gen Core i3/Core i5 CPU (4th or 5th gen Ryzen) to make sure Windows 10 or even Windows 11 runs flawlessly.
In fact, as soon as you grab either of these CPUs, you'll be equipped to even throw some photo/video editing and some hardcore gaming.
 Display and Design
The Acer Aspire series' design is known for its easily upgradeability, that means, adding additonal RAM or even an additional SSD is just as easy as plugging in a USB Drive. Though it'll be rare to need even more space and RAM unless you're into photo and video editing too.
If that's the case, give my Upgrade RAM and SSD a quick read, I've included a picture of one Acer Aspire's bottom panel.
Now, what's super remarkable about the display is the fact that it's a FHD display as most 17" laptops only have HD or HD+ resolutions as you will see soon.
The addition of a FHD resolution to an already big screen will make it feel like you're using a full blown desktop computer.
CD/DVD Drive:
The DVD Drive can read/write on DVDs . It won't write on CDs though.
---
Best HP Laptop with DVD Drive – Non Touch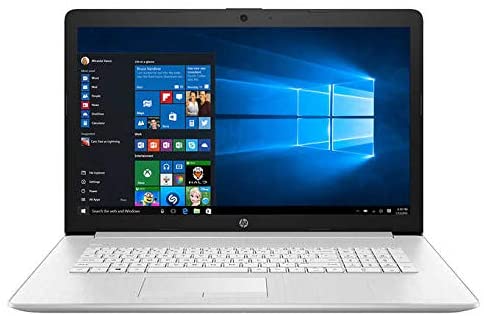 CPU: Intel Core i5 10210U  | RAM: 12GB 2666MHz DDR4 | Storage: 1TB HDD | GPU: Intel UHD Graphics | Display: 17.3" FHD IPS  | Weight: 5.5 lbs | Optical Drive: DVD/CD Reader and Writer

This laptop has basically the same hardware as the Acer Aspire. However, it's slightly more expensive. It's only a great alternative if the Acer Aspire 3 and all the following models go out of stock.
Storage:
There's one issue wit this model though it does not have an SSD. Although that may not matter for every day tasks and watching videos through DVDs. It will take a toll on photo/video editing performance and on how long it takes for the computer to boot up. Usually HDD drives will take as much as 10 min to make a computer up and ready to go. SSDs on the other hand, will take less than 30 seconds, that's how fast they are.
So if you're not happy with the speeds I suggest you do the upgrade.
---
Best Laptop with DVD Drive (17 inch)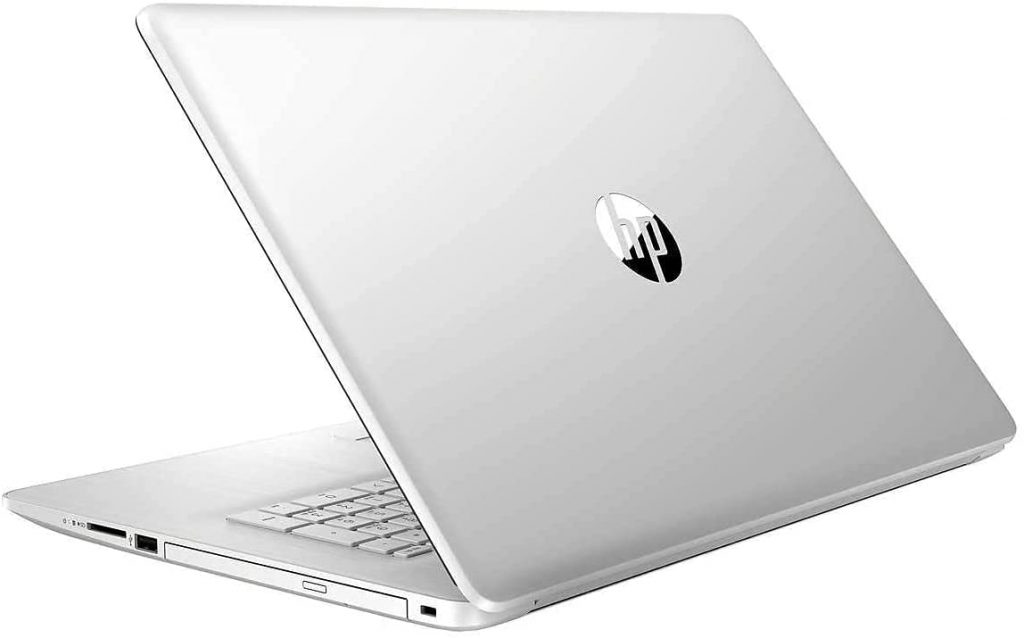 CPU: Intel Core i5 1135G7  | RAM: 12GB 2666MHz DDR4 | Storage: 1TB HDD | GPU: Intel UHD Graphics | Display: 17.3" HD+  | Weight: 5.24 lbs | Optical Drive: DVD/CD Reader and Writer

This laptop has the latest Core i5 CPU so it's definitely more "recent" than the Acer Aspire 3 and the HP Laptop above.
You will have to give up a lot of the good stuff though if you want a laptop with a DVD CD Optical drive that has the latest CPU onboard.
 Performance
Solid State Drive vs 1TB HDD:
This 11th gen Core i5 laptop does not have a Solid State Drive and that's actually going to be a huge bottleneck in performance. So assuming you don't change the HDD it comes with, it will perform much worse than the Core i5 10th Acer Aspire 3.
So yes doing the upgrade is a must, again you can check my article to have an idea on how this will be done.
If you don't want to do the upgrade yourself you will have to pay a little more to have both the 11th Core i5 + SSD + DVD Drive:
Core i5 11th vs Core i5 10th: Is it really worth doing all of that?
Actually, it kind is but only if you're an avid gamer of franchises like Overwatch, Fortnite, WoW,etc. Otherwise, for photo and video editing purposes,  the performance will be nearly equal. The thing is the 11th gen Core i5 CPUs are not that much faster but they do have a better integrated GPU hence they become super useful for very graphic intensive tasks like hardcore gaming (simple games like Minecraft will run with pretty much any laptop made within the past 15 years).
 Display
The display is 17" but it does not have a FHD resolution so that's another thing you'll need to give up if you want an 11th gen Core i5 CPU. Obviously, there's at least a laptop or two with a FHD display + 11th Core i5 and a DVD Drive but it's ridiculously expensive, we'll go over that one soon.
CD/DVD Drive:.
Don't pay attention to what description they use for the CD/DVD reader. It may be labeled as  "DVD R/W" or "CD/DVD Drive" , etc, but they all work the same. They can all read all CD/DVD formats and write formats at the same speed.
---
Best Laptop with DVD Drive – 15 inch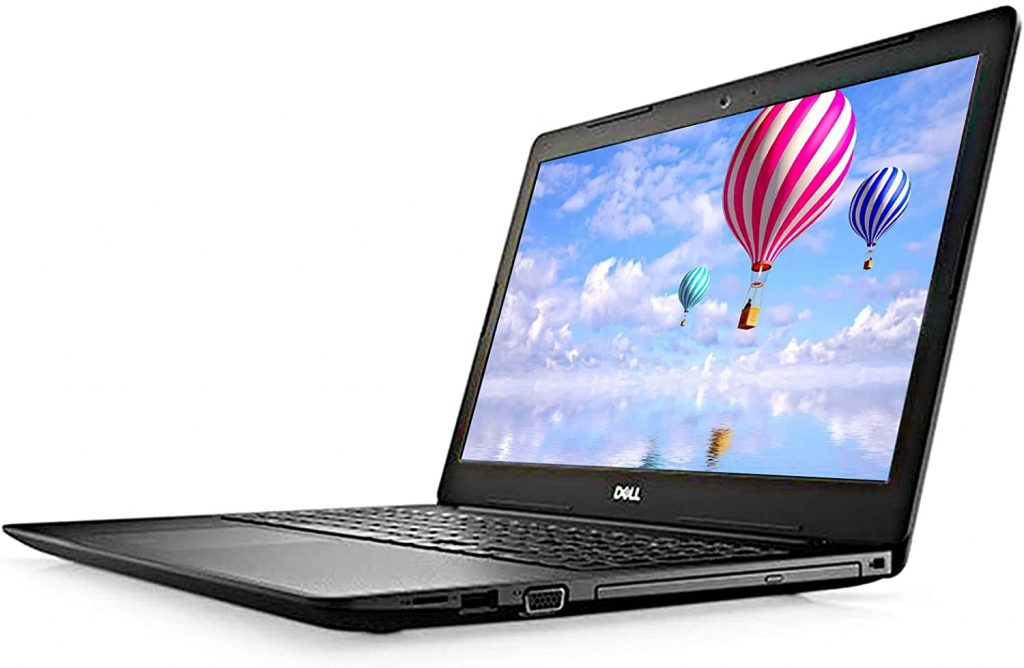 CPU: Intel Core i5 10210U  | RAM: 16GB 2666MHz DDR4 | Storage: 1TB HDD + 128GB SSD | GPU: Intel UHD Graphics | Display: 17.3" HD+  | Weight: 4.39 lbs | Optical Drive: DVD/CD Reader and Writer

This is a rarity it is the only 15" laptop that I know of that has a built-in CD/Drive AND and the latest most recent hardware.
15" Laptops with DVD Drives:
Virtually every single MODERN laptop with a DVD Drive will have a 17" display. In other words, it will very big and heavy. The reason for this is that it's way much easier (and cheaper) to install a DVD reader on a 17" laptop than on a 15" laptop.
Thus you will probably not find any modern 15" laptop with a CD/DVD Drive. It's just way too difficult to fit it one while giving enough space for all the other hardware: CPU, GPU, RAM, SSD to work properly. 
Older generation processor laptops:
 I understand, it's always super annoying to have a 17" laptop on your lap in a crowded seat row when taking the train, the bus or an air plane.
So if this model goes out of stock and you still want a 15" laptop (for portability purposes) with a built-in DVD Drive. I suggest you look for laptops with older generation CPUs….
However…
Only go for Intel Core i3 i5 i7 from the 7th generation onwards. Older generations will not handle the full version of Windows properly and will slow down to a crawl even when you just want to browse the web.
As long as you grab a 7th, 8th , 9th,etc…Intel Core CPU or a Ryzen (any generation) CPU you should be fine (you will probably need to up RAM but that's easy).
That's all assuming, this Dell Vostro goes out of stock though. 
---
Best Laptop with CD/DVD –  Dedicated  GPU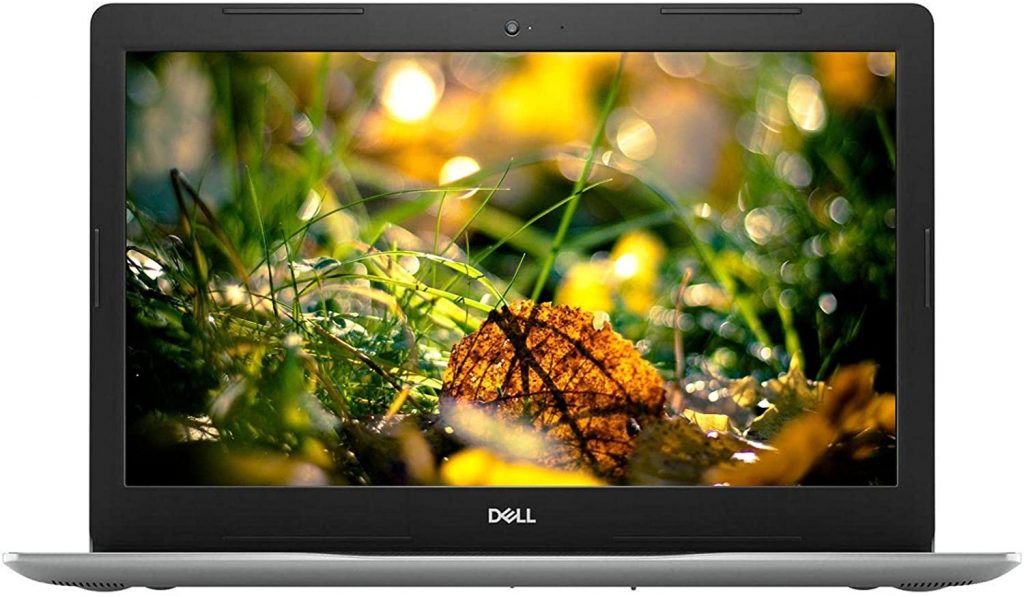 CPU: Intel Core i7 1065G7  | RAM: 32GB 2666MHz DDR4 | Storage: 1TB HDD + 2TB SSD | GPU: MX250 2GB vRAM | Display: 17.3" FHD Anti-Glare  | Weight: 5 lbs | Optical Drive: DVD/CD Reader and Writer

Lastly but not least a gaming laptop with a "dedicated GPU" and a built-in DVD Drive. 
  GPU Performance
Now, I personally do not recommend gaming laptops like this Dell featured here or any laptop with a MX150 / MX250. 
For the simple reason that they are too expensive for the GPU they're offering. The MX150/MX250 or any MX that doesn't have a 3 or 4, it's not any more powerful than the integrated GPUs you find on Core i5 11th gen laptops (Intel Xe). Hence you will save yourself tons of cash by opting instead for laptop #3 if you want to throw in some hardcore gaming that is.
I would instead recommend you buy this HP model below:
Which has the MX350 here which is definitely FASTER than the MX250 and any integrated GPU available in 2022.
 Display & Design
Now the issue with the latter laptop is the fact that it doesn't have a FHD display , the Dell has a FHD display but does not have as much GPU power. If you're fine playing at HD+ resolution (this gives you more framerates) then you definitely want the HP laptop with the MX350, the fact that you're setting lower graphics with a faster GPU only means your framerates will be skyrocket high.
CD/DVD Drive:
Again don't pay attention to the specification "Multi Purpose R/W DVD drive". It can read/write CD/DVDs in all its formats, this is just marketing jargon.
---
What about MacBooks
As of 2022, all MacBooks do not have a CD/DVD. They haven't released a model with a CD/DVD Drive since 2007. Ever since they've just released thinner laptops with the option of attaching an external DVD/CD Reader.
I myself have two MacBooks: MacBook Air and a 16" MacBook Pro.  Both work with the oldest CD/DVD Drive released by Apple (though there are obviously newer versions).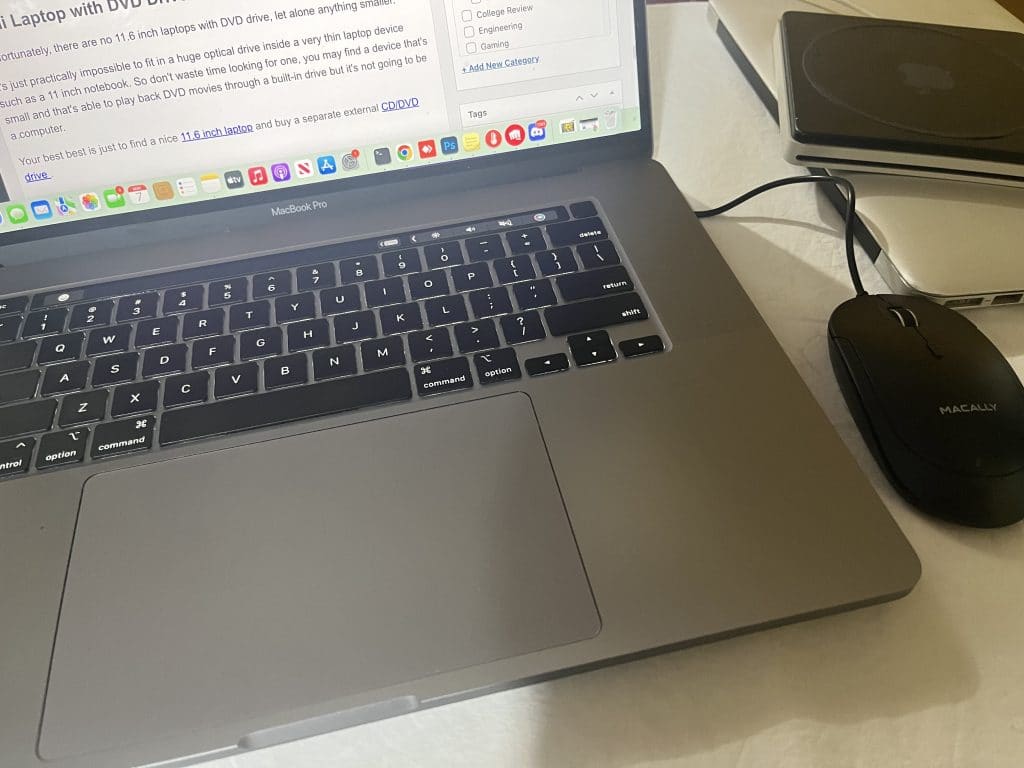 Since the Air is extremely thin and lightweight to carry, I never found it incovenient to carry a CD/DVD drive along with it.
If you still can't leave with built in feature, old MacBook Pros will have a built- in CD/DVD drive. You can easily find them on Amazon or Ebay as refurbished. They work great despite beign used in fact both of the MacBook I have are refurbished.
Mini Laptop with DVD Drive
Unfortunately, there are no 11.6 inch laptops with DVD drive, let alone anything smaller.
It's just practically impossible to fit in a huge optical drive inside a very thin laptop device such as a 11 inch notebook. So don't waste time looking for one, you may find a device that's small and that's able to play back DVD movies through a built-in drive but it's not going to be a computer.
Your best best is just to find a nice 11.6 inch laptop and buy a separate external CD/DVD drive .
All notebook have an USB port so they can all suport an external CD/DVD Drive.