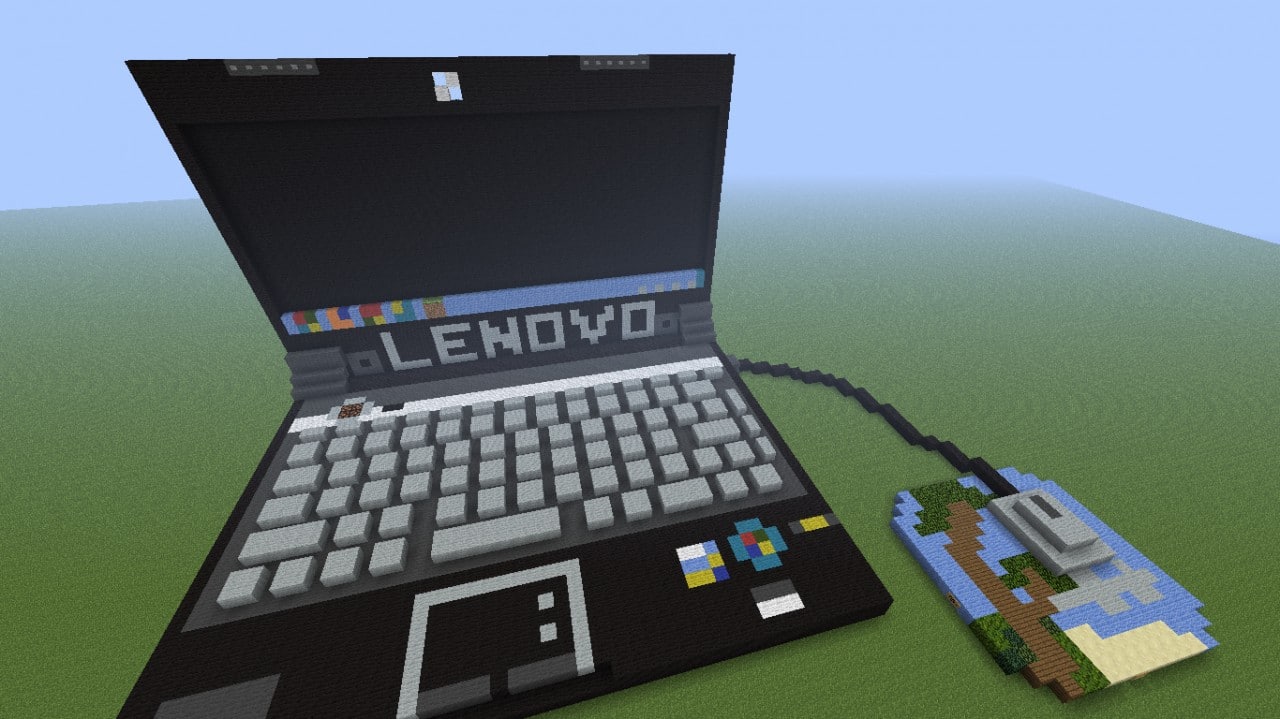 So you looked up " what's the best laptop for Minecraft ".
And you found comments from reddit claiming:
" Minecraft can run on a toaster if you let it. If you get optifine you can run the game on a potato. So get a cheap 200$ laptop "
"Minecraft can run on pentium CPUs and integrated GPUs made 10 years ago"
"My 10-11 year old desktop eats MineCraft for breakfast"
"I have a 400$ laptop from 10 years ago with the screen falling off and Minecraft still runs good"
Which led you to believe that…
Anything could run Minecraft and actually that's no so far from the truth.
However…. 
Only if you want to play the bare bone vanilla version of MineCraft with 15-30fps and nothing else added: no shaders, no mods, no cool servers, no nothing.
I would love to see the guys throwing those comments JUMP on the server I play on and see if they still feel the same way!
So what If you listen to these people and run off to eBAY to get a $200 laptop?
  1. Well, that much cash will only get you a laptop with Celeron N3010 which is a CPU moslty used on tablets/phones and struggles to even run Windows properly.
Once you launch the game, you will get around 20 fps with minimum chunks (4) loaded if you're lucky.
     2. On the other hand, a fast "budget laptop"  with the RX Vega 7 onboard like this model: 
Will let you run the game at 90fps on FANCY SETTINGS. It will handle the lite versions of most shaders like Chocapic & Sildrus. It will also handle the biggest modpacks like Revelations and Interactions.
There's another "MODERN" budget laptops worth $350 which will support mods with lower but decent framerates too. We'll go over this cheaper model soon.
     3. Now…if you invest anywhere from 600$-750$, you can get a 1650GTX graphics card which will not only run Minecraft on turbo mode.
But also let you run the coolest looking shaders like Chocapic v13 High & Sildrus with ~60fps. Vanilla MC (with no shaders) may even go up to ~1000fps.  (this is no rubbish ! Check the video of the third laptop in the "top 5 best laptops for Minecraft section ) 
How do I know this?
From YouTube videos testing the game on different laptops. I've ran a few benchmarks myself and posted them on my youtube channel like this one:
I will link more of these videos down below but basically most laptops listed here will have that kind of performance.
If you are not so well versed with computer jargon, you are welcome to skip the next section and jump right into the best laptops for Minecraft .
Here I'm going to make it simple and tell you how to get the best laptop specs for minecraft for your budget so you can get the best bang for your buck.
Read it if you know a thing or two about computer hardware. If you don't know much,  use my posts on the sidebar to learn the basics.
There are TWO ways to go about this….
1. If your budget is under $600 AND you just want to run MC with mods,  <30 chunks and light shader packs like Sildrus(Lite). Only read the CPU section. You should only focus on getting the best CPU you can afford unless you're okay buying refurbished laptops under 600 that will have a dedicated GPU.
2. If your budget is higher than $600. Only read the GPU section because this much money will get you new laptop with a dedicated GPU that will even run HEAVY SHADERS like Chocapic High 13 v7 & Seus Renewed.
The video benchmarks and full details of what's going to be said is outlined in the last section
CPU(Processor)
These are the  kind of CPUs you'll find on laptops under 600:

Core i3 1050G1, Core i3 1115G4, Core i5 10210U, Core i5 1135G7. Ryzen 3 3200U, 4300U, 5300U  Ryzen 5 3500U, 4500U, 5500U*.
All of these CPUs can run Minecraft with at least 60fps and all the mods you want. However…only the Core i5 and Ryzen 5 CPUs will run the lighter shader packs and that's because they come with the best integrated GPUs:
AMD Ryzen Vega 7, Vega 8 & Intel Xe *
*It's much easier to pick laptops in the 350-600 price range by looking at CPUs rather than looking at integrated GPUs for more details why this is the case. Check the last section.
*Ryzen 7/Core i7 "G" or "U" CPUs obviously work better but they cost as much as laptops with dedicated GPUs.

GPU(Graphics Card)
A budget over 600$ gives you the option to get laptops with far better "CPUs" but what's actually going to make the biggest difference is the "dedicated GPU" ***, especially with HEAVY SHADERS.

MX350, MX450,  1050GTX

 Found on laptops $600-650. Will run most "medium" shaders and some of the high ones w/ at least 50fps.
1050Ti & 1650GTX
$650-750: The latter is the most popular but both will run ALL "high" shaders w/ at least 50fps & 16 chunks : Chocapic 13 v7(High), Sildrus (High), SEUS Renewed,Oceano,etc.
1660Ti, 1060GTX, 2060RTX, 3050Ti
$790-900: All of these will run all the high versions of shaders w/ at least 80fps.The last two will enable RTX mode. 
3060RTX, 3070RTX, 3080RTX and their variants
All of these are pretty useless UNLESS you'd like to run Minecraft at higher resolutions: 1440p,4k.
***Don't worry about CPUs here. All laptops with the same dedicated GPU seem to perform exactly the same regardless of how fast the CPU is.
RAM only becomes crucial if you're on a budget (laptops under 500$).
8GB:  Most laptops have this much and this is fine even for those on a high budget. 
12-16GB: MC will find RAM useful up to 12GB and if you've got an integrated GPU you're going to need "extra RAM" to make up for the lack of a "dedicated GPU". So either get 12GB or upgrade it to 16GB. Dual-channel RAM helps tons too. 
Storage

Could be any type of hard drive honestly. MC doesn't take a lot of space even with hundreds of mods and shaders installed.
Solid State Drives (SSD):  are standard these days though and if you're looking for an old refurbished laptop make sure you get a SSD too. 
SSDs won't get increase FPS or unlock higher setting but they'll help take the load off of a slow CPU trying to cope with Windows 10 or Windows 11 loading the game, worlds and settings faster.
Budget laptops that can run all mods and some of the "light" shader packs can cost anywhere from 350$ to 600$. So don't worry I'm going to show an option for all budgets here.
But you'll miss out on shaders if you can't invest more than 450$. Laptops between 350-450$ will handle all of the big ftb modpacks like interactions and revelations though.
---
Best Laptop for Minecraft under 500
  AMD Ryzen 5 5500U
  8GB RAM
  AMD Radeon 7
  256GB SSD NVMe PCIe
  14" FHD 
  3.11 lbs

  8 hours

This is going to be the most budget friendly laptop in this list.
Now I don't want to get into details here but basically, both the CPU and GPU are several times better and faster than what you find on 350$ laptops like the Acer Aspire which will usually have a Core i3 and although the Core i3s have a "Intel Xe" integrated graphics card, it's not faster nor better than the Radeon 7, Vega 8 this one has.
Minecraft with Shaders:
This integrated GPU can handle some shaders like Chocapic because the AMD RX Vega 7 graphics card is actually as good as many of the entry level dedicated GPUs we talked about before  (MX150, MX230, MX250).
Now the above benchmark above was carried out using the OLDER and slower variant of the Ryzen 5 5500: Ryzen 5 3500U only expect slightly better framerates. 
8GB RAM vs 12GB or 16GB :
Now even with the Ryzen 5 5500U and the Radeon Vega 7,  "high" shaders will not run with decent framerates to make it playable.
Only the most graphical demanding shaders like SEUS, Chocapic  will struggle. 
You can eliminate the struggle by upping your RAM to something above 8GB as the iGPU (RX Vega 7) will be taking some of the 8GB that comes onboard leaving both the game and the operating system with less RAM to work with.
So if you can't afford any of the next laptops we're going to go over that will run a shader like Chocapic High  with way better framerates, this is what you can do for now: Update your RAM to 12GB or even better make it 16GB & Dual Channel.
Why was this model chosen out of all the other Ryzen 5 5500U laptops?
Well for the simple reason that it has the best bang for the buck. Most R5 5500U laptops are well above 500$.
| | | | | |
| --- | --- | --- | --- | --- |
| Link | CPU | RAM | OS | Price |
| HP 14  | Ryzen 5 5500U | 8GB | Windows 11 | 489$ |
| Lenovo 17" | Ryzen 5 5500U | 8GB | Windows 11 | 549$ |
It is very likely the Lenovo Ideapad will run out of stock soon so if this is the case when you come across this post, feel free to choose any of the above they've all got pretty much  the same hardware.
---
Best Cheap Laptop For Minecraft: Acer Aspire 5
Modded Minecraft:
Modded MC doesn't really  need you to worry about 'integrated" or dedicated GPUs
If you are not thinking about running ANY KIND of shaders. You will do fine with the cheaper 350$ "Acer Aspire 5" which has an Intel Xe(though a nerfed version) and the 11th gen Core i3 CPU.
Mods run better with faster CPUs like the Ryzen 5 5500U/Core i5 11th though. So you can still find the Lenovo with the R5 5500U CPU useful  especially with the big ftb modpacks that are made out of ~200 mods.
Shaders
You can check out the performance of a Core i3 1115G4 w/ Minecraft on this clip. The game seems well playable on FAST settings with a vanilla version of MC. It will handle some "medium" version of shaders like Chocapic13 V7.1 Medium at 35-40fps. You are welcome to check other models but I already did the research and it is indeed the best laptop for minecraft under 400 you'll find.
---
Best Gaming Laptop For Minecraft with SHADERS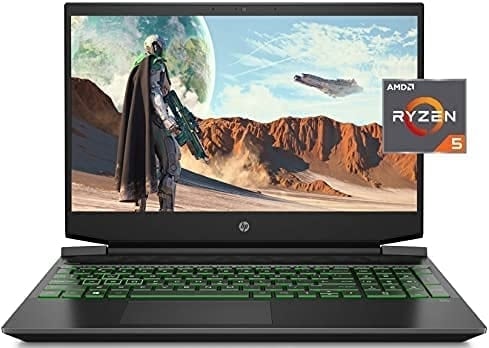 AMD Ryzen 5 5600H
  8GB DDR4
   GeForce GTX 1650 4GB vRAM
  256GB PCIe NVMe SSD
  15.6" 120Hz Full HD IPS

  4.96lbs
  5 hours

This is laptop has the same hardware specs of the one you fell in love with which is the one I showed you in the intro of this post.
 Here's a few more just in case this one also goes out of stock.

It's pointless to link the video again , you've already seen what it's capable of:
| | | | | |
| --- | --- | --- | --- | --- |
| Graphics | Render Distance | Shaders | FPS(Building) | FPS(Fighting) |
| Fancy | 48 | OFF | 190~252 | 60 |
| Fancy | 16 | OFF | +290 | 165 |
| Fast | 4 | OFF | +290 | 258 |
| Fast | 4 | Chocapic v13(High) | +160 | 127 |
| Fancy | 16 | Chocapic v13(High) | +100 | 84 |
This is a tremendous improvement over the first laptop. You can now run several heavy shaders on their "high" versions like Chocapic High.
The following is going to get a bit too technical, you can skip over to laptop #3 if you're interested in more "affordable" options
Maximize Performance : MUX Switch & GPU Usage
Now for those computer savvy gamers out there, if you looked at the video closely. You may have noticed something interesting:

There are two GPUs showing on the stats bar. GPU1 is the integrated GPU that all CPUs come with.
GPU2 is the 1650GTX dedicated GPU responsible for the super high framerates you are seeing here and on the video (the image is taken while running Chocapic V16 High on Fancy settings).
The stats are not wrong both GPUs (iGPU & dGPU) are being used here. If this laptop were to use only the dGPU(GPU2), framerates will exponentially increase at lower settings and slightly at fancy settings and with shaders.
How do you get your laptop to fully use the 1650GTX?
In some laptops, it's possible to disable the iGPU through the bios/display settings,etc.  However, this is not the case for this one and for most laptops unless they also have a MUX switch, which disables the iGPU and allows the dGPU to take over. 
This is obviously going a bit too far for MC because those framerates are already super high. If you're interested in having more framerates though, check out the next laptop.
---
Best Budget Laptop For Minecraft with SHADERS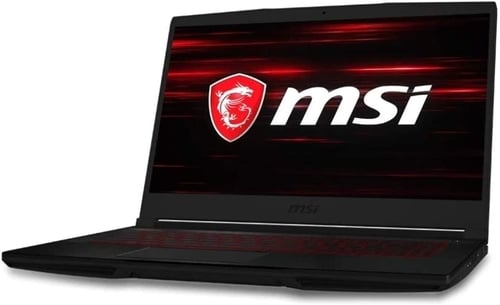 Core i5 10300H
  8GB DDR4
   GeForce GTX 1650 4GB vRAM
  256GB PCIe NVMe SSD
  15.6" 120Hz Full HD IPS

  5.07lb
  7 hours

Obviously, there are dozens of 1650GTX laptops.
A lot of these are ALSO cheaper than the HP Pavilion Gaming:

[/ScrollableTable]
These two are the two cheapest ones and here's the reason: they have lower refresh rates and a Core i5 10300H instead which significantly reduces the manufacturing cost.
Gaming Performance:  Core i5 9300H/10300H vs AMD Ryzen 5 5600H
The good news is that, although the AMD Ryzen 5 5600H is a much better CPU than the Core i5 9300H, Core i5-10300H and even the Core i5 11300H. Performance will be almost the same.  You may lose a few framerates but that's it. You'll still be pulling off +100 fps on MC w/ shaders and +60fps with all settings set on Fancy. It'll just as good as the HP Pavilion. You can even look for Core i5 9300H laptops (w/ a 1650GTX) to make prices go as low as 650$.
Now if you get a laptop with the iGPU "deactivated" or with a MUX switch as we explained above, the dGPU will fully take over and you can have up to a 20% increase in Performance. The laptop we used to benchmark here has a Core i5 9300 with the the iGPU deactivated as do most laptops with a Core i5 like the one we're recommending here.
Because of this, despite the CPU being "slower", it will outperform MOST AMD Ryzen 5 4600H/5600H laptops like the HP Pavilion Gaming.
| | | | | |
| --- | --- | --- | --- | --- |
| Graphics | Chunks | Shaders | FPS(Building) | FPS(Fighting) |
| Fancy | 48 | OFF | +500 | 60 |
| Fancy | 16 | OFF | +600 | ~400 |
| Fast | 4 | OFF | +1000 | ~500 |
| Fast | 4 | Chocapic v13(High) | +260 | 198 |
| Fancy | 16 | Chocapic v13(High) | +173 | 80 |
Refresh Rate: 
The biggest trade off (besides the storage – 256GB vs 512GB) is the display. Cheaper laptops with the 1650GTX will have displays with "lower refresh rates" (60 & 120Hz). The game will not look as smooth as it does a 144Hz which is actually easier on the eyes too. There's almost no difference between 120Hz and  a 144Hz but the difference is obvious with 60Hz displays. So it's really up to you whether it's worth having a 120/144Hz (which significantly increase the price) over a 60Hz.
---
Best Laptop For Minecraft and School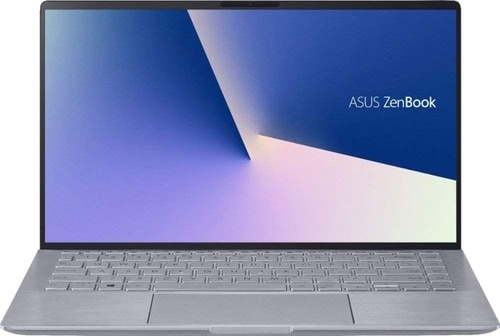 AMD Ryzen 5 R5-3550H
  8GB DDR4
   GeForce GTX 1650
  256GB PCIe SSD
  15.6" 120Hz Full HD

  4.85lb
  5 hours

I bet a lot of you reading this are buying this laptop for a son or a daughter that's still either in school or is going to college.
Those laptops we just went over aren't really ideal for school purposes, sure they have all the computer power any engineering department will require but they're just heavy as hell. They are more of a plugged in experience rather than a "use on the go" experience because they're not only heavy but also have very poor battery lives.
But let's not be kidding ourselves he's going to use this laptop mostly for MineCraft or to watch MC youtube videos. If he's going to do some work it'll probably be some interior design with the Mr Crayfish Furniture mods. :'). Just kidding.
GPU: MX450 
The MX series are dedicated GPUs that are more battery friendly, they're also used to make laptops slimmer and lighter (since they're smaller) of course this comes with the trade off of having lower graphics performance. However, it can still handle the game at FANCY settings 
I don't have exact benchmarks of this laptop hopefully I'll have them soon in the next few months but there's one on youtube where you can plainly see given the settings (at the start of the video) it clearly outperforms the first laptop which has an integrated GPU.
---
Best Laptop For Minecraft RTX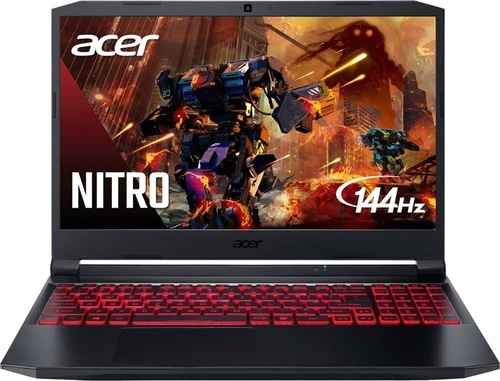 Core i5 10300H
  8GB DDR4
   3050TI GTX 4GB vRAM
  256GB PCIe NVMe SSD
  15.6" 144Hz Full HD IPS

  4.96lbs
  5 hours*

Minecraft has implemented the "RTX" tracing feature which changes the way light interacts with the environment creating more realistic scenarios by vastly improving shadows as shown below:

Most sites recommending laptops for RTX Minecraft will usually say you need a 3060RTX GPU or even a 3080RTX GPU. But that's actually not true, most of these people have never played the game let alone use youtube to check how each RTX GPU performs. They're likely saying so because 3060RTX laptops for Minecraft are more expensive which leads to higher comissions for them.
You don't need to spend more than 900$ to play Maps that support RTX mode.
You just need a laptop with ANY of the RTX GPUs and the chapest out of these is the entry level RTX GPU : 3050Ti which sells for about 790-900$.  
3050Ti: RTX Minecraft GPU Performance
https://www.youtube.com/watch?v=7v5B5DhL2ug
The FPS counter can't be seen in this recording but judging from the smoothness it's well above 100fps despite being on Fancy Graphics as shown at 2:03.
The 3050Ti is a lot more powerful than the 1650GTX despite having the same amount of vRAM. 
All shaders should run smoothly with a 3050Ti+Core i5 laptop except maybe SEUS PTGI HIGH HRR , the heaviest shader I can think of, which will only run smooth once you up your RAM to 16GB.
Mods: 3050Ti+Core i5 10300H
As for mods, the only thing that will cause this laptop to crash or any of the laptops we went over is the patrix resource pack. It's mainly because the CPUs we have shown so far are sort of average but if you get a 3050Ti laptop with a better CPU , you should have NO PROBLEMS with anything you find on Minecraft as of 2022.
What about the 3060RTX? 3070RTX? And those laptops above 1000$?
You don't need to spend 1500$ on the Acer Helios Triton with a 3060RTX or even the more expensive 3070RTX/3080RTX models UNLESS you want to game at 1400p/4k resolution. Otherwise, you're just wasting cash if Minecraft is what you're playing most of the time .
---
If you're on a budget and happy to run Minecraft with no shaders , CPU is the only thing you need to take into the account.  A good CPU will also let you run the biggest modpacks. Jump to the CPU section 
On the other hand, if you have plenty of cash( ~600$) and want to run Minecraft with heavy shaders, your only focus should be the GPU. So just read the "GPU" section. If you want to extract every bit of framerates out of your budget, read the CPU section too
As you'll see in this guide, even the more graphical demanding shaders like Sildurs(Extreme) or Chocapic (High) will run with +60fps on a 700$ laptop that has a 1650GTX.
Unfortunately, 700$ is quite a lot of money for most people.
So we'll also discuss how to get a laptop or computer that can run MC decently on an extremely low budget. 
If there's any computer jargon you don't understand please take a quick look to our posts on the side bar, they will explain computer hardware (CPU, GPU, RAM) in layman's terms so that you're all prepared for what's coming here. 
Official Requirements
Before we talk about each hardware component ( CPU, GPU, RAM, Storage) , let's just go over the official hardware requirements.
 
CPU
GPU
RAM
Storage
Minimum

Intel Core i3-3210 3.2 GHz

Intel HD Graphics 4000 (Ivy Bridge)

4GB

1GB

AMD A8-7600 APU 3.1 GHz

AMD Radeon R5 series (Kaveri line)

Recommended

Intel Core i5-4690 3.5GHz

GeForce 700 Series

8GB

4GB (SSD recommended)

AMD A10-7800 APU 3.5 GHz

AMD Radeon Rx 200 Series
Minimum
For  desktops that might be okay but for laptops 4GB is not even enough to run Windows properly and 3rd gen Core i3 CPUs will only let you run NotePad even if you upgrade RAM to 8GB. 
Recommended
The recommended hardware , translated to laptops, is basically:
CPU:

Core i3/Ryzen 3.

 Found on 350$+ laptops. 
GPU:

MX 150/250

 . Found on 600$+ laptops. 
If you can get a desktop or a laptop with the recommended requirements, you'll be fine and you might even be able to run some of "lite" shaders.
The more power you add to the "recommended requirements" the higher your framerates are going to be especially when using the medium and more hardware demanding shaders like Chocapic.  You'll also unlock higher resolutions and a more realistic version of Minecrat (RTX mode on ).
So how much hardware you need will depend on how good you want the graphics to look. 
---
1. CPU (Processor)
The CPU dictates how fast a computer process images. Faster CPUs mean faster image processing and that means more details send over to the monitor.  
The game isn't really a "GPU game" as much as it is a "CPU game". The GPU (graphics cards) isn't really a requirement to play the game (it's just an addition for prettier graphics). That's why the game can be played on almost every system because MOST of the graphics are processed by the CPU.
You can check this by using CTRL+ALT+DEL to access the task manager and s MC and notice that it's consistently somewhat high on the CPU consumption scale.
Number of Cores vs Clock Frequency
CPUs have two specifications : # cores and clock speed.
Latest versions of MC are able to use extra cores. This started from 1.7.10 and more recent versions offload more workload to the extra cores – up to four. 
However….
Clock speed is still the biggest factor behind high graphics and high framerates. The performance incrase from multi-core CPUs is minuscule compared to the performance gains from a CPU with a higher clock speed.
In summary:
Do not worry too much about multi core CPUs. Always choose the CPU with the highest clock speeds or "clock speed performance".
How to tell which has more "clock speed performance"?
It's quite easy to tell if they're from the same brand.Just pick whatever CPU has higher "turbo clock speed".
These are the most common  CPUs you'll find on laptops as of 2022. 
| | | | |
| --- | --- | --- | --- |
| CPU | Base | Turbo | Cores |
| i3 8130U | 2.2 | 3.4 | 2 |
| i3 8145U | 2.1 | 3.9 | 2 |
| i3 10050G1 | 1.2 | 3.4 | 2 |
| i3 10100U | 2.1 | 4.1 | 2 |
| i3-1115G4 | 3 | 4.1 | 2 |
| i5 8265U | 1.6 | 4.9 | 4 |
| i5 8250U | 1.6 | 3.4 | 4 |
| i5 1115G4 | 2.4 | 4.2 | 4 |
| i5 8300H | 2.3 | 4 | 4 |
| i7 8550U | 1.8 | 4 | 4 |
| i7 1165G7 | 2.8 | 4.7 | 4 |
| i5-11300H | 2.6 | 4.4 | 4 |
| i5 11260H | 2.6 | 4.4 | 6 |
| i7-11375H | 3.3 | 5 | 4 |
| i7-11370H | 3.3 | 4.8 | 4 |
| i7 8750H | 2.2 | 4.1 | 6 |
| i7 9750H | 2.6 | 4.5 | 6 |
| i7 10750H | 2.6 | 5 | 8 |
| i9 8950K | 2.9 | 4.8 | 6 |
| i9 9900K | 3.6 | 5.1 | 8 |
| i9-11900H | 2.5 | 4.9 | 8 |
| i9 10890K | 2.4 | 5.3 | 8 |
| i9-11980HK | 3.3 | 5 | 8 |
It isn't easy to tell if you want to compare two CPUs from the same brand.
Say: AMD Ryzen 5 5600H vs Core i5 10300H. The latter has more clock speed yet the former performs better.
| | | | |
| --- | --- | --- | --- |
| CPU | Base (GHz) | Turbo (GHz) | Cores(#) |
| Ryzen 9 5900HX | 3.3 | 4.6 | 8 |
| Ryzen 9 4800HS | 2.2 | 4.4 | 8 |
| Ryzen 7 5800H | 3.3 | 4.4 | 8 |
| Ryzen 7 3750H | 2.3 | 4 | 4 |
| Ryzen 7 5800U | 1.9 | 4.4 | 8 |
| Ryzen 7 5700U | 1.8 | 4.3 | 8 |
| Ryzen 7 3700U | 2.3 | 4 | 4 |
| Ryzen 5 5600H | 3.3 | 4.2 | 6 |
| Ryzen 5 4600H | 3.0 | 4.0 | 6 |
| Ryzen 5 3550H | 2.1 | 3.7 | 4 |
| Ryzen 5 5500U | 2.1 | 4.4 | 6 |
| Ryzen 5 3500U | 2.1 | 3.7 | 4 |
| Ryzen 3 5300U | 2.6 | 3.8 | 8 |
| Ryzen 3 3300U | 2.1 | 3.5 | 4 |
AMD vs Intel
Those with the same colors will have similar performance. These are my estimates based on notebookcheck's CPU benchmarks.
CPU Minecraft BenchMarks
A much better way would be using benchmarks with the game itself. Unfortunately, there aren't many Minecraft benchmarks at least on laptops, these are basically all the ones available online. There's a link at the end of each row.
Intel CPU Performance
| | | | | | |
| --- | --- | --- | --- | --- | --- |
| CPU | FPS | Mode(Presets) | Resolution | Meshes/Distance | Link |
| Core i3 10100U | 52 | 5 | 720p | Fancy | CRSTNBENCH |
| Core i5-1035G4 | 43 | 12 | 1080p | Fancy | Technoriales |
| Core i5 1135G7 | 62 | 16 | 1080 | Fancy | Noteb |
| Core i7 10700U | 63 | 20 | 1080p | Fancy | CRSTNBENCH |
| Core i7-1165G7 | 135 | 12 | 1080p | Fancy | legos 45 |
You can't use these benchmarks to tell which CPU is better than the other though, there are several other factors to take into account. However, if they have the same settings, they do become useful.
Those benchmarks are more useful to get a rough idea of what performance you can expect out of a laptop with a given CPU . Notice how the Core i5 /Ryzen 5/Core i7/Ryzen 7 are able to handle light shaders with decent framerates.
What about the other "H" CPUs? Ryzen 5 4600H? Core i5 10300H?
I will post those benchmarks on the GPU section since they're always paired with dedicated GPUs and dedicated GPU become more important. None of the CPUs above has a dedicated GPU, they all have integrated GPUs.
Modded MC CPUs
Ryzen 5 5500U
Ryzen 5 4500U
Core i5  1135G7
Core i5-1035G1
Using Mods doesn't require you to have a dedicated GPU but it is a little more demanding on the CPU front.
This is why, I advice you to avoid any of the CPUs on green and instead of for at least a "Core i5/Ryzen 5" CPU from the 10th,11th or 4th,5th gen respectively such as those shown on the table.
Do that and you should be able to run even the big ftp modpacks or those modpacks with +200 mods like Interactions and Revelations.
Vanilla MC
If you just want to play Vanilla MC with no shaders and no mods,  as you've seen on the benchmarks, the weakest "modern" CPUs will get you 150fps. 
Buying Older CPUs on a Budget
So you can bet older CPUs will also get you decent framerates (30fps). This is a great option if you've got a budget below 350$. However, you ought be extremely careful here:
| | | | | | |
| --- | --- | --- | --- | --- | --- |
| CPU | FPS | Graphics | Resolution | Render. Dist | Link |
| Core i3 6100U | +30 | FAST | 720p | 16 | SparkyWizard |
| Core i3 7100U | 60 | FANCY | 720p | 8 | TheRyzLe |
| AMD A9-9425 | 45 | FAST | 720p | 4 | Noteb |
Not every CPU will run MC as smoothly as the above do:
For example, Celeron and Pentium CPUs found on 250$ laptops, must be avoided unless you don't mind playing with the following framerates and graphics
So which CPUs are just as bad as this Celeron?
As a general rule, avoid any CPU released more than 6 years ago. Just type the CPU name on google and if you see the release year being longer than 6 years, discard it and look for another
Either do that or follow these guideline:
For AMD: Avoid anything that says E1, E2, etc.

For Intel: Avoid anything that says Celeron, Atom or has the letter M/Y somewhere in the label. Ex: m5-6Y54 , m5-6Y57.

Avoid 3rd,4th gen intel CPUs. (These are not that slow but integrated graphcsics on these are very outdated and incompatible with current version of Windows).

AMD CPUs with 7xxxP, 8xxxP or 9xxx will do okay.  

Intel processors with 5xxx, or 6xxx  part numbers will do okay as you've seen above.
OLD CPUs for Modded MC
Most will not tolerate mods. Only 7th gen Intel CPUs and AMD equivalents will barely do so. 
2. GPU
You should only pay attention to "graphics cards" if you want to run SHADERS OR if you want to add a lot of "rendering distance" +40 chunks or so which will make your world look bigger as you walk through it.  Otherwise ignore it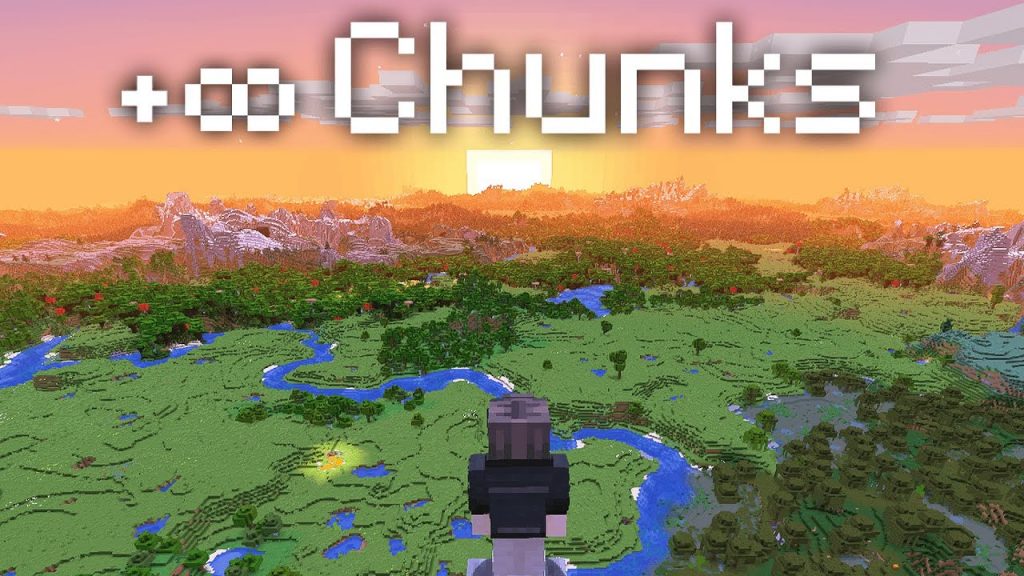 Before we discuss which graphics card will allow you to do this or that. You need to know the difference between integrated and dedicated GPUs.
Integrated GPUs
These are "integrated" into the CPU. They are not randomly paired with different CPUs. A specific integrated GPU will only be found on specific set of CPUs.
| | |
| --- | --- |
| CPU | iGPU |
| i3 1115G4 | Intel Xe* |
| i5  1135G7 | Intel Xe |
| i7 1135G7 | Intel Xe |
| Ryzen 3 5300U | RX Vega 6 |
| Ryzen 5 5500U | RX Vega 7 |
| Ryzen 7 5700U | RX Vega 8 |
*This is a much weaker version of the Intel Xe.
Those in blue and their variants (Ex: Ryzen 7 4700U, Core i5 10XXX) will have integrated GPUs that are powerful enough to run some shaders like Sildrus Vibrant. 
Best bang for buck:RX Vega 7/Intel Xe on Core i5/Ryzen 5 CPUs can tolerate at least 20 chunks on fancy settings at 60fps.  They're found on 450-600$ laptops. They will also let you run shaders as you've seen on the benchmarks though lite versions only.
Not recommended:RX Vega 8/Intel Xe found on Core i7/Ryzen 7 CPUs (these are different iGPUs) are the best integrated GPUs….
However…they're only slightly faster than what you get on Core i5/Ryzen 5 CPUs….the performance gains are not worth the price at least on laptops because these are found on 600-800$ dollars . They cost just as much as laptops with dedicated GPUs! So I don't recommend those.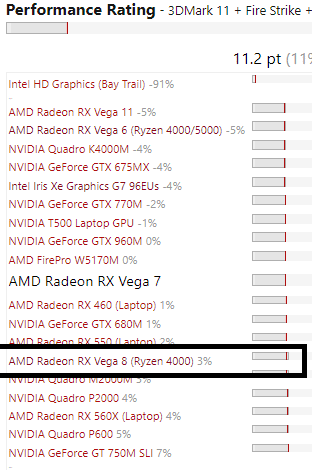 Dedicated GPU (dGPU)
Most of these (except for the MX150) will will unlock HEAVY shaders like Chocapic and Sildurs on High. Obviously, you can also run get +20 chunks. The latter is actually more hardware demanding than shaders so you'll need a good dGPU (+40 chunks) as you will see soon.
Name
Cores
vRAM
Speed
MX150
384
2GB-4GB
1532
MX250
384
2GB-4GB
1582
MX 330
256
2-4GB
1519
MX 350
640
2-4GB
1354
MX 450
896
2-4GB
1580
1050
640
2GB-4GB
1493
1050 Ti
768
4GB
1620
1650
1024
4GB
1560
1060
1280
6GB
1670
1660 Ti
1536
6GB
1590
3050Ti
2560
4GB
1485
2060
1920
6GB
1680
3060
3584
6GB
1780
2070
2394
8GB
1770
2080
2944
8GB
1710
3070
8GB
3080
8-16GB
3070Ti
8GB
3080Ti
16GB
Entry level GPUs: MX Series
| | | | | | | | |
| --- | --- | --- | --- | --- | --- | --- | --- |
| GPU | CPU | Graphics | Chunks | Resolution | Shader | FPS |   |
| MX150 | Core i5 8250U | Fancy | 10 | 1080p | Sildurs(Lite) | 38 | KangVladi |
| MX250 | Core i5 10210U | Fancy | 10 | 1080p | BLS | 33 | Splitsecond |
| — | —- | — | — | 1080p | Sildurs(Lite) | 42 | — |
| MX330 | Core  i5-1035G1 | Fancy | 16 | 1080p | Sildurs(High) | 45 | SpecKenTang |
| MX350 | Ryzen 5 4500U | Fancy | 12 | 1080p | None | 115 | legos45 |
MX150 & MX250:The first two GPU of the MX Series have the performance of integrated GPUs found on Core i5/Core i7 and Ryzen 5/Ryzen 7. So if you're on a budget looking for refurbished older models it may not be so wise to buy these if they are more expensive.
MX3XX Series: The MX330 isn't much faster than the MX 150250 however the the MX350 is significantly faster (about 2.5x). They add tons of framerates without shaders and can even handle some shaders on High.
Entry level GPUs: MX450 / 1050GTX
| | | | | | | | |
| --- | --- | --- | --- | --- | --- | --- | --- |
| GPU | CPU | Graphics | Chunks | Resolution | Shader | FPS |   |
| MX450 | — | — | — | — | — | — | — |
| 1050 | 8300h | Fancy | 8 | 1080p | BLS 7.2 | 50 | iNordap |
| 1050 | 8300h | Fancy | 8 | 8300h | Chocapic13 v9 Beta | 43 | iNordap |
| 1050 | 8300h | Fancy | 8 | 8300h | Sildurs (Med) | 62 | iNordap |
| 1050 | 8300h | Fancy | 8 | 8300h | Seus Renewed 1.01 | 40 | iNordap |
Unfortunately, there are no good benchmarks on the MX450 performance published on youtube. However, the MX450 actually shares the same design & architecture as the 1050GTX and its performance is more or less the same as the 1050GTX on every other game. 1050GTX laptops are expensive so if you have to choose between the two, choose the cheapest, this should be the MX450.
Mainstream GPUs
| | | | | | | | |
| --- | --- | --- | --- | --- | --- | --- | --- |
| GPU | CPU | Graphics | Rend. Distance | Resolution | Shader | FPS |   |
| 1050Ti | Core i5 8300H | Fancy | 16 | 1080p | Sildurs(high) 1.27 | 48 | xFlame |
| 1650GTX | AMD Ryzen 5 4600H | Fancy | 16 | 1080p | Chocapic13 v6(High) | 60 | Laptopstudy |
| 1650GTX | Core i5 9300H | Fancy | 16 | 1080p | Chocapic13 v6(High) | 70 | Laptopstudy |
Both of these GPUs will perform more or less the same. Note that FPS may vary according to how much stuff there is to render if you're on an open field you will have a lot of stuff to render so the load on the GPU is going to be higher.  Always make comparisons when the character is in the middle of an open field with the same number of chunks to render.
The 1650GTX will for the most part perform slightly better due to better CPUs being paired with it on laptops.
Notice how the Core i5 9300H outperforms the AMD Ryzen 5 4600H (which is supposedly faster), this is due to the iGPU being "switched off" on the Core i5 9300H.
*40 chunks on High w/ shaders still becomes unplayable here.
Mid-Range GPUs
| | | | | | | | |
| --- | --- | --- | --- | --- | --- | --- | --- |
| GPU | CPU | Graphics | Rend. Distance | Resolution | Shader | FPS |   |
| 1060GTX |  6th Core i7 | Fancy | 16 | 1080p | Sildurs (High) 1.53 | 80 | GGPC |
| 1660Ti | Ryzen 7 4800H | Fancy | 12 | 1080p | Sildurs (High) 1.53 | 93 | GGPC |
| 2060RTX | Core i5 10300H | Fancy | 16 | 1080p | SEUS renewed | 70 | Omen |
| 3050Ti | Core i5 10300H | Fancy | 8 | 1080p | BSL v8 1.01 | 90 | Kaeza |
| 3050Ti | Core i5 10300H | Fancy | 8 | 1080p | Chopic 13 v7(Lite) | 105 | — |
| 3050Ti | Core i5 10300H | Fancy | 8 | 1080p | Sildurs(Extreme) | 85 |   |
| 3050Ti | Core i5 10300H | Fancy | 8 | 1080p | Sildurs(Lite) | 101 |   |
Interestingly here the older 1060,1660Ti and 2060RTX will out perform the recent 3050Ti with shaders.
The reason? vRAM.These have 6GB vRAM and the "faster" 3050Ti with more "cores" only has 4GB vRAM.
Shaders+Chunks not only add higher quality images to the game but also "rendering distance" and this is exactly where vRAM becomes important. In other worlds, vRAM is especially important to expand the scenario and view distance in open worldgames.
This is why all GPUs with the same vRAM will perform more or less the same with shaders and when upping the rendering distance.
3050Ti or 1660Ti/2060RTX/1060GTX?
 If you can find the 1660Ti/2060RTX cheaper than the 3050Ti by all means you should go for it IF you want better performance with shaders and much higher rendering distances. Unless you want to use "RTX" mode, which only, the 2060RTX and 3050Ti can do.
3060RTX: Unnecessarily expensive?
| | | | | | | | |
| --- | --- | --- | --- | --- | --- | --- | --- |
| GPU | CPU | Graphics | Chunks | Resolution | Shader | FPS | Youtube |
| 3060RTX | Ryzen 7 5800H | Fancy | 16 | 1080p | Sildurs (High) 1.53 | 70 | Engineering Zone |
The 3060RTX is the most powerful and modern "mid-range" GPU on laptops. However, it only has 6GB vRAM just like the "weaker" and CHEAPER mid-range GPUs.
For shaders and rendering distances, the extra "speeds" and other features of the 3060RTX do not make it a better choice.
It still has the same aount of vRAM so it will not get you a significant performance increase with shaders than the cheaper mid-range GPUs as you can see in the link above.
Yes, if you're playing mostly MC, the 3060RTX might be unnecessary.
High-End GPUs
| | | | | | | | |
| --- | --- | --- | --- | --- | --- | --- | --- |
| GPU | CPU | Graphics | Rend. Distance | Resolution | Shader | FPS |   |
| 3070RTX | Ryzen 7 5800h | Fancy | 16 | 1080p | Seus | 80 | Gillis |
High end dGPUs are only useful if you want to smoothly navigate (~80fps+) through maps using a heavy shader like Sildurs w/ +32 chunks at HIGHER RESOLUTIONS (1440p,4k). The bigger the vRAM you get, the more resolution and chunks you'll unlock.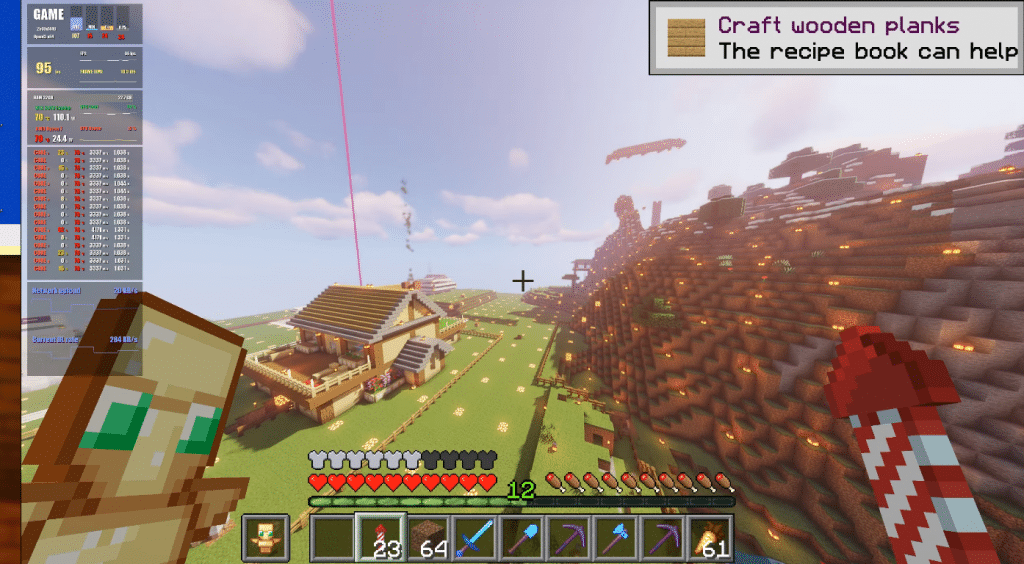 They're also become super useful to build large scale worlds or very complex settings. Possibilities are endless with this game. Some players have manage to create a:
So the more hardware you have the more complex the stuff you'll be able to build with ease. 
RAM
RAM basically acts like vRAM, the more you have the more data you can hold onto. It isn't as useful as vRAM is for images though.  It's better at handling "software data" rather than "image data" so It's sort of a requirement you must meet for the opearting system and the game to run properly.
How much RAM Do I need?
4GB
This used to be the bare bone minimum for Minecraft a few years ago. Unfortunately, ever recent Windows 10 updates and Windows 11, take a huge part of it leaving almost nothing for Minecraft or any other game to run properly. It only works for refurbished old computers that has a weaker version of Windows 10.
8GB
This is now the bare minimum for Minecraft.  Nearly every modern laptop above 400$ will come equipped with at least this much. Most laptops below 400$ will only have 4GB as they only need that much to run Windows 10 "S mode" or Windows 11 "S Mode" a lighter version of Windows that can only run Minecraft: Bedrock edition and the education edition of Minecraft.
For the full version of Minecraft we all now of, you will need to upgrade yours to 8GB.
Dual-Channel
Once you do the upgrade, make sure you don't replace the 4GB stick with an entirely new 8GB RAM stick. Instead make it "dual channeled", basically use two RAM sticks of the same size and the same type "DDR4" or "DDR5" are the latest. Without getting into details, it basically makes your CPU work more efficiently and hence you'll squeeze a few more framerates (10-15fps on average it also depends on settings too).
+8GB RAM: 12GB, 16GB, etc.
Unlike most games, having +8GB of RAM isn't useless but it depends on the situation.
RAM for Maximizing Performance
Vanilla MC will use just as much Java seems to use for any application: 12GB. You will not notice a difference beyond 12GB. Obviously if you make it dual-channel, you'll squeeze a bit more framerates.
RAM for Mods
Vanilla MC will usually take ~0.5GB, if you add Windows 11 or Windows 10 (at least 3.5GB), you'll quickly run out of RAM if you have 4GB just like we talked about.
Mods ad an extra 1GB RAM (~80 mods) and more if you use one of the big ftp modpacks(~200mods). This means you need at least 8GB here. Some mods will easily take up 8GB so if you run anything in the background w/ Minecraft, you may need a bit more than 8GB.
RAM for Shaders
Doesn't seem useful with Shaders since Shaders only ask for "vRAM". However, if you want to squeeze more framerates, make that 8GB dual channel or make it 12GB to squeeze a few more fps.
RAM for Integrated GPUs
If you're not using a dedicated GPU to run shaders or if you want to maximize graphics performance, you need to add extra RAM so that your integrated GPU can use as "vRAM".
Long story short, add at least +2GB RAM for the integrated GPU to work better.
I port 1.4 and DisplayPort 1.4. You will get your 120FPS on your monitor only if you use the Display Port.  If you use the HDMI port, you may be stuck at 60Hz again depending on the GPU .
Budget Options 
This section is meant for people under a 350$ budget.
1. Ultra Cheap Desktops 
Those cheap PCs you see at your local computer store(even with outdated hardware) are actually ALL viable for minecraft. And will possibly give you better performance than 2022 budget laptops. 
That's because  the hardware on desktops have plenty of space to acomodate bigger CPUs and better cooling systems so that the processor can reach much higher speeds than CPUs found on laptops.
Dedicated GPUs on Desktops
The cooling thing about desktops is that dedicated GPUs are much easier to find and way more affordable. So if you want to run those cool shaders you don't have to spend nearly as much as you would on laptops.
If you can't find or you can't afford a dGPU right now on a desktop, unlike laptops, you can add one later and try it out without one in the mean time. 
2. Intel Pentium/Celeron Laptops
These are the ones you'll find under 350$ (if we exclude refurbished or second hand laptops).
They're usually 200-300$.   Some types can even get some for 150$ (usually a Chromebook).
However, it is very unlike the full version of MC will be playable with any of these unless you use the Bedrock edition of MC.
RAM is not the issue
Most of these laptops ahve 4GB and that's not the only issue with these. It's actually the CPU. Some of these though may run the game at 20-30fps and sort of become playable but it's hard to know which ones will make it playable. Why? Probably the ones that are capable of "barely" running the game will have a slightly older version of Windows 10 which would be slightly less hardware demanding which in turn will have enough hardware resources left for Minecraft.
All of these will run this version of MC though. The bedrock edition can run on consoles and even smartphones. The main difference between the full version is that you won't be able to share the world you build or back it up so you won't be able to switch between devices. 
3. Rerfurbished Laptops
A solution to this problem is to buy a refurbished laptop.
Very few people realize that refurbished laptops are actually deal-breakers IF you get them from respectable companies like Amazon. Most of the time, they will feel like new (especially if you get a refurbished MacBook).
There's warranty…
Of course , there's the chance your laptop may be defective. The good news is that you have a 90-day warranty in which you can return it if you don't like it or if you find something wrong with it. I'd say 90-days is a pretty good timeframe to find out if there's anything wrong. 
Opt for good brands…
You can minimize your chances of getting a defective machine if you get a laptop from less-problematic brands. I would consider:  Lenovos, ASUS, MSI, Acer and Dell in that order. 
You can upgrade them later too…
What's cool about refurbished laptops is that you can get them for 250$ (equipped w/ Intel Core or AMD CPU) that can run the game at least at medium settings AND you can upgrade both RAM and SSD later (~100$ for both) to make it soar. 
Again just make sure you don't buy refurbished laptops w/ Celeron/Pentium CPUs but rather Intel Core or AMD CPUs.
If you're patient you can find a good deal…
If  sniffing around daily for at least a month on Amazon/Ebay, you'll definitely come across an excelent deal. You can even find a laptop w/ an entry dedicated GPU and an SSD for about 400$.
Q: What is a good fps for Minecraft?
50-60fps will make the game look super smooth.  More framerates are useful to avoid lag spikes but it won't necessarily make the game look prettier.
If you want more framerates to make sure it doesn't have any lag spikes,   200 fps would be the limit. Anything more is nice but not very useful in a game where you're just building stuff, walking around,etc.
Q: Shouldn't I just get the cheapest laptop I can afford since Minecraft isn't really hardware demanding? 
Even if you want to run the bare bones Vanilla version of MC, there's a high chance (if you don't have more than 350$) that your laptop won't let you play the game properly even with 4 chunks loaded at 720p resolution. Mainly because laptops below that price range can't even Handle Windows 10 or Windows 11 properly so most of their computer power and resources will go to cope with the operating system rather than MC.
Proper research is not just going to ensure you run vanilla MC properly but will also let you get the best bang for your buck so you might even be able to run some shaders even without a dedicated GPU.
Q: Can you play minecraft on integrated graphics
Yes, most will let you play at decent settings (check the CPU section of this post) but if you go back too far in time, it's not going to be pretty and much less playable. Otherwise, any integrated GPU released within the past 5 years will handle the game just fine as long as it's not paired with one of those "celeron" "pentium" and similar CPUs (check the CPU section). 
The latest integrated graphics found on Ryzen 5/Core i5 modern laptops (4th,5th gen for AMD & 11th,10th for Intel) will even let you run shaders.
Q: Does allocating more RAM to Minecraft increase performance?
There's a difference between getting more RAM for your laptop and allocating more RAM to Minecraft.
If you allocate more RAM to minecraft, it is very likely you'll have some lag because JAVA uses a "memory clean up garbage collection" which means RAM will have to be clean after certain tasks on the game, so the more RAM it has to clean, the more time it's going to take. 
Q: What's the maximum ram for minecraft will use?
Minecraft use a software paging system that's 'horizontally scaleable'. What this mean is that the more MEMORY you have the better the PAGING. In other words, the more chunks loaded in the game.
Most of the time, lag in minecraft is caused by having to page chunks as they come into view. Having a lot of RAM means having more chunks pre-loaded even when you're far far away.
Of course there's a limit to it.
I found that RAM super useful up to 12GB (assigned to JVM – the MC launcher). After that I didn't notice any difference in the paging system. 
Q: How much space do you need for minecraft java?
You don't need that much space to play Vanilla MC. In fact, any laptop will have more than enough space for the game and all mods and shaders you want.
Q: How much Capacity do I need to BUILD a server in Minecraft?
If you're building a server for players to join. You will need to reserve 35 GB  for Minecraft (for 12-15 players to join). This is still not an issue for virtually every laptop on the market however if you're going to install other games in it keep that in mind (other AAA games will take ~50GB on average).
What's more important here is that if you're building a desktop, you get a Solid State Drive for storage. If you're buying a refurbished laptop, you have to make sure it has an SSD.
Older laptops (pre-2017) aren't likely to have one so you will need to install an SSD IF you want the game to launch super fast and the system to boot within seconds. Otherwise, MC will do fine with the old fashioned Hard Disk Drive
Q: I don't get why MC can't run on any CPU or laptop when my phone can run games with better graphics.
That's actually quite true. Phones can run games with more francy graphics and even Pentium/Celeron laptops can run games with better graphics through Chrome OS (ChromeBooks).  
However, Minecraft has been developed with a much different engine than most games.
Minecraft uses JAVA and JAVA is actually not a very popular programming language for game development and large applications because it is slow (due to garbage collection).
Well…that's the first thing that comes to mind. It's probably NOT the only reason as I'm sure you've come across all kinds of apps and games using Java without demanding good hardware. 
Rendering & MC History
Once you play the game you'll notice the game has to render chunks back and forth ALL THE TIME, this MIGHT make it more hardare demanding but again it can't be the main cause.  
Now after doing some research through wikipedia, minecraft history says that the developer, Markus Alexej Persson , wrote the game mostly for fun.  Then those close to him commended on how cool the game was and he decided to make it big.              
Originally he chose Java to write it  because  it was meant to be sort of an experiment, he did not mean it to be as popular as it is today.  
This is likely to have caused sloppy code especially in places where if not well optimized would make the game hardware's usage inefficient. 
He did hire a development team right after he realized this will make it big. Despite that though it seems that they've all decided to leave some of the original code for unknown reasons and this is most likely the reason of its slow performance with computers.
This is just guessing though, they're the ones that have the answer to this question. 
Q:How to get better fps in minecraft on a laptop
There are hundreds of videos on how to optimize the game so I will only go through the essentials and basics. 
Optifine
This is the most popular software to optimize Minecraft. It will basically offset the issue we discussed in the section above of possibly having outdated code. In some cases, it might even make it playable on very weak, low-end laptops. Plus, although the game itself is mostly single threaded (does not utilize multiple cores so much), optifine will slightly expand its multi-core usage. 
Java
It's interesting how people run Crysis at super high settings and yet they experience lag with Minecraft. The issue? Probably the Java version they have. So updating Java or getting the right Java version for the version of Minecraft you have will fix the issue.
Antivirus
If you're using tons of mods, chances are you got them through some random sites that are not 100%  secure so you probably downloded a few viruses too.  So grab an antivirus and do a full scan, you might be surprised.
BackGround Apps
This a basic tip but most people forget about it: avoid running anything else in the background if that doesn't work then take it to the extreme and use a software like Razer Cortex Game Booster . The software will shut down any unnecessary background process and application when you're gaming and it will run them again when you stop gaming. This is much much safer than using  pressing CTRL+ALT+DEL and putting an end to any crucial task you may not recognize and then having your computer shut down all the sudden.
Hardware Optimization
Magic Launcher for Minecraft   . If you're a big mods user, this software is super handy. It will let you allocate RAM to java which will make mods run more efficiently. It can also reduce the window's size of the game which should increase your framerates. 
Comments?
If you have any comments, suggestions, questions or recommendations on finding the best laptop for minecraft. Please let us know in the comments below.