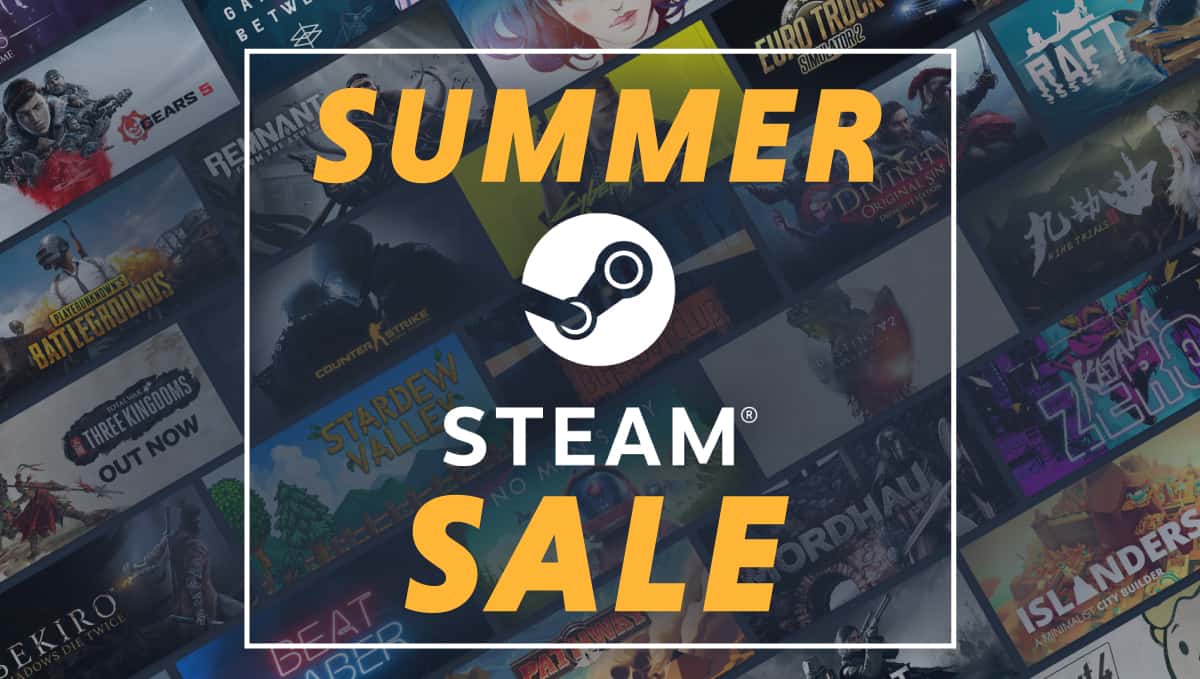 Last Updated:

Bargain hunters gather quickly, the Steam summer sale is finally upon us and we're already seeing some of the biggest games of 2021 and 2022 hit all-time lows. That's right, don't just stand there giving it large, get over to Steam to save big bucks deluxe on that game you've had your beadies on.
The Steam summer sale event officially began on June 23rd and will continue until the 7th of July this year. We normally see two major sales events from Steam throughout the year, one in summer and then another in winter.
It's a great time of year to save a few bucks on that game you've been longing for but just can't afford. And let's be honest, with the rising prices of games, we're starting to see an even bigger percentage of people choose this time of year to purchase a new game. Popular titles such as Raft, Rust, Gods of war, and Red Dead Redemptions 2 are all reduced by up to 50%.
So, whether you're looking for the latest AAA game, an indie hit, a multiplayer game, or a cult classic, Steam's summer sale will likely have a deal on the game you've not got round to buying.
Best Steam summer sale games
Stumbled across this page but actually find yourself intrigued by the prospect of saving a few bucks on a great game? Well, we're here to make the buying process as easy as possible. Being huge game fans, we're here to find the best Steam summer sale deals between June 23rd and July 7th.
Below we list the best Steam summer sales in 2022:
Additionally, there is also a big Steam summer sale bundle now live, with savings up to 60% up for grabs.
You can check out the Steam summer sale bundle here.
What is the Steam summer sale?
The summer sale is usually one of the better ones Steam has during the year as it features the most amount of discounted games.
Steam slashes prices on big and small games alike with some indie titles also getting a cut meaning there is usually something for everyone. You can get some great deals on bundled games during the sales too so always keep your eye out for those as it may not cost that much extra for the collection.
Latest Steam summer sale deals
When is the Steam summer sale 2022?
Now! Yes, the Steam summer sale is underway as of today (June 23rd) and will run until the 7th of July.
That gives you an entire week to snap up some of the best game deals of the year.
How long does the Steam summer sale event last?
The event usually lasts two weeks, giving you plenty of time to find something on offer. If you happen to miss out, then don't worry we usually see another sale in winter and a smaller sales event in the following spring.
Steam summer sale 2021: best deals
Steam's summer sale has been running for years now, continuing to bring back gamers thanks to the great prices that are on offer.
If you're curious about last year's deals, we'll list all the best highlights below:
Hades
Cuphead
Cyberpunk 2077
Red Dead Redemption 2
Disco Elysium
Yakuza Like A Dragon
Sea of Thieves
Horizon Zero Dawn
Hollow Knight
Sekiro Shadows Die Twice
The Outer Worlds
Control
Death Stranding
DOOM Eternal
Jedi Fallen Order
Metro Exodus
Civilization VI
Final word
The Steam summer sale event is finally here, don't forget to check your wishlists and see if any of those titles you've been waiting to buy have gone down in price. If you haven't already got Steam and would like to get some discounted games, then get Steam downloaded and start searching!