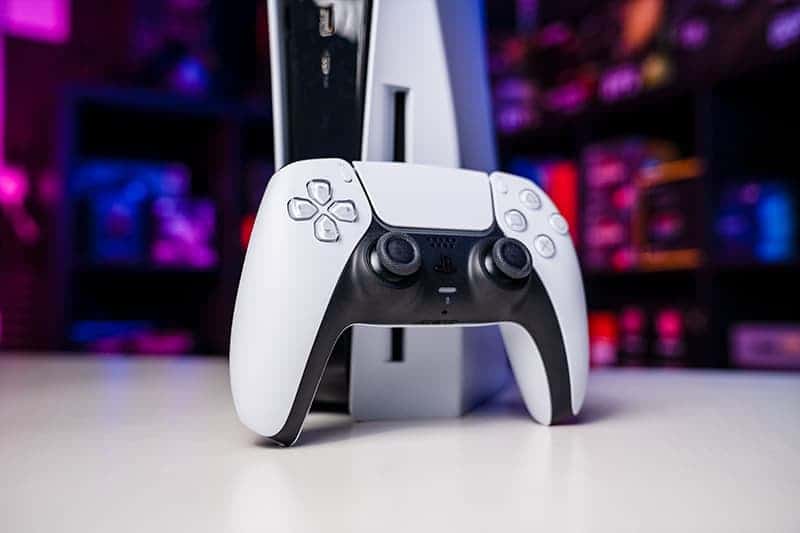 Last Updated:

The PS5 is one of the most successful consoles of all time, with demand never appearing to slow down. While many PlayStation fans assumed a mid-generation upgrade was on the cards, there was still a lot of uncertainty around what that upgrade would look like, or if it would even happen.
Well, the good news is potentially here… finally. According to TCL, Sony and Microsoft are going to unveil the new consoles sometime next year. PPE was at the press conference where TCL, a TV manufacturer, presented its ideas in preparation for the next generation of consoles. Of course, Gen 9.5 is a mid-gen upgrade, something we are accustomed to with each launch, and this leak gives fire to the already circling rumors around what is coming next.
A new Xbox Series X/S and PS5 that are capable of 8K seems a little ahead of their time but TCL expects 8K capable devices could be unveiled, with the RX 7700XT GPU shown on the presentation slide. Will the masses be able to take advantage of 8K? The cost of an 8K TV or monitor is quite high, so a mid-gen upgrade in 2023 sounds pretty bold. TCL mentioned that devices would be able to provide 60-120 FPS in 4K and output at 8K, which could all depend on what AMD's FSR 2.0 upscaling brings to the table.
Potential PS5 Pro release date
While the debate over whether or not we will see a mid-generation update this time around rages on, this presentation gives us hope. Mid-gen upgrades are nothing new, however, with the PS4 for example, 4K gaming became accessible, therefore an upgrade made a lot of sense to bridge the gap with the current-gen of consoles. For the PS5 Pro, many believed the next step was obviously 8K and it appears it could be a correct call. Hopefully, we get to see higher refresh rates with the Pro but until Sony makes an announcement, it is all still speculation.
Current predictions, along with the TCL presentation slide put the PS5 Pro release date at late 2023.
PS5 Pro specification predictions – what upgrades are rumored?
We expect most areas of the PS5 Pro to surpass the original, otherwise, the potential price simply wouldn't be worth it. CNET speculated that the processor could see a boost, possibly utilizing an AMD Zen 4 and RDNA 3 CPU/GPU partnership. This extra power could bring about the performance improvements we heard YouTuber RedGamingTech speculate, with up to two and a half times boost in ray tracing titles. Ideally, this would also mean we could see upscaled 4K at 120 FPS, native 4K at 60 FPS with solid ray-tracing effects, and a bolster in storage space.
Would the PS5 Pro release be worth the upgrade?
If the rumors surrounding the PS5 Pro turn out true and the performance boost is more than double in ray-tracing, then yes. If the console is the top-end of let's say, $700, it will offer unrivaled performance for the price. No gaming PC or alternative could match that value for money. This all depends on your needs, as the current PS5 ticks a lot of boxes, including 4K gaming.
If you are someone who always wants the very best, plus are lucky enough to be able to afford an 8K TV/ monitor, the Pro becomes a very attractive mid-gen upgrade. For the majority who already own a PS5, the speculated upgrade probably isn't worth it.