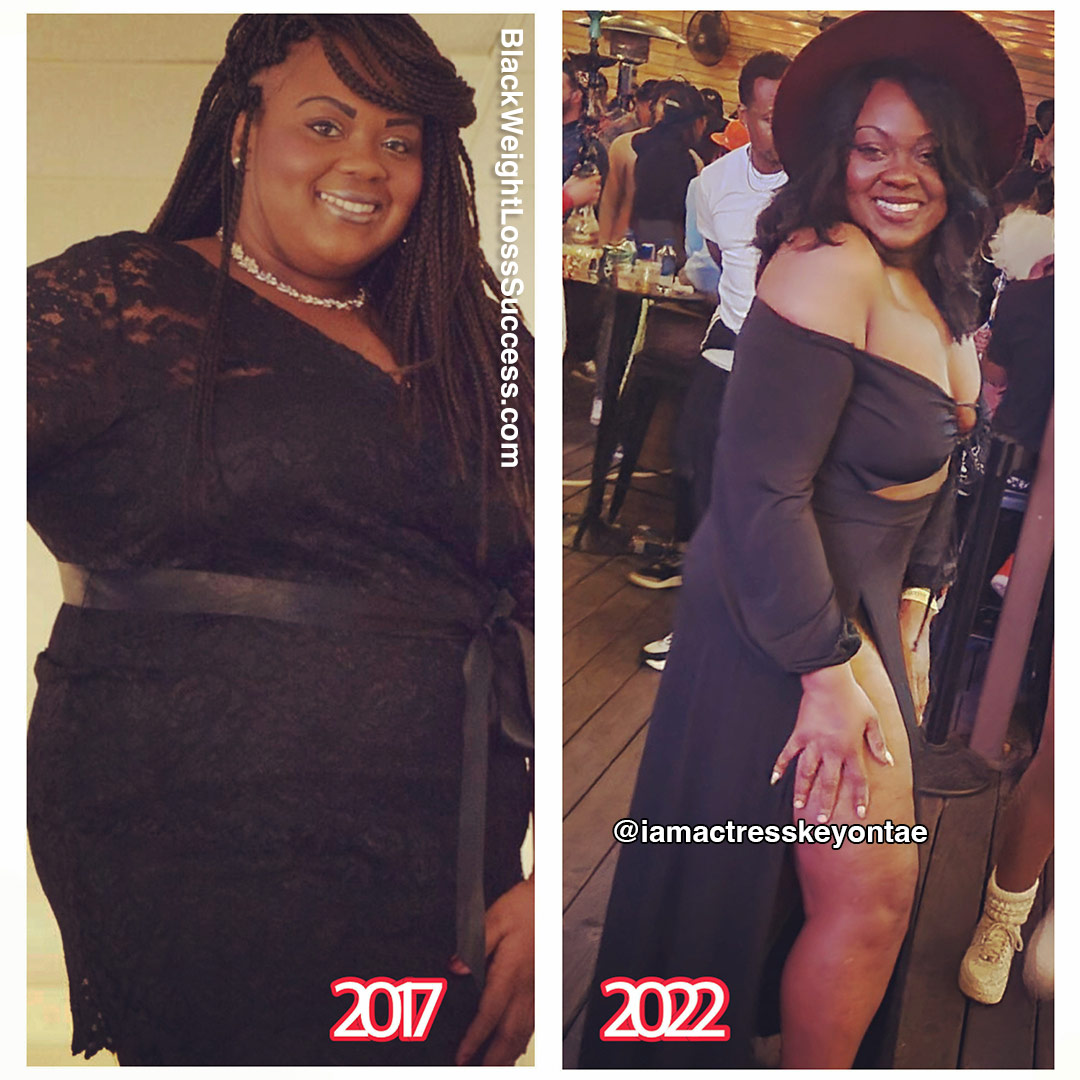 Transformation of the Day: Keyontae lost 121 pounds with healthy eating habits and exercise. A vacation trip to the Dominican Republic served as her breaking point. Dealing with issues like having to get a seat extender or being excluded from activities due to weight limits was very frustrating. When she arrived home, she started her transformation journey and hasn't looked back since.
What was your motivation? What inspired you to keep going, even when you wanted to give up?
In May 2017, as I approached my 30th Birthday, I found myself weighing 336 pounds and wearing a size 24 dress. My 30th birthday trip to the Dominican Republic was my breaking point. The entire trip consisted of me becoming more and more self-aware of my weight gain and how it altered my life. 
I remember squeezing my way through that aisle on the plane with a petite flight attendant screaming, "We need an extender on 26D." I also remember being excluded or limited in excursions because I surpassed the weight limit, which was more frustrating than transporting a suitcase of girdles only to still look stuffed and feel overheated.
Returning from my trip, I took my daughter to the park and burst into tears because chasing her around the playground made me short of breath, with my heart beating fast. I took a seat on the bench. She waddled her bow legs, climbed her way next to me, wiped my face, and said, "Let's go, Mommy." I've been Going Ever Sense. 
How did you change your eating habits?
I incorporated a lifestyle of intermittent fasting and eating clean.
What did your workout routine consist of? How often did you work out?
I started with pure cardio. I walked at least 4 miles three times a week in the park. I also joined a group fitness class that met five times a week, joined a boxing club, worked out on my own, and sat in the sauna at my local gym at least three times a week. After losing 106 pounds on my own, I finally signed up for 1 on 1 personal training classes.
What was your starting weight?
My starting weight was 336 pounds.
What is your current weight?
My current weight is 215 pounds.
What is your height?
I'm 5'7″.
When did you start your journey?
May 2017
How long did your transformation take?
Five years and still going.
What is the biggest lesson you've learned so far?
I've learned that nothing can be accomplished without changing your mindset, taking accountability for yourself, applying self-discipline, and exercising your physical and spiritual body to live a healthier and happier life. 
What advice do you have for women who want to lose weight?
Long-term weight loss can only be achieved when you break the shackles of mental and spiritual warfare. Keep Your Energy. You Owe Nobody.
Instagram: @iamactresskeyontae and @getfinewithkeyon