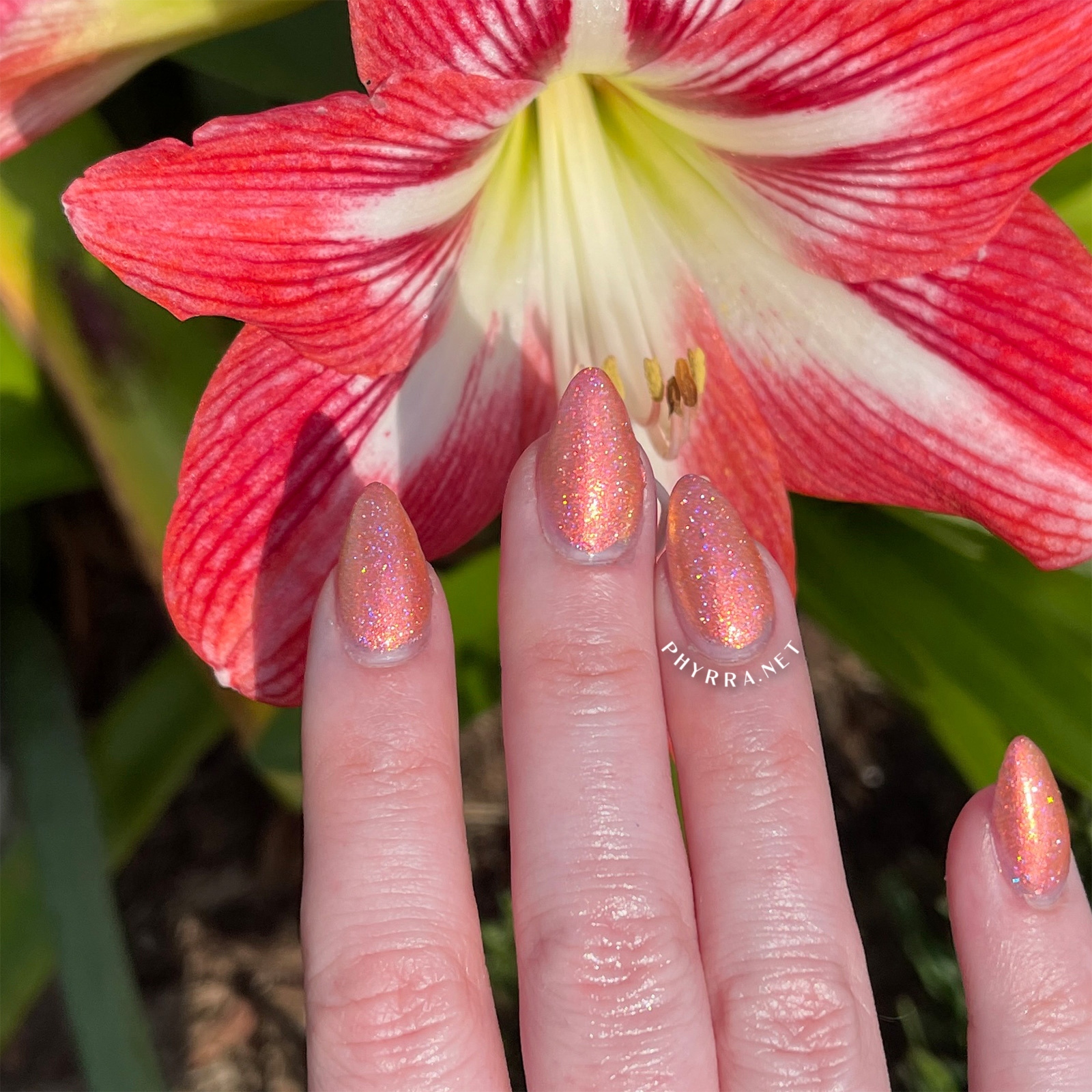 Happy Friday, beautiful creatures! Today I'm kicking off a new weekly feature starting with Cupcake Polish Shimmering Sunburst Mani as my first Indie Friday. Thank you so much to Cupcake Polish for sending me Shimmering Sunburst, Queening, Cloudburst, and Can You Dig It?
Pr + purchased by me. All opinions are my own.
Where to Buy
Cupcake Polish
Cupcake Polish nail polishes typically sell for $13 each.
About Cupcake Polish
Cupcake Polish is an indie nail polish brand that started in July 2013. They handmix high-quality, complex, beautiful nail polishes. All of their products are cruelty-free. I've purchased and loved many colors over the years including 5 years, Blue Tourmaline, Amethyst, Garnet, Mr. Mint, Jolly, Aurora Borealis, Lilac Skies, and Hamilton. I especially love Aurora Borealis, Lilac Skies and Hamilton.
Cupcake Polish Swatches
Below are swatches of Cupcake Polish Shimmering Sunburst on the nail wheel along with several other orange family iridescent nail polishes. Some photos were taken in direct sunlight, and the others were in indirect sunlight, around the hour before sunset. I did three coats of each color and a topcoat for shine.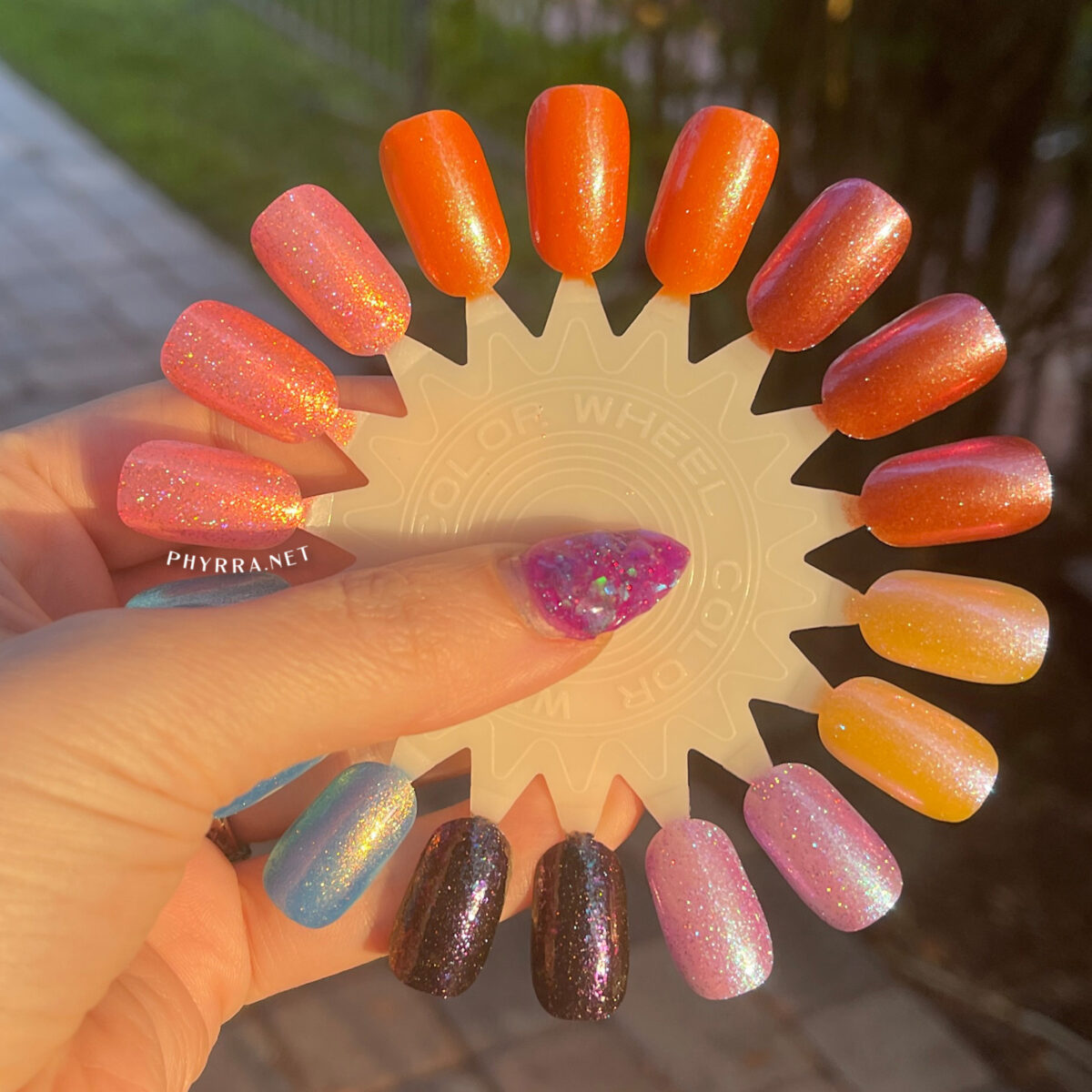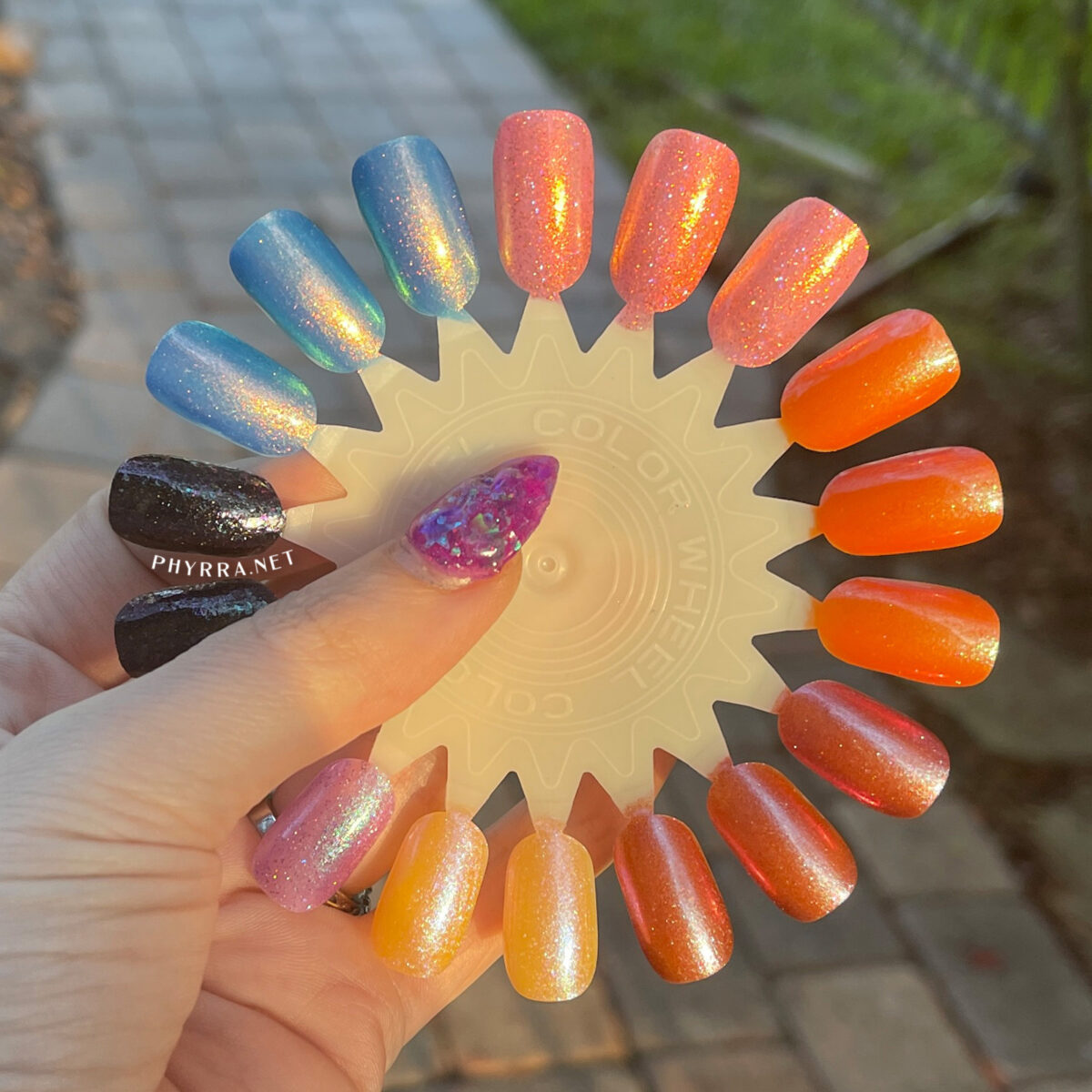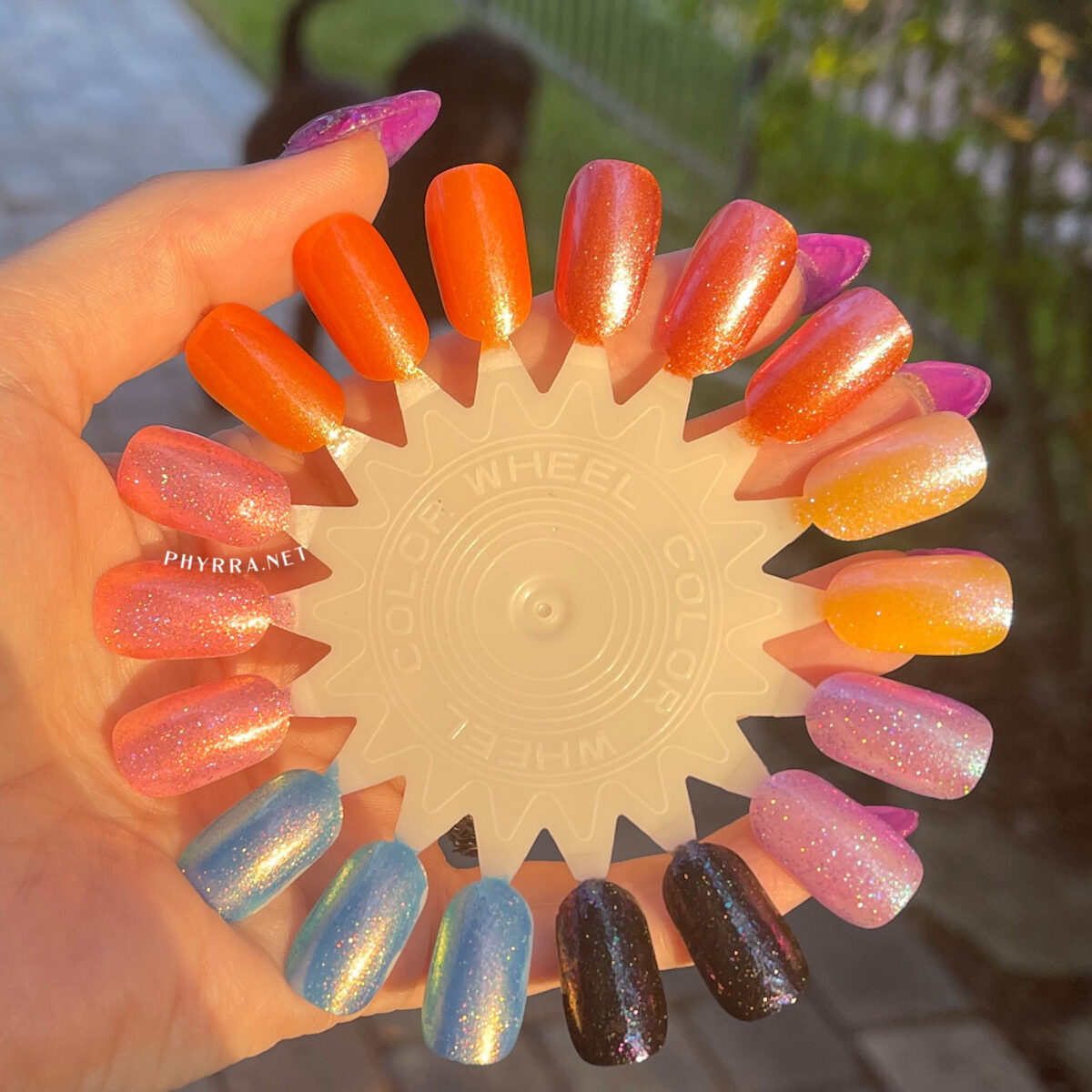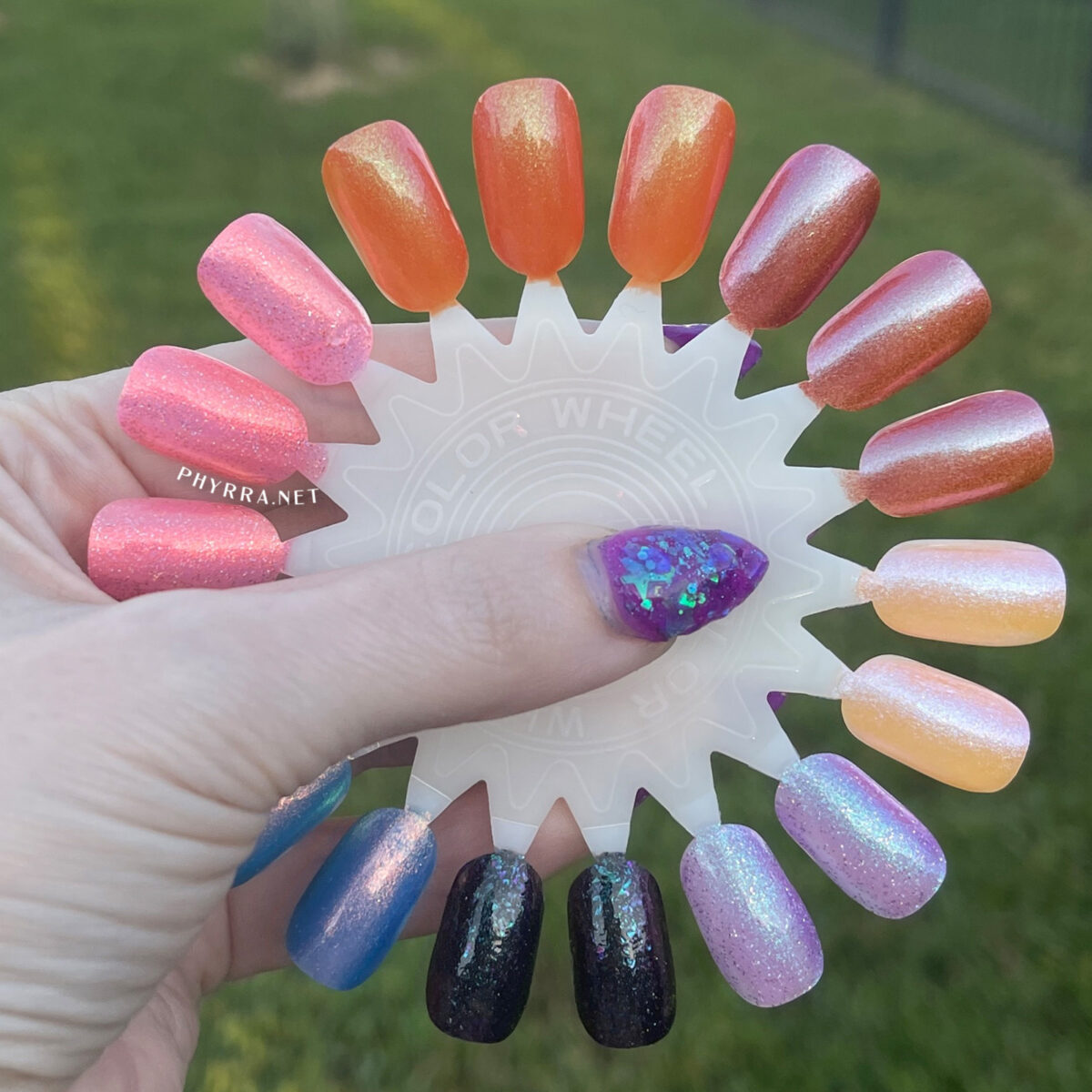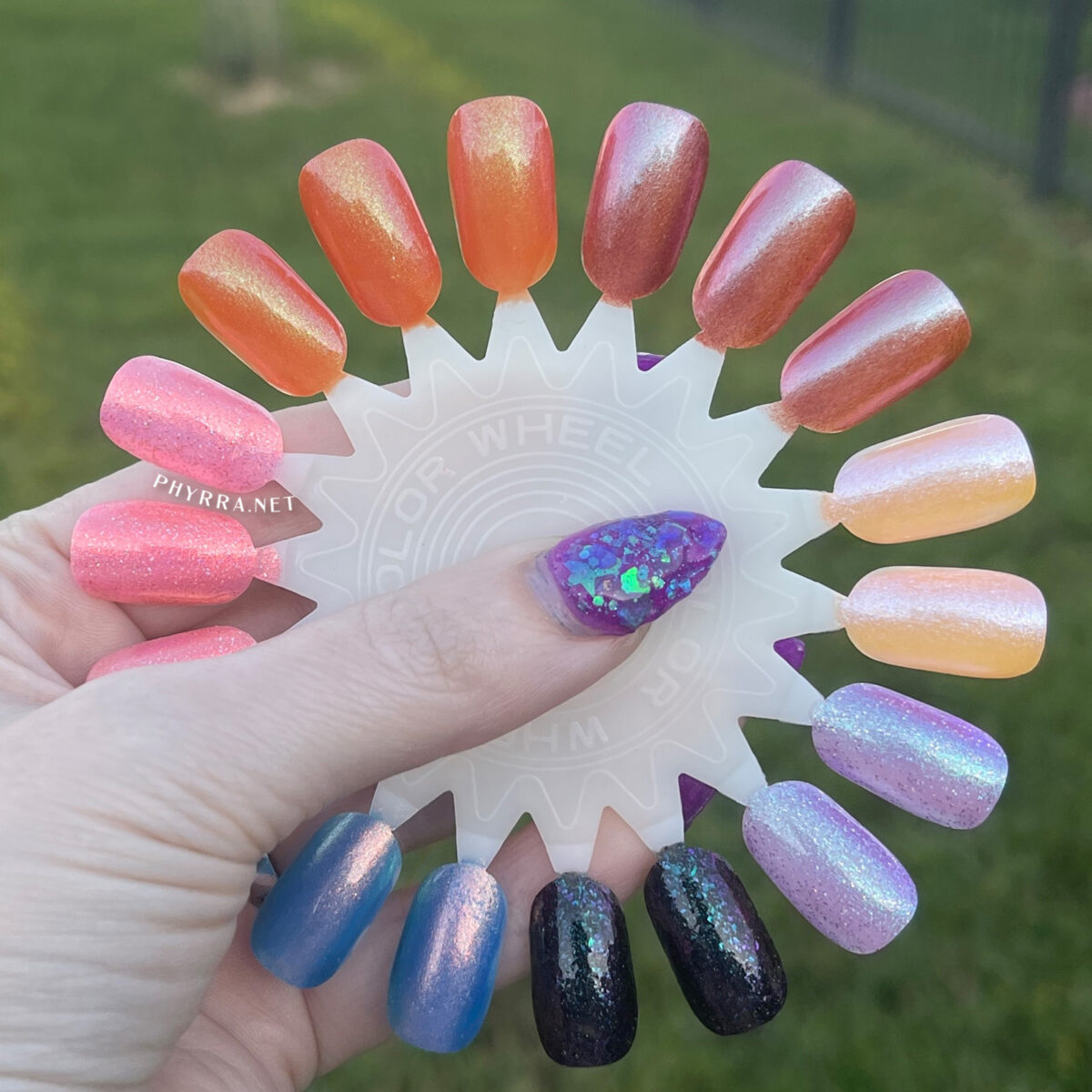 Clockwise from Aurora Borealis (black), Cloudburst (blue), Shimmering Sunburst (coral), Can You Dig It? (orange), Queening (rusty red), Hamilton (creamsicle orange), and Lilac Skies (light purple)
Here are the Cupcake Polish nail polish descriptions for each shade.
Shimmering Sunburst is a coral shimmery iridescent polish with silver holographic glitter. The polish looks golden orange from certain angles.
Can You Dig It? is a rich orange with pink to green iridescent aurora shimmer.
Queening is a shimmery rusty orangey red with iridescent shimmer that shifts to blue, purple, pink, and orange.
Hamilton is a light coral with blue to pink iridescent shimmers.
Lilac Skies is a light iridescent purple with blue to green aurora shimmer and silver holographic glitter.
Aurora Borealis is a black jelly filled with shifting multichrome and iridescent flakies that shift with teal, blue, purple, pink, and gold.
Cloudburst is a beautiful iridescent blue with orange to green to gold iridescent aurora shimmers.
See more Cupcake Polish nail polish swatches!
Cupcake Polish Shimmering Sunburst Mani
I am wearing Painted Desert Extra Short Almond Tips on my nails for my Shimmering Sunburst mani. Learn how to DIY gel nails at home.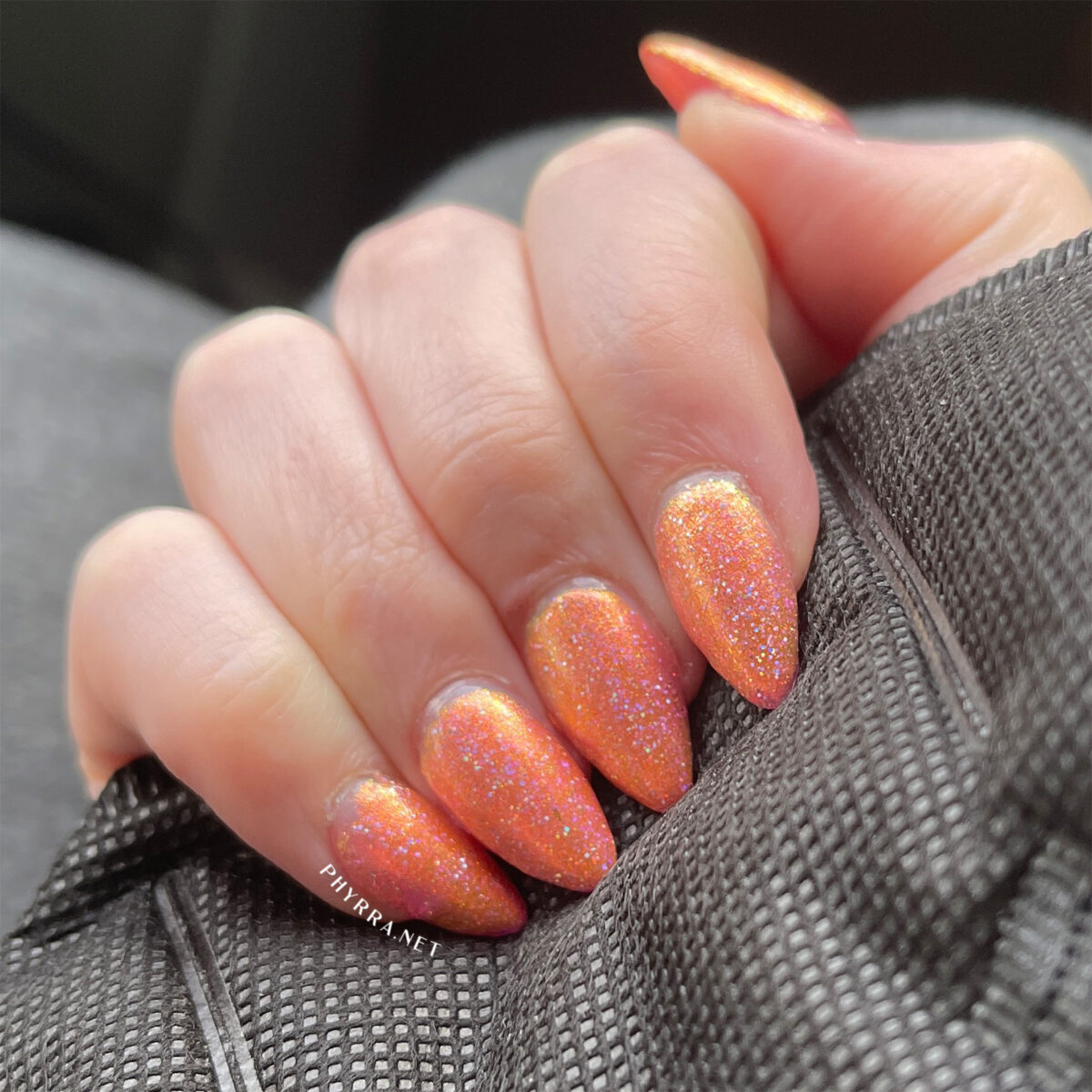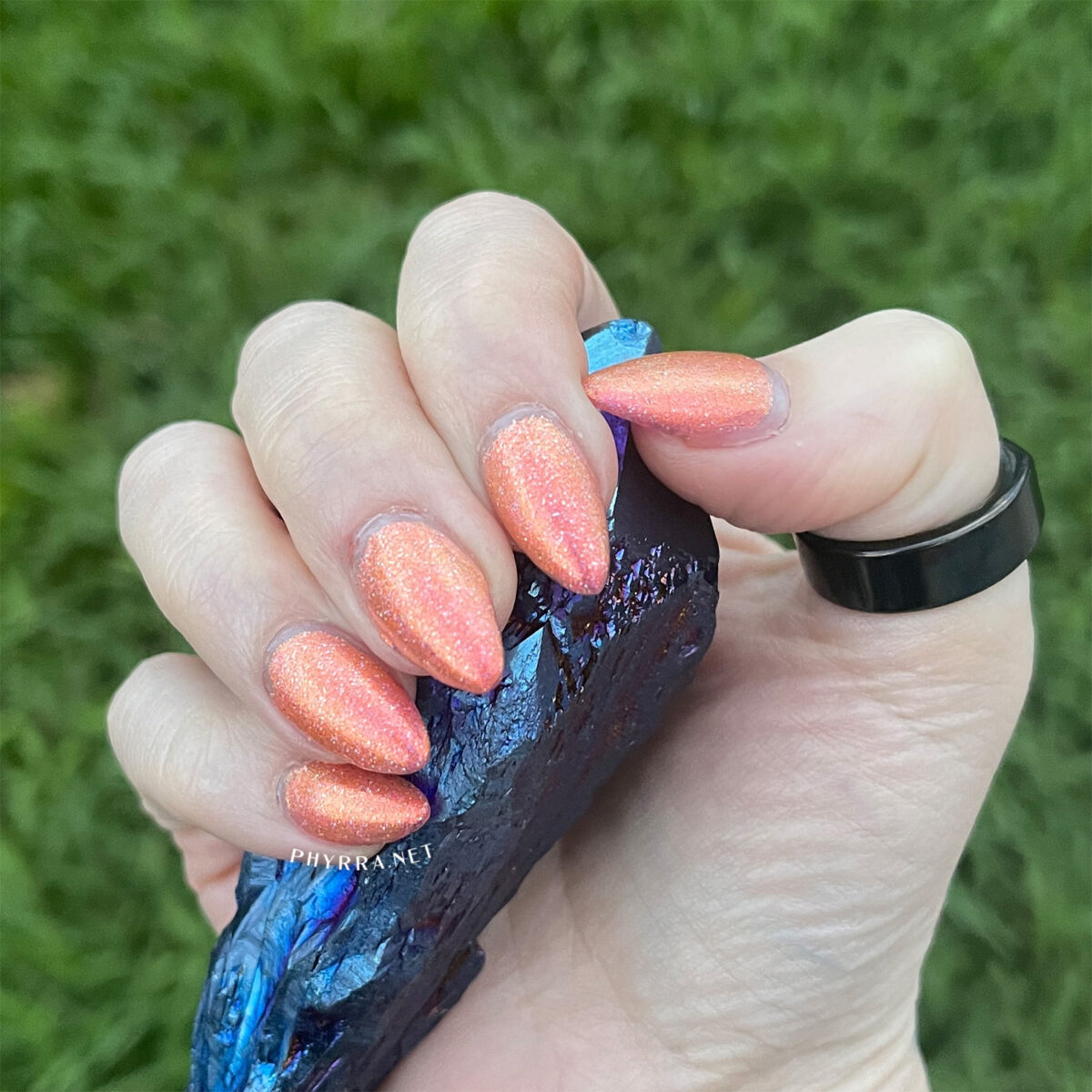 This is a beautiful color for Summer!
Orange and Blue Mani
If you are looking for short full coverage gel tips and you have flat nailbeds like I do, I highly recommend checking out the Painted Desert Xtra Short Almond tips. I didn't cut these down at all; I only lightly filed the sides. These fit me better than any other tips I've tried so far. I wish they had an Xtra Short Stiletto tip.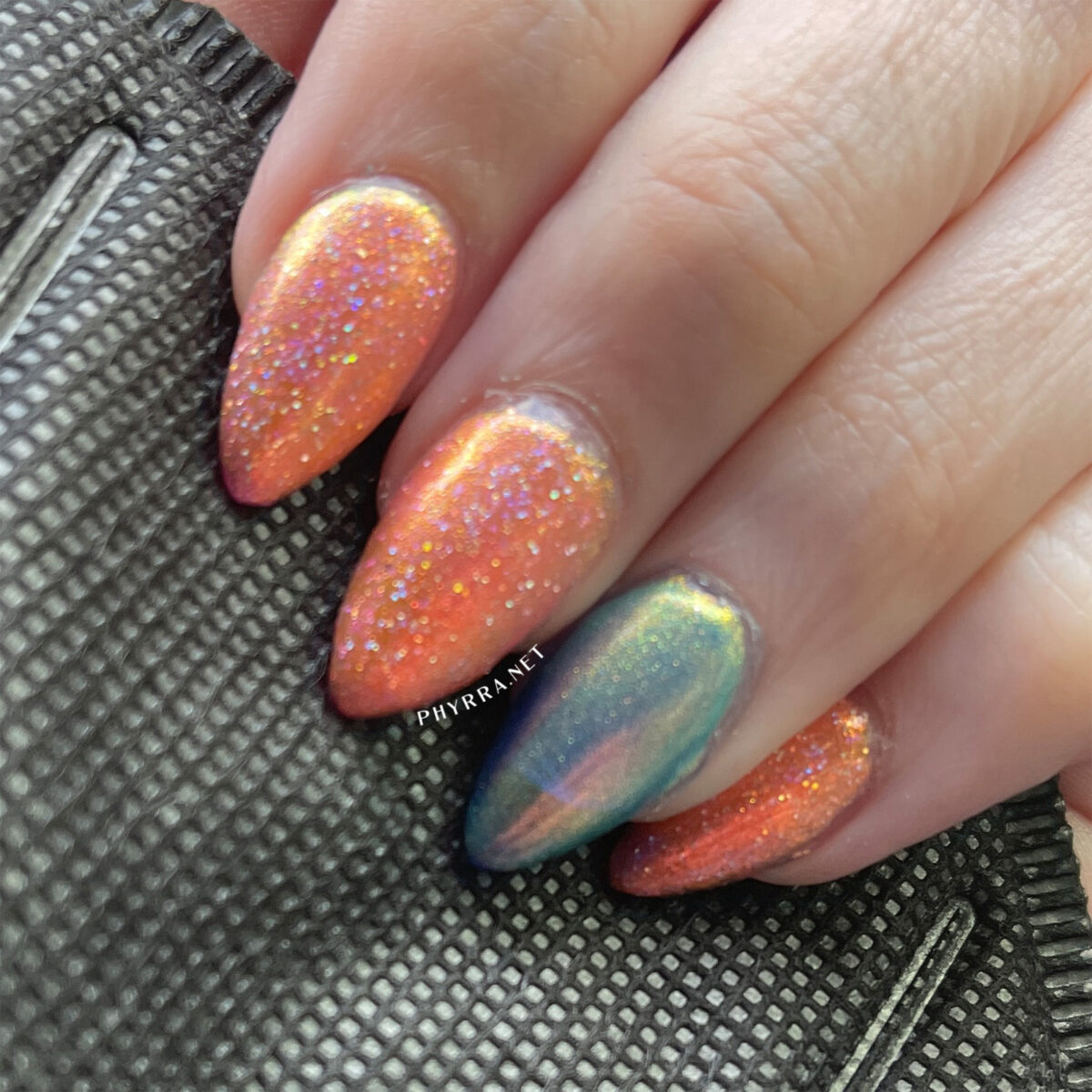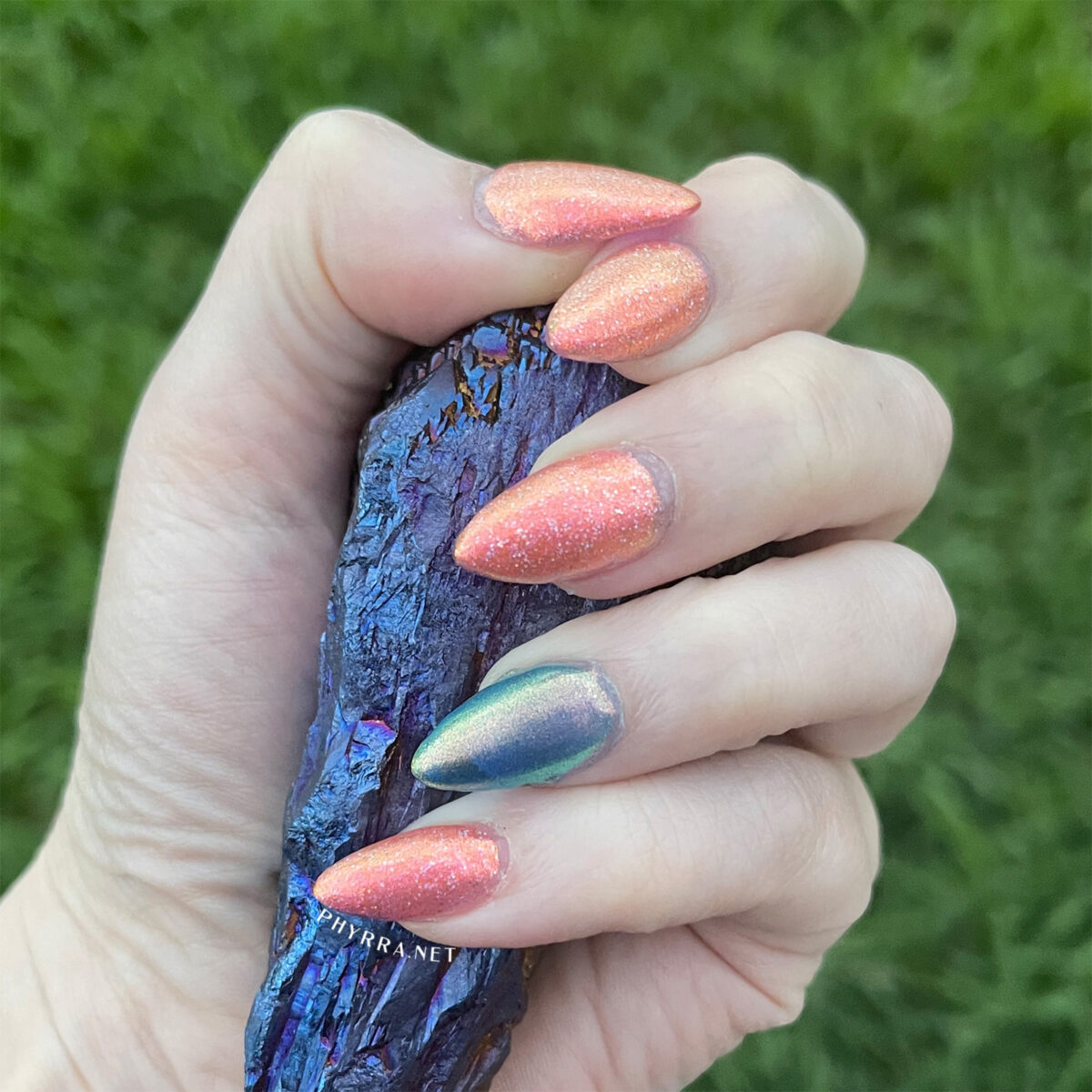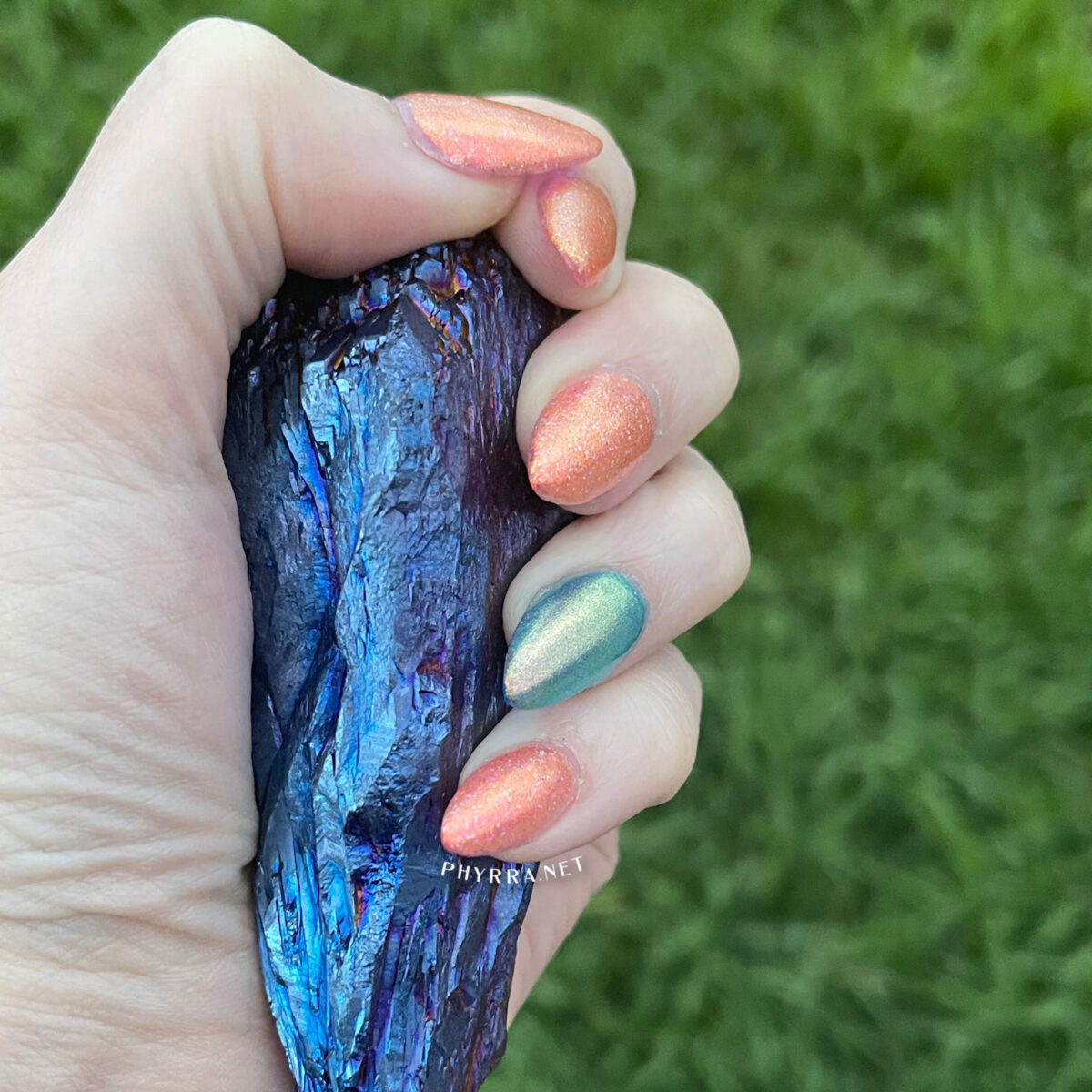 Multichromes, duochromes, iridescence and flakies are a few of my favorite things when it comes to indie nail polishes. I love the iridescent aurora shimmers and flakies in Cupcake Polish.
What do you think of Cupcake Polish and Shimmering Sunburst? What colors are you wearing right now?