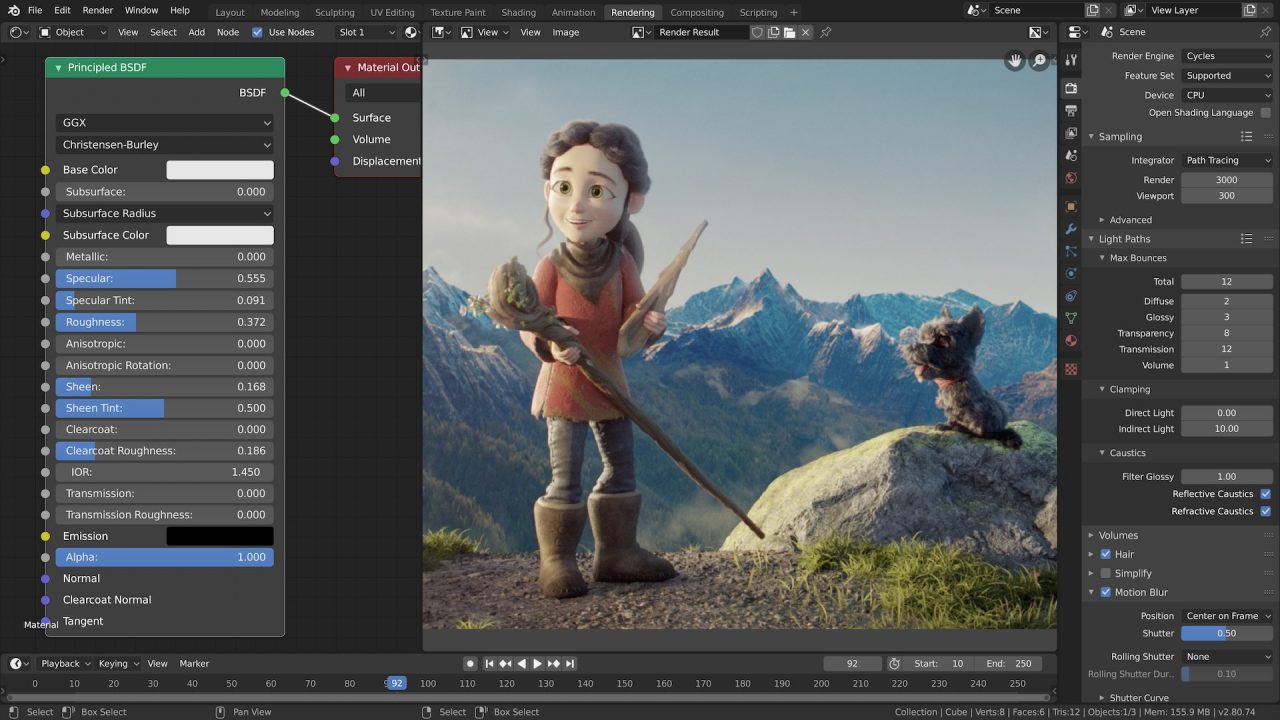 What is Blender?
We live in a magnificent world of digital art– always pushing the boundaries of innovation and creation.  The truth is, 3D creation is limitless in terms of what you can create, innovate, simulate, etc. From the newest animation movies that have stunning 3D visuals, to video game movements that just spot on with real life; have you ever wondered how that is done?  Ever thought about what programs and hardware behind those groundbreaking visual achievements in the latest video games, or CGI moments in our favorite movies that look beyond real?  Maybe you want to give this a try, or expand your creativity beyond it's limits?  Well, one of the most popular programs is Blender – a free open-source program that allows you to create your digital visions.
In this article, I will be going over the necessary hardware, as well as peripherals, that are essential to utilizing this program properly and building a Blender Workstation
Computer Hardware for Blender
With everything you can do with Blender, one person's hardware needs may differ from the others.  Blender offers support on the entire 3D scope:
Modeling
Rigging
Animation
Simulation
Rendering
Compositing
Motion Tracking
Let's go ahead and look at Blender's official requirements:
Minimum
64-bit quad core CPU with SSE2 support
8 GB RAM
Full HD display
Mouse, trackpad or pen + tablet
Recommended
64-bit eight core CPU
32 GB RAM
2560×1440 display
Three button mouse or pen+tablet
Graphics card with 8 GB RAM
Blender also supports Windows, macOS, and Linux.  They don't seem too intense, right?  Well, you are correct.  It really does boil down to what you are truly going to do in this program.
This build is going to allow you to take advantage of everything Blender has to offer; some programs/tasks might run slower, but it won't be impossible to use.
Best CPUs for Blender Workstations
First up is the CPU.
We have taken the liberty of including both Intel 12th gen, and 10th gen, as 12th gen does offer great performance boosts, the cost is significantly higher and parts are extremely hard to come by, most importantly the DDR5 memory.  10th gen offers more cores, which will help with better performance.
As for the AMD side, the 5900X houses 12 cores which is way above the recommended Blender specs, but have that extra power is never a bad thing.  I, personally, would go with the AMD CPU on this configuration, as these CPU's have proven to be powerhouses not only in a gaming aspect, but workstation as well.  Both team blue and team red have great offerings, however I think AMD would be more beneficial, especially with power consumption.
Intel (DDR5): Intel Core i9-12900K
Intel (DDR4): Intel Core i9-10900K
AMD: Ryzen 9 5900X
Blender Motherboard Recommendations
Next up, the motherboard.
When it comes to motherboards, any motherboard will work, honestly.  However, if you are looking to get the best performance and utilize certain tools such as special connectivity, security, and may other options for creation, getting a workstation board is the best route.  I have listed the three above that I would recommend for Blender, any workstation task really.  It all boils down to what you need for your creative visions and what is going to benefit you and your work.
Intel (DDR5): MSI Pro Z690-A
Intel (DDR4): Gigabyte Z590 Vision G
Best Graphics Cards for Blender Workstations
Now, let's look at GPU's.  There are many options out there (if you can get your hands on them, that is) in terms of GPU's.  Blender is really going to benefit from a good GPU such as an RTX card or even a Quadro card.  Nvidia is typically the better choice for this specific program due CUDA implementation in their program, as well as the acceleration of the GPU.  AMD will work; however, it is going to fall short in a lot of features that this program has to offer.  Below I will have vague suggestions, there are many AIC (add in card) partners with their own variants.  If you can get your hands any of these, I would.
Nvidia GeForce: GeForce RTX 3080
AMD: AMD Radeon RX 6800XT
Best RAM For a Blender PC
Let's move on to memory, or RAM, and what you truly need.  I know I sound like a broken record, but it is really all going to depend on what you are doing in Blender.  You could get away with 16gb, or 128gb, but do you really need that 128gb?  No.  Absolutely not.  I will recommend some kits below, all ranging for 16gb to 32gb as 32gb will be good to have for longevity in your build.
G.Skill 32gb: Ripjaws V DDR4-3600
Corsair 32gb: Dominator Platinum 3600MHz
Corsair 16gb: Vengeance LPX 3200MHz
G.Skill 16gb: Ripjaws V DDR4-3200
What kind of storage does a Blender Workstation Need?
Next up on the list is storage.  Ahhhhh, my favorite part of any build.  I love storage, and I am of the mindset that you can never have too much space.  Well, in this case, you truly can never have to much space.  I will recommend at least one SSD, and one HDD.  Me, personally, I house all things I do not need at the current time on my HDD, while using my SSD for all my applications that I am using at that time.  Time is always of the essence, so having storage devices that can provide quick loading times, as well as writing times, is always ideal.  See below some recommendations!
Samsung: 970 PRO NVMe® M.2 SSD 1TB
Samsung: 870 QVO SATA III 2.5″ SSD 1TB
Western Digital: WD_BLACK SN850 NVMe™ SSD
Western Digital: WD Blue PC Desktop Hard Drive – 4TB
Seagate: BarraCuda 3.5″ Hard Drive 4TB
Best Power Supplies for Blender
With power supplies, it comes down to the hardware you are using and how much power you are truly going to need.  You certainly don't want to get GeForce 3090 and pair it with a 550-watt power supply.  It is crucial to look into the power requirements for each component.  While you can go above and beyond your needs on a PSU, some people want to get just what is needed to help save on their electricity consumption.  Here are some recommendations for blender workstations from several wattage tiers that will do justice, depending on how much power you need.
550W: EVGA 550 B5 , Corsair CV550 , Cooler Master MWE 550 White – V2
750W: EVGA SuperNOVA 750 G5 , Corsair RM750x , Cooler Master V750 Gold – V2
850W: EVGA SuperNOVA 850 G5 , Corsair RM850x , Cooler Master V850
1000W: EVGA SuperNOVA 1000 G5 , Corsair RM1000x , Cooler Master V1000
Cooling your Blender Workstation
Moving on to coolers, you really have the freedom of choice when it comes to this component.  You could get away with a stock cooler, depending on how demanding of work you will be doing.
Here are some great options:
Best Cases for Building a Blender Workstation
Last of the major components would be a case.  There are so many options when it comes to a case for your computer that it can be overwhelming.  Case really comes down to preference.  And airflow.  With a build designed to use Blender, or other workstation programs, you want to have essential airflow to keep temperatures low.  There are two cases I would recommend that are tried and true for airflow and workstation builds:
Moving on to the fun stuff, in my opinion, are the peripherals.  There are so many peripherals out there that it is hard to decide on what is a want and what is a need.  I struggle with this, personally.  The key peripherals you want to invest in are your monitor/s, keyboard, mouse, drawing pad, and headphones.  Those, in my opinion, are critical peripherals when it comes to workstation builds.  Granted, maybe you don't need a drawing pad or a high-end mouse, however, investing extra money into these things will really help your creativity blossom.  I have posted some of my top favorite peripherals that I know you will enjoy as well!
Recommended Periphals and Accessories for Blender
Asus ProArt Display PA329CV – Top of the line monitor that is going to help bring out vibrant colors at a beautiful resolution.  An essential in digital art creation.
Acer H7 Monitor – With Acer being one of my favorite brands of monitors, I may be a little bias here, but this monitor will do wonders for you and your work.  This is a top tier pick.
Samsung 34" S65UA – You cannot go wrong with any Samsung product.  This monitor is a wide screen monitor that will allow for much more viewing in one app, or multiple apps, without having to have a secondary monitor.
Logitech CRAFT – This is the top tier workstation keyboard.  With it being wireless, as well as featuring its signature dial on the top left, this is a great pick if you are looking for a good workstation keyboard.
Logitech MX Keys – This would be my second pick when it comes to keyboards.  It features a sleek design, as well as perfect keys for any sort of workstation task.  It is low profile, too, which is always a favorite in my book.
Logitech M705 Marathon – This is a basic, yet terrific, pick.  This mouse is wireless and will do just about anything you need it to do.  I am someone that uses this mouse professionally and it is fantastic.  That battery life on this is amazing.
Logitech MX Master 3 – This is the top tier in professional mice.  With the new MagSpeed Electromagnetic scrolling Logitech has brought to the table, this is an amazing choice.  With its design in mind for long workdays or art sessions, you cannot go wrong with this mouse.
One of my favorite things about computers are that the possibilities are endless.  The same can be said for Blender.  While this article was to talk about components that would be beneficial to new, and veteran, users I cannot go without saying the same for this program.  This digital age is one that is rapidly evolving into something special.  Programs like Blender are what provide limitless creativity to our imaginations, our dreams, and our goals.  Pairing a build with parts above will allow for creativity that will be untouched.  Are you ready to jump into the digital art age?  If so, I look forward to seeing what you create next.