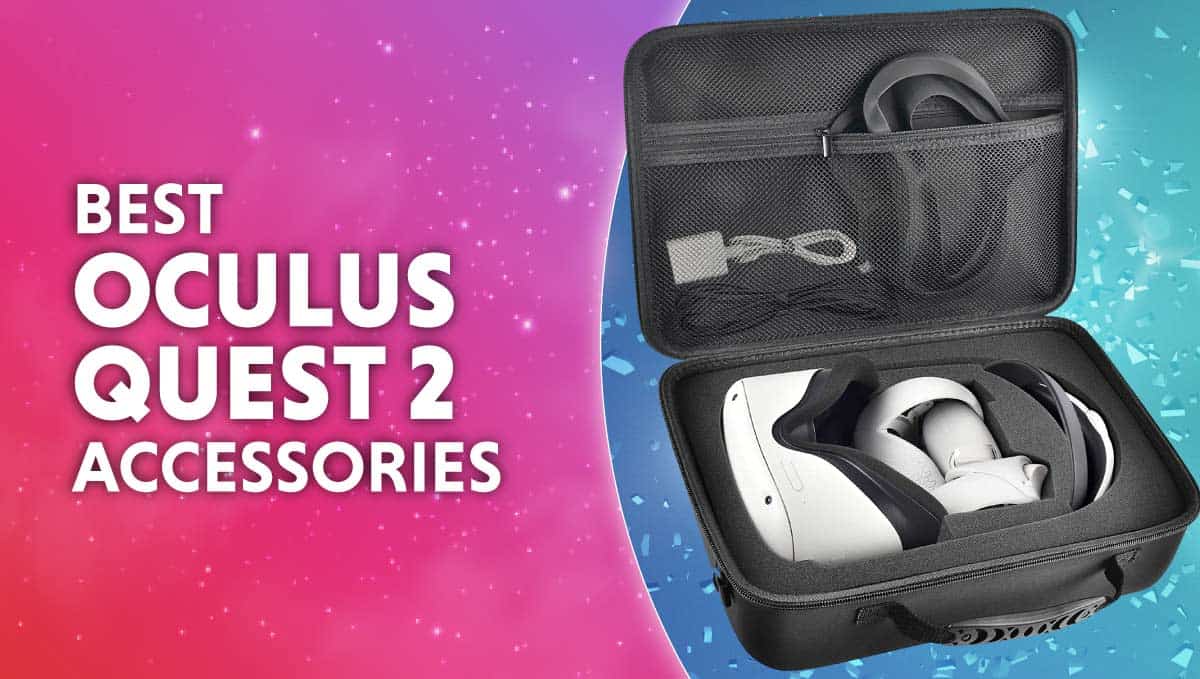 Last Updated:

As with most modern technology, there always seems to be a slew of extra stuff that you are told is absolutely vital for the device in question. So to cut through that garbage, we're going to look at the best oculus quest 2 accessories that are actually worthwhile. So, you won't find any dbrand skins or optional googly eyes on this page, just the stuff that most people should consider getting alongside their shiny Oculus Quest 2, or, meta quest 2 now. It's hard to keep up, isn't it? Anyway, let's take a look at the best accessories for the Oculus Quest 2 and why they are actually worth the money.
Oculus Quest 2 case
Seeing as you've landed on this page you've either bought a Quest 2 or are planning on doing so, which means that you're familiar with how costly it is. So you won't be surprised to learn that one of the best Oculus Quest 2 accessories is a protective case. We actually consider it to be arguably essential as the Quest 2 doesn't travel well due to its bulky shape and fragile plastic sections.
Comecase hard carrying case for Oculus Quest 2
Padding
High-density foam
A lot of the cases we've seen rely on straps to keep the Quest 2 in place. seatbelts work fine for people in cars, but for brittle plastic gaming stuff, they won't suffice. For this reason, we've gone with the Comecase hard carrying case as it has perfectly sized high-density foam cutouts that both insulate the Quest 2 from impacts, but keep it still during transit. Additionally, it has a hard outer shell, so you need not worry about stacking things on top of it, and it even comes with lens protectors, covers for the thumbstick, and a silicon face covering to prevent scratches.
Oculus Quest 2 battery pack
Next, we're going for pure functionality as one of the fundamental limitations of the Quest 2 is also what makes it such a great gaming product, it's standalone. This means you are completely untethered and free to move around damaging furniture and "accidentally" tripping your children over. All this fun comes at the expense of battery life, unfortunately, as the slim minimalist form of the Quest 2 has relatively limited space for batteries.
KKCOBVR Q2 Battery pack for Oculus Quest 2
Extra battery life
Up to 3 hours
Luckily for you dear reader, this limitation has been known for a long time, so there are additional power banks available for purchase. We've opted for the KKCOBVR Q2 head strap with a built-in 5200MaH battery pack, don't worry, it integrates with the headset better than it rolls off the tongue.
As a result of its dual-battery design, it can extend the playtime of the quest 2 by up to three hours, this is literally double the default battery life. Of course, all this extra puff comes at the cost of additional weight, but the clever folks over at KKCOBVR have thought of this, as they've not only mounted it at the back of the headset to counterbalance the weight of the lens portion, but they've even outfitted it with additional flanges then contact the top of the wearer's head (with padding of course). This allows for balanced weight distribution, so despite the extra pounds, you're still getting a comfortable experience.
Oculus Quest 2 controller covers
Yes, we said we'd avoid covers, but considering the all-plastic construction of the controllers, and the huge circular portion that is just begging to be broken, especially with games that have you waving your hands around at pace like Beat Saber we've decided to recommend some anyway.
Vakdon full protection controller covers
Luckily Vakdon has you covered as they produce a silicon set of covers that have a few tangible benefits aside from protecting the controllers from impact. First up is the ergonomic shape around the handles. This guides your fingers into a position akin to a pistol grip and combines with the additional wrist strap to ensure that you don't launch the controller through a winder or at the significant other. They've also left strategic gaps in the silicon so as not to block the signals coming from the controllers so the overall gameplay experience isn't affected.
Oculus Quest 2 headphones
One of the biggest complaints surrounding the Quest 2 is the poor audio quality from the tiny tinny built-in speakers. Luckily, there is a 3.5mm audio jack so you can use your own, or get some purpose-built ones like the ones we're going to recommend. It's worth noting here that the Oculus Quest 2 does not have a particularly powerful amp, so those high-resistance $600+ headphones will not work well in this use case.
MYJK Clip On VR Headphones
Frequency response
100Hz-3kHz
To that end, we've decided to take a look at a more integrated solution, this search took us to the MYJK CLip on headphones. Not only do they add some bass to the Oculus Quest 2's woefully underpowered soundscape, but they clip to the horizontal struts and can be adjusted for the perfect fit. Additionally, they add very little extra weight so you won't notice the difference, you'll just enjoy the enhanced audio.
The best Oculus Quest 2 accessories: Final word
To reiterate, there aren't many things you need to buy in addition to the Quest 2 itself, so we've kept this list fairly slim, so as not to flog you worthless garbage. If your budget is limited we implore you to start with the case or the controller covers. After all, what use is enhanced audio if the Oculus Quest 2 is broken after an accidental meeting with a wall?
Related Oculus Quest 2 pages
If you're on the hunt for more Oculus content, check out our other pages right below as we've written about this fantastic standalone VR headset before.