Amazon is always updating its colorful line of tablets, and deciding which Fire should light up your life remains just as difficult as ever. Yes, the Fire 7's insanely low price of $59 is alluring, but is that a better value than the $89 Fire HD 8? Is the $149 Fire HD 10's screen really worth paying three times the price of the Fire 7? 
Amazon just announced an updated version of the Fire 7 and Fire 7 kids models that promise improved performance thanks to a new Quad-processor running at 2GHz and the ability to expand the storage via the microSD slot up to 1TB. For more info on the recent update check out our Fire 7 update announcement coverage. 
In May of 2021 Amazon released the Fire HD 10 Plus to add to Amazon's tablet lineup. The Fire HD 10 Plus comes with an Octa-Core CPU, 4GB of RAM, 1080p display,  wireless charging, and you can choose between 32GB or 64GB of internal storage. The Fire HD Plus costs $179, basically for an extra $30 you get more RAM and Wireless charging. We will update further once we review it.
That all depends on personal preference. The new Fire HD 10 just got a refresh this year, with a reduction in overall weight and size (in addition to a brighter screen); the Fire HD 10 Plus adds some extra RAM for a performance boost.  
When tablet shopping for a child, the choice is even harder, as the Fire 7 Kids Edition and Fire HD 8 Kids Edition include the same two-year, no-questions-asked warranty, along with a kid-proof case and one year of FreeTime Unlimited apps, games and other content. Keep in mind that you can also get Google Play on your Fire Tablet as well. 
Amazon recently added a higher-end Kids Pro option to the mix: Fire 7 Kids Pro ($99), Fire HD 8 Kids Pro ($139), and Fire HD 10 Kids Pro ($199). All of the tablets come with a free year of Amazon Kids+, a $3 monthly service that includes access to apps, music, Audible books, games, videos and educational content. The user interface has more of a "grown-up" look than the standard Fire Kids tablets including a "For You" tab that suggests content for the kids.
Still lost? Here's our advice on the best Fire Tablet for you.
USB-C charging — and long battery life — make the 10.1-inch Fire HD 10 the tip-top tablet in Amazon's lineup. Yes, not only is this the only Full HD slate Amazon sells, with a 1920 x 1200-pixel panel that's sharper than the rest, but its 224 ppi display is absolutely stunning. (In fact, the latest iteration is 10% brighter than the previous model.)  The improved 2-GHz octa-core processor is zippy, and you can upgrade the internal storage from 32GB or 64GB to an impressive 1TB via microSD card. The only drawback? It's pretty pricey: at $149, it's three times more expensive than the Fire HD 7.
See our full Amazon Fire HD 10 (2019) review.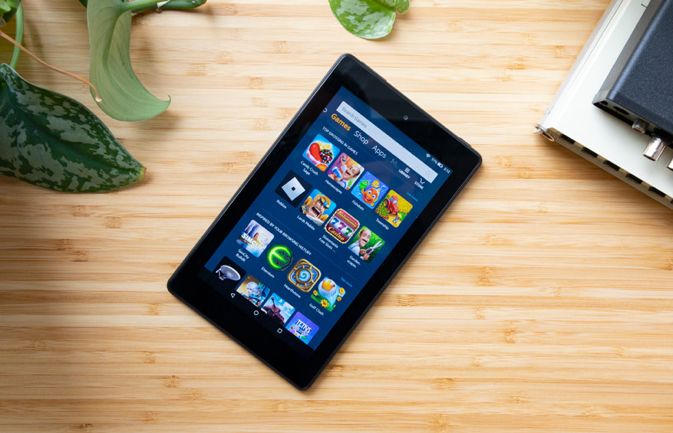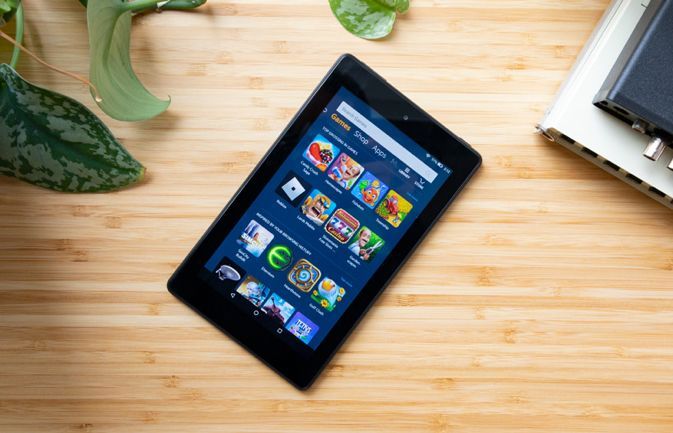 The newly announced 2022 Fire 7 gets a 30% faster processor, double the RAM, and up to 40% more battery life in the same durable diminutive form factor that makes it a perfect tablet to take on vacation, on the go, or just around the house.
At just $59, the Fire 7 is Amazon's most affordable tablet yet, not to mention the lowest price for just about any tablet, period. (The 8-inch Walmart Onn is a slightly pricier $64.) The Fire 7 packs a lot of value inside, with a bright screen and durable-feeling chassis. Plus, thanks to the full-fledged version of Amazon's Alexa digital assistant, you can simply speak commands (instead of accessing Alexa with the home button of yesteryear). So, while the Fire 7 isn't the fastest or longest-lasting Amazon slate, it's still the cheapest. 
See our full Amazon Fire 7 Tablet review.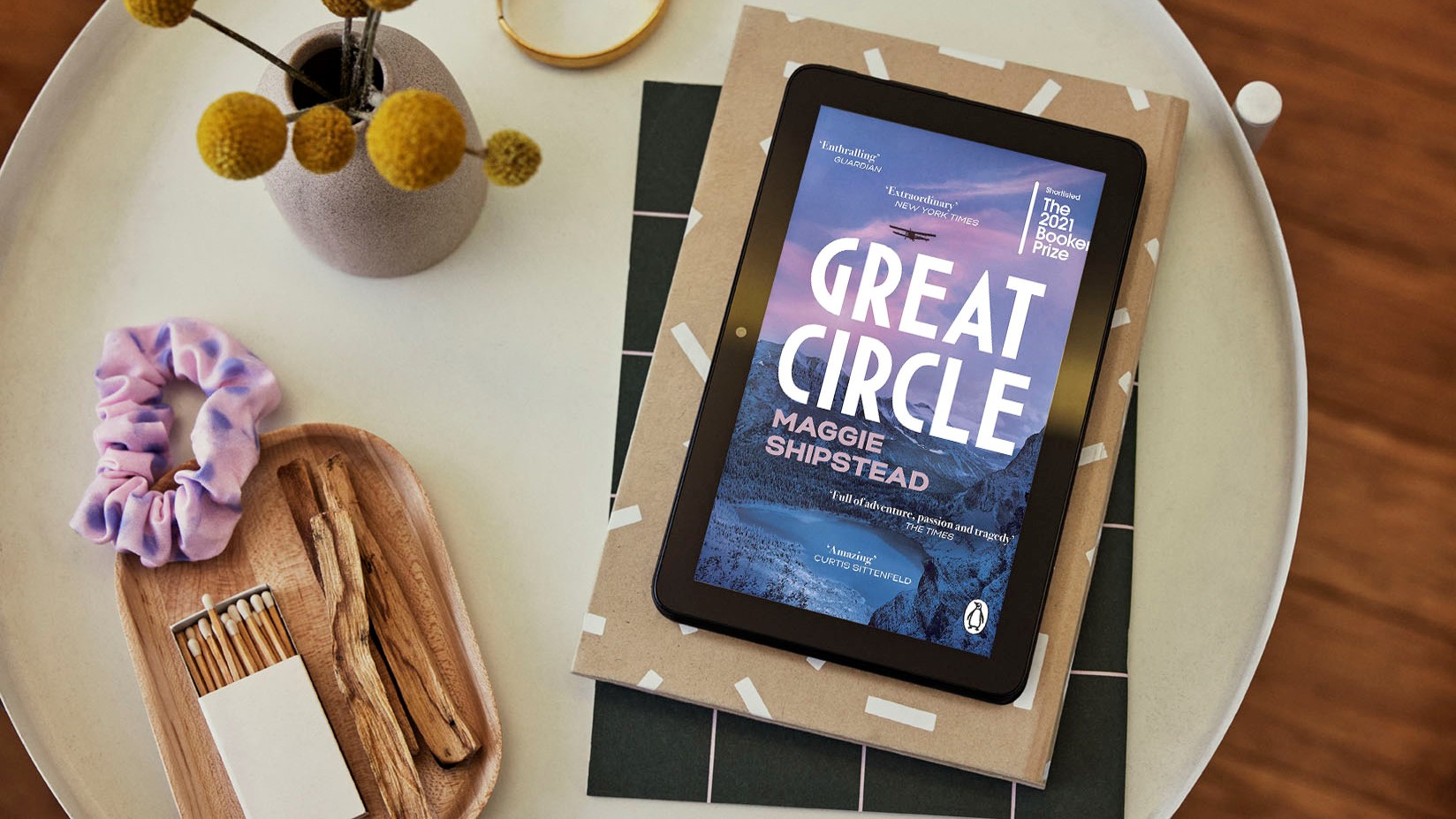 It may cost a little more than the Fire 7, but the Fire HD 8 packs enough extras to justify that additional spend. Not only does it last longer on a charge than the Fire 7 (according to our original testing), but it's also better for watching video, as its 8-inch, 1280 x 800-pixel display is sharper and brighter than the Fire 7's 1024 x 600-pixel panel. Lastly, the Fire 8's stereo speakers make it better for Amazon Prime Music, as the Fire 7 is rocking a single mono speaker. The webcam is nothing to write home about, but the Fire HD 8's display and battery life make it the best tablet under $100. 
See our full Fire HD 8 review.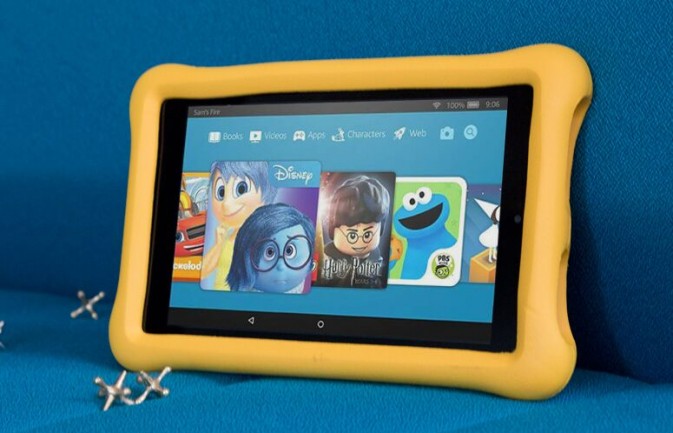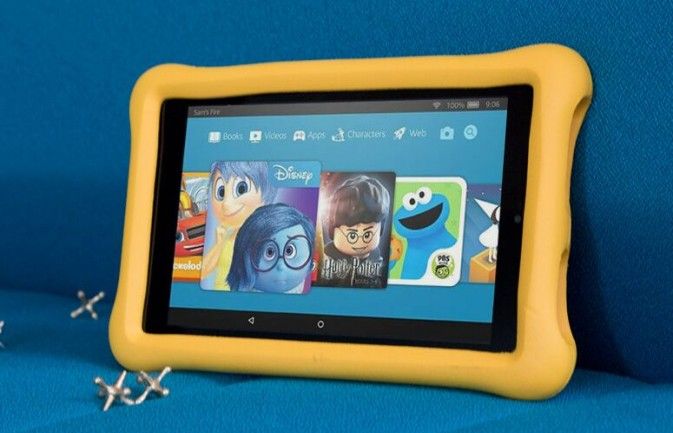 The last thing you want when you hand your kid a tablet is for them to come back a short time later and say, "It's dead! Charge it!" Fortunately, the Fire HD 8 For Kids lasts up to 10 hours on a charge. The included foam bumper means this slate can survive any drops and knocks your child can throw at it, and a two-year, no-questions-asked warranty means a free replacement if Junior actually breaks the device. The tablet also comes with a year of Amazon's FreeTime Unlimited service, a digital treasure trove that features more than 15,000 age-appropriate games, movies and TV shows, including most of the popular programs from Disney, Nickelodeon and PBS. Detailed parental controls let you decide everything from what hours your child can use the device to what apps, content and websites he or she can visit. You can even set educational goals so your kid has to read for a certain amount of time in order to get playtime. 
See our full Amazon Fire HD 8 Kids Edition review.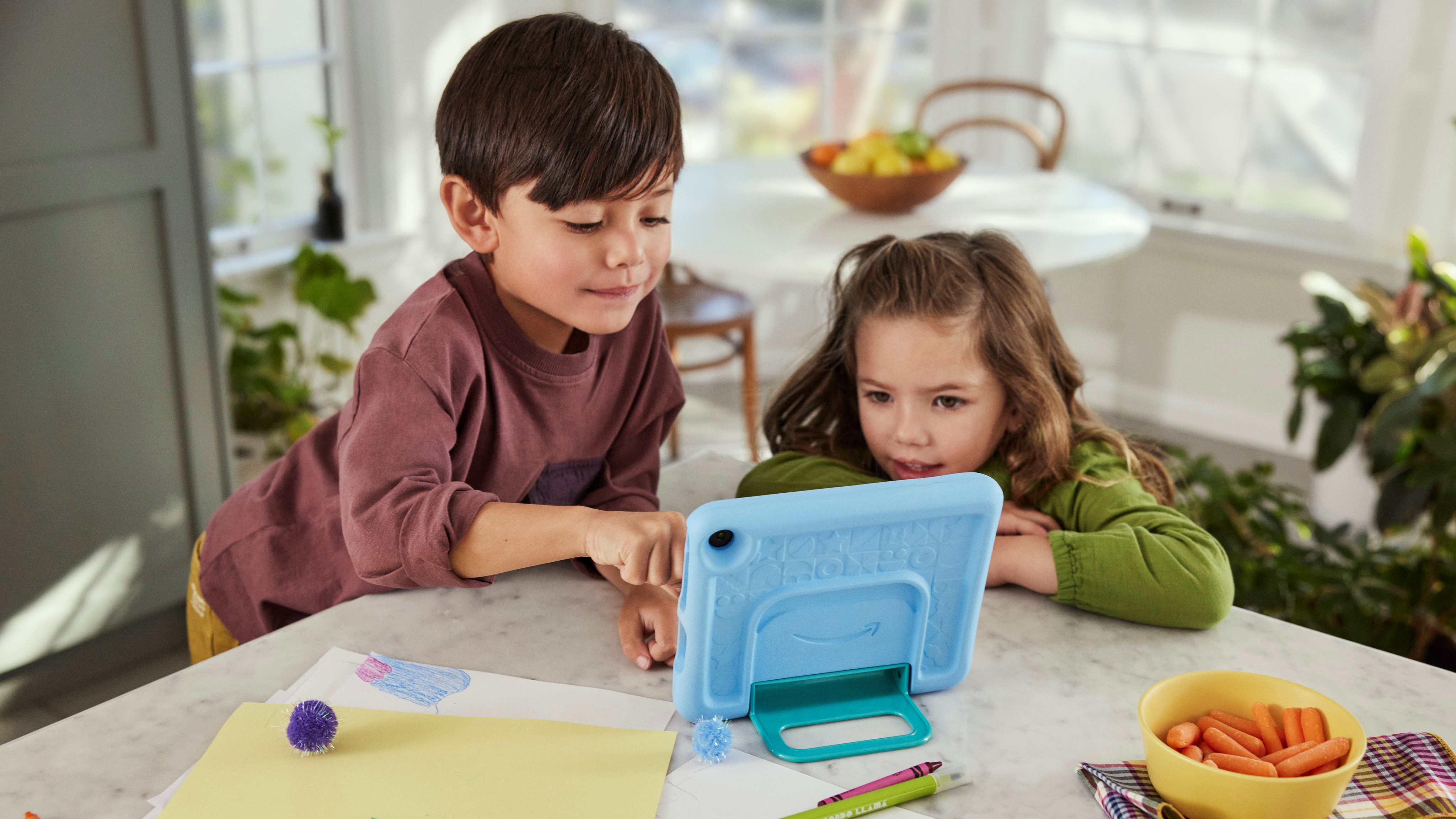 Amazon just announced an updated Fire 7 kids for the same price of $109 as the last model. The tablet for kids is an amazing deal when you consider everything you get. Not only does it come in a durable foam case that makes it easier for smaller hands to grip, but the best-in-class parental controls mean that moms and dads can make sure their progenies are staying safe online. On top of all that, you get a free year of Amazon's FreeTime Unlimited content and a two-year worry-free guarantee — a buffet of kid-friendly apps, books, TV shows and movies — which normally costs $3 per month. Our team can't wait to get our hands on the updated FIre 7 kids and test it out. 
Editor's Note: The new Fire 7 Kids tablet features a new adjustable stand for hands-free viewing, double the storage and more battery life.
See our full Amazon Fire 7 Tablet review.