03
Best for high-end Ryzen CPUs
Corsair iCUE H150i Elite Capellix Liquid CPU Cooler
---
Zen 4 & TDP
Zen 4 is AMD's latest generation of CPUs and they are looking power-hungry. The only information we have about these new CPUs is the TDP of a mystery 18-core Ryzen 7000 CPU, and the TDP reads 170W. 
A 170W TDP is significantly higher than any other current Ryzen CPU and will require a pretty hefty cooler to keep the high-end chips cool enough to operate properly. 
What is TDP? 
TDP stands for 'Thermal Design Power' and is the maximum amount of thermal energy a component can produce in Watts. In short, TDP is the max amount of heat produced at a full CPU load. TDP is your enemy and must be dissipated as quickly as possible before it builds up and causes unsafe CPU operating temperatures. 
That's where CPU coolers come in. CPU coolers bring the heat away from the CPU and dump it into the air around it, whether that be through air or water cooling. A higher TDP means more heat, more heat means you need a better CPU to dissipate it all. 
---
AM5 cooler compatibility. 
Speaking of TDP, AMD confirmed during the company's keynote back at CES 2022 that the AM5 socket will be fully compatible with AM4-based CPU coolers. This is all thanks to a similar backplate screw configuration and an unorthodox IHS design on the Zen 4 CPUs themselves. 
Hopefully, the backward compatibility avoids the problem of  Intel LGA 1151/1200 coolers needing a special backplate adapter to fit the LGA1700 socket.
Backplate
There's a lot of excitement around the compatibility of AM4 coolers on the AM5 platform, but we think it's important to discuss the backplate for a second because everything isn't what it seems.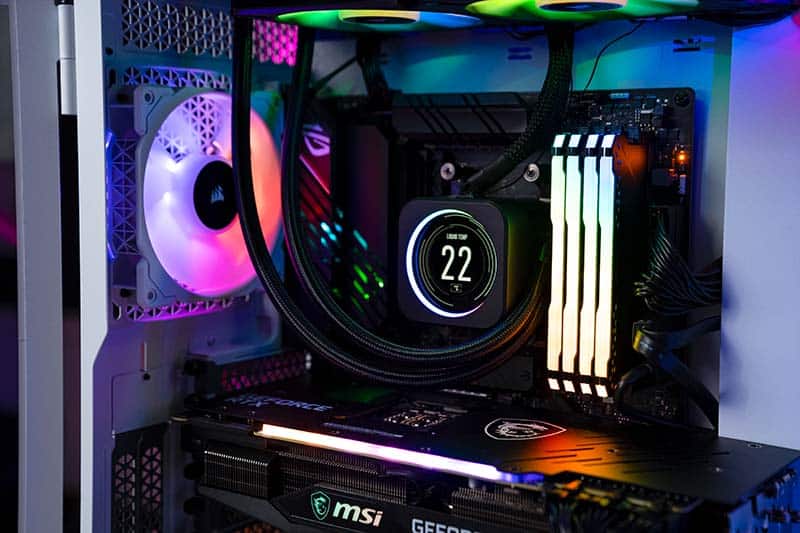 The two pre-installed "clip" factory mounting kits that ship with AM4 motherboards will make a return on AM5. This kit can competently secure cooling solutions weighing up to 500 grams before the weight becomes a problem, the same as AMD's AM4 socket.
Nothing differs here and you will be able to continue to use AM4 coolers in this configuration.
The problem with backward compatibility becomes apparent when you have to remove the default mounting solution to mount a cooler that either is not compatible with the standard mounting kit or weighs over 500 grams.
The new Socket AM5 requires a special backplate whose necessary cut-outs vastly differ from AM4, and the Socket Actuation Mechanism (SAM) is screwed directly into the backplate.
This means that if your CPU cooler requires a custom backplate to mount, you may have to wait for an upgraded version of the cooler, or wait for the manufacturer to ship a backplate. 
It does seem strange for manufacturers to ship backplates alone, but more than a couple opted for this solution with the release of the LGA 1700 Intel socket. The aim was to upgrade the compatibility of LGA 1200 coolers, without having to redesign the mounting mechanism. 
---
Compatibility list 
A few CPU cooler manufacturers have officially announced AM5 cooler compatibility. Most of these companies have specific web pages dedicated to their CPU coolers that are AM5 compatible. 
Here's a list of all manufacturer AM5 compatible CPU cooler pages.
We'll update this list as more manufacturers announce AM5 compatibility.
---
In-depth review
Here we will give each CPU cooler a more in-depth review, to determine whether or not the CPU cooler is right for you.
ASUS ROG Ryujin ii
Pros



LCD Screen




High Performance




Aesthetically, one of the best looking AIOs on the market
Cons



Expensive




More affordable options that perform similarly
Noctua NH-D15
Pros



Solid thermal performance




Excellent acoustic performance




User-friendly mounting system




Outstanding build quality




Comes with (2) 140mm fans
Cons



Relatively expensive




Hefty size
Corsair iCUE H150i Elite Capellix Liquid CPU Cooler
Pros



Quiet Running Volume – This system should rarely break 36dBA.




RGBs – bright and punchy, these RGBs will breathe new life into your case.




Pump Design – A split-flow copper cold plate and a ton of micro-skived fins enable you to push your CPU to the limit.
Cons



Price – You may have to liquidate your assets to afford this liquid asset.




Installation – The fans can be difficult to screw into place.
be quiet! Dark Rock Pro 4
Pros



Extremely silent – a maximum of 24.3Db(a)




It can be mounted from above




Seven heat pipes, two fans




Easy to install




Suitable for both high-end and medium builds
Cons



Size – this is a large cooler and will not fit compact cases




Installation – due to the size the installation requires a bit of patience
---
Final word 
The fact of the matter is that you can use almost any AM4 CPU cooler on the AM5 socket, but the coolers on this list are the best for both platforms currently. Manufacturers will definitely design their own coolers specifically for AM5, and we can't wait to see what they're capable of. 
As long as you're using a beefy cooler capable of dissipating a TDP of 170W, or over if you want to overclock, then you'll be just fine. Whether you want to splash out on an LCD screen-wielding 360mm CPU cooler, or just pick up something budget-friendly, we have you covered in this best AM5 CPU cooler article.