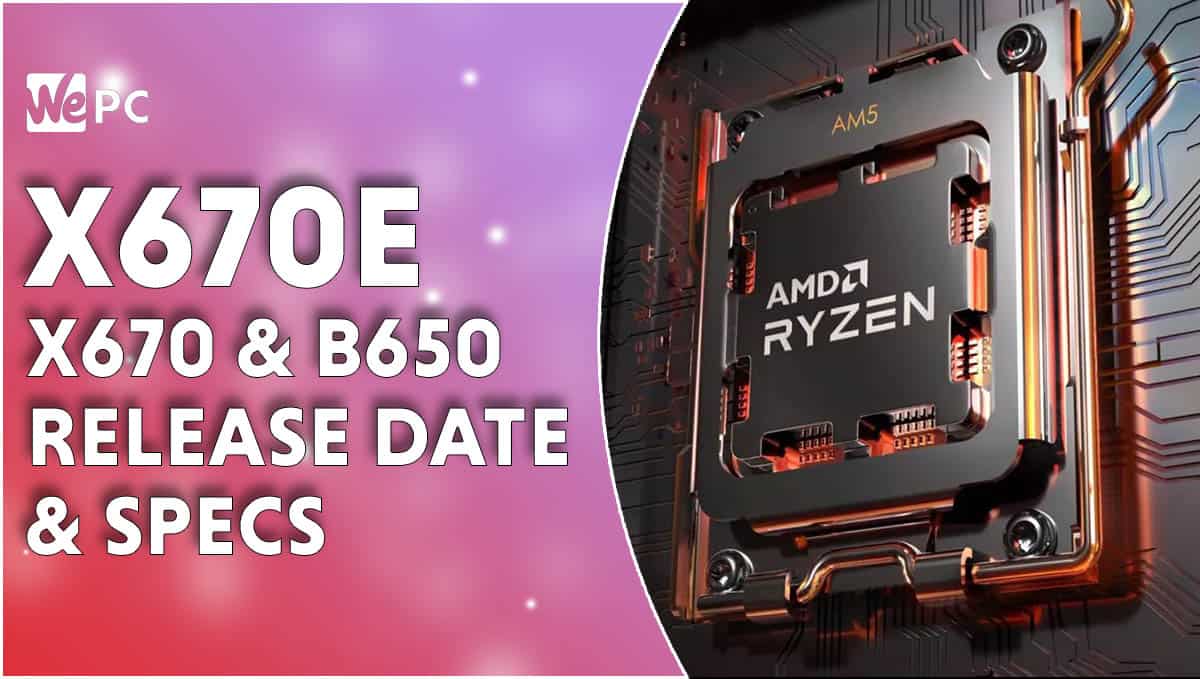 Last Updated:

Dr. Lisa Su spoke at AMD's keynote on May 23, kicking off Computex 2022 with a bang. In her speech, she unveiled a whole host of information concerning AMD's roadmap for the near future. Within it, was the all-important release date and some specifications of the AM5 chipsets. The X670 release date is here!
Not too much information was revealed at Computex 2022 about AMD's new AM5 motherboards, but we do know a great deal more about them now than we did before. 
X670, X670E & B650 release date
A specific release date has yet to be announced, but we have a solid release window of "Fall 2022", confirmed by Dr. Lisa Su. A Fall release date means we could see 600 series chipsets on the shelves as early as September. 
Specifications of the AM5 platform
Despite the vague release date, we do have some more solid information to share with you about AMD's new motherboards. 
The following information is taken directly from AMD's keynote presentation at Computex 2022 when announcing the X670 release date.
Socket AM5 infrastructure 
1718 pin LGA socket
Native support for up to 170W
DDR5 and PCIe Gen 5 support
Compatible with AM4 coolers
Of course, we already knew this information, but it's nice to get some official confirmation instead of relying on rumors and leaks. 
AMD's corporate vice president, David Macafee, then went on to explain that AMD's AM5 socket will feature 24 ultrafast PCIe lanes capable of gen 5 speeds, connected directly to the CPU socket. Allowing for ultra-fast connectivity, communication for storage devices, and graphics cards. 
AM5 motherboards now also support up to 14 super speed USB ports, boasting 20GB/s speeds and USB type C connectors. 
AMD has integrated up to four HDMI 2.1 and DisplayPort 2.0 ports into its higher-end AM5 motherboards, allowing for plenty of connectivity for the Ryzen 7000 series, which all seem to ship with RDNA 2 integrated graphics as standard. 
In addition to all of this, the AM5 platform will feature an all-new and fully SVI-3 power infrastructure, bringing a plethora of advantages to the platform. The advantages include additional power stages, fine grand power control, and significantly faster frequency response times. 
600 series motherboard hierarchy 
In case you're unsure of what motherboard is best, we'll break it down for you. 
X670E (extreme) is the best of the best, featuring all the connectivity powered by the latest and fastest technology – DDR5, PCIe 5 – and the most extreme overclocking potential. 
X670 will feature some PCIe gen 5 connectivity, but not all PCIe or M.2 slots. X670 will also most likely have less connectivity, but will still feature strong overclocking potential 
B650 is the budget option, being a more bare-bones motherboard with less connectivity –  the perfect balance of price point and capability – featuring all the connectivity that AM5 has to offer, but none or much less of the overclocking capabilities. 
Advancements
AMD introduced PCIe Gen 4 back in 2019. Now they're bringing in PCIe Gen 5, which doubles the throughput and offers speeds of up to 32 GigaTransfers per second per lane. 
The first PCIe Gen 5 capable devices to enter the market will be M.2 storage solutions, These storage solutions will be provided by the likes of Crucial, Gigabyte, MSI, Seagate, and many more. 
All of the new PCIe Gen 5 storage technology equates to more than a 60% uplift in sequential read and write speeds. 
That's about all the information we have on the new X670E, X670, and B650 chipsets right now, stay tuned for more details on WePC. 
If you can't wait until the X670 release date, check out our dedicated AM5 and Zen 4 pages for more detailed information.