So you're having trouble finding a gaming laptop under $600 with a dedicated GPU like the 1650GTX?
I bet…
Most sites you've come across just gave up and proceeded to give you either:
Laptops with dedicated GPUs well over $600.

Laptops with integrated GPUs.
The truth is…
You should be able to find at least one or two laptops with a 1650GTX under $600.
That's because manufacturers are currently trying to get rid 11th gen Core i5  or 5th gen Ryzen 5 1650GTX  laptop stocks because the newer models (out by mid-2022) will have the 12th generation Intel Core CPUs & 6th gen Ryzen CPUs onboard.
Now…
Even if you don't find a 1650GTX laptop...You should at least be getting a laptop with the MX450.
The 1050GTX and the MX250 nice but they're not worth anywhere near 500-600$.
Why?
For the simple reason that current integrated GPUs found on Ryzen 5 Core i5/Intel Core i5 laptops and they only cost ~470$.
So get either the MX450 or the 1650GTX or get nothing. The latter is capable of:
~200 fps on MOBA/FPS games like Dota 2, CS:GO on high settings.

~80 fps on Fortnite (Ultra) , ~60 FPS on Call of Duty (High).
You just need to make a few tweaks to your 1650GTX or MX450 laptop  to hit those framerates we'll discuss soon.
TL;DR: Do not pay anything over 500$ if you're not getting a 1650GTX / MX350 or MX450
Recommended Specs For Gaming Laptops Under 600
Before I show you laptops with 1650GTX dGPUs under, let's talk a bit more about the hardware you'll find under $600 and a "few tweaks" and tips to squeeze more framerates.  
GPU
Integrated*: The only worthy ones mentioning are the Intel Xe & Radeon Vega 7. It may be difficult to believe but they have actually the power of the good ol' 960M which is basically a 1050GTX. You can check out the benchmarks here. Good purchase if under $500.
these iGPUs work BEST once you up RAM beyond 8GB (12GB or 16GB). We'll explain why later
Dedicated:  1650GTX and MX450 are scarce but there should be at least one under $600 ( worst case scenario maybe 20 bucks over 600$). Do not pay anything around $600 for any other dedicated GPU!
Basically:
1650GTX>MX450>1050GTX=MX350>Vega 7/Intel Xe*=MX250>MX150 
*Intel Xe iGPU on Core i5 laptops is way more powerful than the ones on Core i3 laptops.
CPU
If you're getting a 1650GTX or MX450, it doesn't really matter much what CPU you get. It will still fly!
If you still want to know which ones is slightly faster, here's the breakdown:
AMD Ryzen 5 5600H>Core i5 11300H=AMD Ryzen 5 4600H>Core i5 10300H>Core i5 9300H
If going for integrated GPU, NOW it becomes CRUCIAL to get the best CPU you can find for your budget. There's a whole bunch of different CPUs around $450-600 but only settle for these:
Ryzen 5 5500U=Intel i5-1135G7>Ryzen 5 4500U=Intel Core i5 10100U

RAM
8GB: This is the bare bones minimum for gaming.  Virtually on every laptop in the 400-600$ range.
4GB: This is a lot more common below 400$ and not good even for MOBA/FPS games because Windows 11/10 will eat up most of it.
Optional:
Dual Channel: Squeeze every ounce of CPU power by making your RAM "dual channeled".
Basically, having 2x4GB RAM sticks instead one chunk of 8GB.  Check out more details on How to Make RAM work in DUAL CHANNEL Mode once you make your pick.
16GB: If you want  an iGPU (integrated GPU) to work best, you need to reserve a bit more RAM to act as "artificial vRAM" so you must do the upgrade. Check my "How to Upgrade RAM"
Storage
Virtually every laptop has a PCIe NVMe . This is good because it'll eliminate loadings bars altogether. SSD type doesn't matter, just make sure to get one.
256GB: Almost universal anywhere from 450-600$. Good enough for at least 3 triple AAA games(WoW+Fortnite+Valorant+Minecraft) or several MOBA games (LoL, Dota 2, etc).
512GB: Impossible to find under 600$.
Optional: You can just do the storage upgrade yourself later, it's just as easy as upgrading RAM.

This list will be updated monthly and strictly stay under 600$. In the worst case scenario, you might find a laptop around 620$  (due supply and demand) but no more.
If you can't find a laptop with a dedicated GPU here or you have a slightly higher budget check the best gaming laptop under 700$ post.
---
Best Gaming Laptop Under $600  – 1650GTX  4GB  vRAM
  Intel Core i5 10300H
  8GB RAM
   1650GTX 4GB vRAM 
  256GB PCIe SSD
  15" FHD IPS 60Hz
  4.10lbs
  4 hours

This is the only laptop under $600 with a 1650GTX you're going to find in 2022. Now it may or may not be under $600 by the time you read this but there will be instances where it can go down as low as 590$.
If your budget is extremely close to 600$ you can click on "other sellers" and find a few just above $605 too.
CPU: Core i5 10300H vs Core i5 9300H
Here's another trick.
You're more likely to find a MSI GF63 under $600 if you look for the Core i5 9300H version which is only one generation older than the Core i5 10300H featured here. 
Performance wise, there won't be any discernable difference. The dGPU will mask any slight difference in framerates. In fact, if you dual-channel RAM you will get higher framerates even with an older CPU.
BenchMark: 
Now I've tested a Core i5 9300H + 1650GTX down below. So you can get an idea of what to expect from the older generation CPU:
| | | | | |
| --- | --- | --- | --- | --- |
| Title | FPS | Settings | Resolution | Instance |
| Valorant | ~97 | Medium | FHD | Non-Combat |
| CS:GO | ~175 | High | 1080p | Non-Combat |
| Rainbow Six Siege | ~125 | Medium | FHD | Combat |
| F0rtn1t3 | ~135 | High* | FHD | Non-Combat |
| Forza Horizon | +65 | High | FHD | Wide Scenario |
| GTA 5 | +55 | Very High | FHD | City |
| Red Dead Redemption | +33 | Balance | FHD | Roaming |
GPU: 1650GTX Max-Q vs 1650GTX Mobile
The MSI GF63 is a very thin laptop thus it can't support the full blown 1650GTX. In other words, the 1650GTX embedded here has been downclocked from 1395MHz to 1020MHz that translates to a graphic performance 13-19% slower.
That doesn't necessarily translate to 20% less framerates. You can see here framerates are just slightly lower (5-10 fps):
Which again you can make it up through DUAL-Channeling RAM.
---
Best Gaming Laptop Under 600 – 2GB vRAM dGPU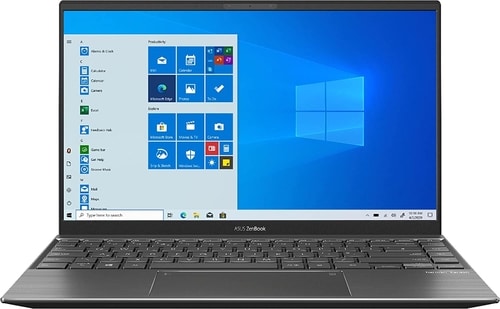 Ryzen 5 5500U
  8GB DDR4
   GeForce MX 450 2GB vRAM
  256GB PCIe SSD
  14" 60Hz Full HD IPS

  4.4lbs
  5 hours

Now if you've got a budget near $550 and cannot go any higher, there's just no way you're going to find a 1650GTX laptop. The best you can hope for is a MX450 laptop.
Dedicated GPU: MX450
You may find a 1050GTX under $600 but that's rare and as a matter fact the MX450, surprisingly is 20% faster than the 1050GTX.
So if there's a game for which you want to test how the MX450 will perform just check 1050GTX benchmarks and add slightly more framerates. 
| | | | |
| --- | --- | --- | --- |
| Title | FPS | Settings | Resolution |
| WoW | 112 | High | FHD |
| Call of Duty | 45 | Low | FHD |
| GTA V | 50+ | High | FHD |
| FIFA  | 127 | Ultra | FHD |
| Dota 2 | +78 | High | FHD |
| LoL | +200 | Epic | FHD |
| Rocket League | +110 | High | FHD |
| PUBG | 62 | Low | FHD |
| Overwatch | 112 | Medium | FHD |
CPU: Ryzen 5 5000U vs Core i5 1115G7 vs Core i5 9300H
Now, if you've clicked the link (notebookcheck.net) , you'll notice the MX450 is only slightly less faster than the 1650GTX.
However, 1650GTX laptops have much faster CPUs so don't expect to get the same performance with a different model.
All MX350 or MX450 laptops will always have a low voltage "U" or "G" CPU which doesn't turbo boost as high as the Core i5/Ryzen 5 CPU. Still as you can't see on the table, you're still hitting high framerates at high settings on MOST games.
Ryzen 5 5000U vs Core i5 1115G7
Now if you happen to have the option  to choose between these two. The Ryzen 5500 seems to be about 1% faster than the Core i5 1115G7: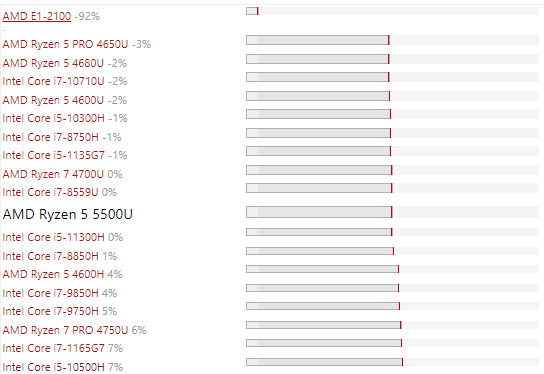 Renewed MX450: 
Now the model I'm featuring is NOT a renewed laptop.
You don't have to go for renewed MX450 if you can't find this model on stock. Just wait a few weeks.
However, if the price is around 500$ then yes go for a renewed one and grab it as soon as possible. 
I would normally not advice to buy renewed laptops especially from eBay but this is Amazon, renewed products go through a control quality process and you even get a 90-day warranty for which you can return it if there's something you don't like or it happens to malfunction. 90 days is PLENTY of time to throw in some heavy duty games and test it out to its limits.
Cooling Pad:
If you're going to run graphically demanding games like Call of Duty , PUBG and The Witcher 3 on this laptop at normal – HIGH settings. I suggest you also buy a cooling pad, you want the temperatures of the MX450 to remain stable and low if you're going to play for long periods of time. 
You should also install a CPU temperature monitor. I personally like ALCPU, you can check out on this link.  It's free, efficient, no BS and just works.
This applies to new or renewed laptops as well. No laptop will last you more than a few months if you play more than 6 hours a day on a summer on ULTRA settings.
---
Best Gaming Laptop Under 600 – GeForce MX350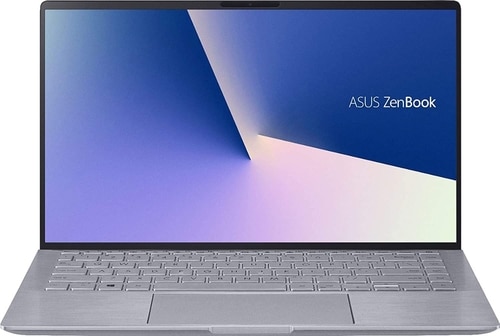 Ryzen 5 4500U 
  8GB DDR4
  GeForce MX350
  256GB PCIe NVMe SSD
  14" FHD IPS

  2.65lbs 
  8 hours

Note if the price is over $600, click other sellers to get it at a lower price
If you're just so out of luck you can't even find a MX450 laptop under $600 on stock and you just need a laptop with a dGPU right away 
OR
You simply can't shell out anywhere near $600. 
Your next option would be to look for a MX350 laptop which as the name suggest is the slightly older variant of the MX450.
MX350 vs MX450:
You can get a sense of how the MX350 fares against the MX450 by comparing it to the 1050GTX (which is slower than the MX450 actually). 
As you can see most games can still run over 50fps at high settings and easily go past +100fps on medium or low for those less graphically demanding games like MC, Overwatch, Dota, WoW, CS:GO and League Of Legends. 
CPU: Ryzen 5 4500U vs Core i5 10765G
Obviously, the performance of the MX350 will be different depending on the CPU. The above video uses a Core i7 10765G instead of the Ryzen 5 4500U featured here. According to benchmarks however: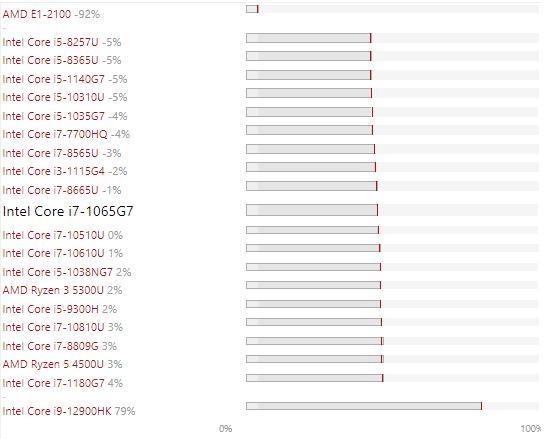 It's only 3% slower than the Core i7-10657, so you can expect to have either the same framerates (since performance also depends on how efficient the system is at handling temperatures) or slightly less framerates.
If you want to actual benchmarks with this laptop, these are the ones available (Click on the links to see the MX350 benchmarks on those games).
Renewed: 
This model is new and although the price might be over $600, if you click on "other sellers" you'll find it as low as $400 renewed.  Use the following links if somehow you can't find it under $600. Don't forget to click "other sellers".
---
Best Gaming Laptop Under 600 – AMD RX Vega 7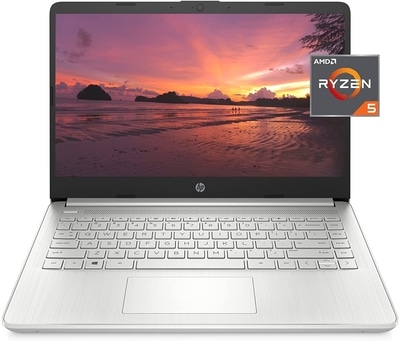 Ryzen 5 5500U 
  8GB DDR4
  AMD Radeon RX Vega 7
  256GB PCIe NVMe SSD
  14" FHD IPS

  3.24lbs
  8 hours

If your budget is nowhere near 600 but more like 500$ and you can't find renewed laptops with dedicated GPUs. You will have no choice but to settle for an integrated GPU.
No matter how hard you look, you will just not find a laptop with a dGPU under 500$.
Now while it's true you may be able to find some 2015 laptop with a dedicated GPU under 500$ on eBay that's a bad idea for one simple reason:
Integrated GPUs: RX Vega 7
Today's integrated GPUs have come a LONG LONG way and they can, believe or not, match the performance of modern entry level dedicated GPUs today. In fact, that's the reason why I did not post the next weaker dedicated GPU here: MX250.
Because the iGPU on board of either the Ryzen 5 5500U or the Core i5 11567 is either the RX Vega 8 or the Intel Xe Graphis respectively . They're both pretty close in performance to the MX250. 
Want a source? Here you go:
The Radeon RX Vega 7 iGPU has 7 CUs (= 448 shaders) running at up to 1,800 MHz. Its real-life performance is close to what we've seen from GeForce MX250 and Iris Graphics G7 80 EUs
You can also watch a few benchmarks on youtube and compare performance.
Ryzen 5 5500U:
Don't forget ALSO that since this is 2022 laptop, you're also getting a modern and faster processor and not a 7 year old CPU as you would from those 2015 laptops with dedicated GPUs on eBay.
Gaming Performance:
On the video above you can see it can easily handle MOBA games (LoL, Dota 2) at medium settings and the less graphically demanding FPS games like CS:GO and Overwatch at low or medium all of them at1080p. Obviously, it can run MC witih no sweat as well.
Other models:
I've tried to find the cheapest yet high quality model with a Ryzen 5 5500U here. If you want to make the search on your own make sure it has a Ryzen 5 5500U and not a Ryzen 5 4500U, there's nothing wrong with the latter it's just that you have to keep in mind the rule with integrated GPUs we mentioned before:
"The best integrated GPUs are always paired with the most RECENT CPUs"
---
Best Gaming Laptop Under 600 – Intel Xe Graphics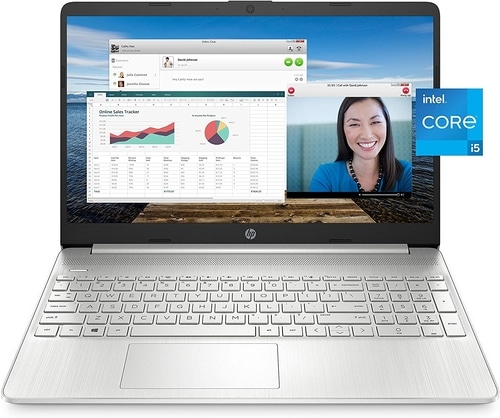 Intel Core i5-1135G7
  8GB DDR4
  Intel Xe Graphics
  256GB SSD  PCIe NVMe 
  15" 60Hz FHD TN

  3.75 lbs
  7 hours
Intel Xe Graphics: Performance 
Laptops with an 11th gen Core i5 CPU have the best integrated GPUs as of 2022: Intel Xe Graphics.  You can find thousands of benchmarks on youtube:
To check that they actually have either the same or even better performance than the Ryzen 5 5500U for gaming.
So why is it not up in the list?
Price.
On average, they're more expensive than Ryzen 5 5500U +integrated GPUs laptops and since the gaming performance difference isn't abysmal, it may or may not be worth paying the extra cash.  The difference is about 5-10 fps that may not be useful for MOBA games but if you're playing Overwatch 2 , Counter Strike and Fortnite on performance mode then yes, any contribution to reduce input delays will help.
Extra "vRAM" + Dual Channel: 
Again if you want to squeeze even more framerates, invest 15$ more bucks on another RAM stick so it acts like vRAM for the iGPU. This should substantially increase framerates (on Ryzen 5 5500U laptops too). 
Dual-channel will get you 5-10 more framerates but that may be a bit expensive since you'd have to buy two additional sticks. 
---
Best Gaming Laptop Under 600 – 512GB Storage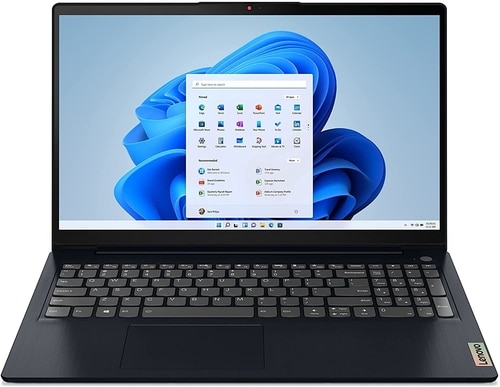 Ryzen 5 5500U
  8GB DDR4
  Radeon Vega RX 7
  512GB SSD
  15.6" 60Hz FHD IPS

  5lbs
  6 hours

Lastly, another Ryzen 5 5500U. It's got pretty much the exact same performance of the HP 14 because it has the same hardware: CPU, GPU, RAM , Display,etc.
However, it is slightly more expensive and rightly so.
Storage: 512GB
It has x2 the amount of storage. Sure you can grab a 256GB laptop and do the upgrade yourself but upgrading storage it's not as easy as upgrading RAM (unless you have a M.2 Slot open). Most laptops will only get you a 2.5" Bay to upgrade storage which means you will have to buy a separate cable connector (to connect the SSD to the Motherboard) and an additional 2.5" caddy both can't be bought out of amazon because those can be specific to a laptop. 
So imo, yes, it's worth spending a few more dollars on having 512GB on board and avoid all that shenanigans.
That extra 512GB should let you install games like MC, Lol, Dota 2, CS:GO, WoW, OW and even CoD.
---
If we're talking about laptops above 600$, we could use the "add the components to the total price" method we used in the previous gaming laptop under 700$ and gaming laptop under 800$ posts where we basically calculated what the cost of manufacturing a laptop is.
We can't do that here because  the individual prices of CPUs and GPUs of laptops under 600 are unknown (MX450, Ryzen 5 5500U, Core i5 1115G7, etc).
Compiling a list of all laptops under 600
The best method here would be to make a list of a good number of laptops, compare specs and then compare prices.
We'll still go over the price of some of the hardware under $600, the hardware for which prices have been sent to us by the manufacturers.
But what comes next will be mostly about integrated graphics and entry level dGPUs and regular CPUs.  Otherwise, if you find a laptop with a 1650GTX or even a MX450 under 600, you should just grab it right away, all of them are a good deal just because they are under $600.
GPU
Dedicated GPU
Again if you find a laptop with a MX450 or 1650GTX, then do not add any prices up. Stop reading this and buy that laptop.
Simply because those two dGPU under 600$ are rare and they will obliterate any other spec for gaming.
Use this table to get an idea of what the price of laptops with dedicated GPUs are but pay close attention to the MAX colum, that's the maximum price to pay for a laptop with said dGPU.
| | | | |
| --- | --- | --- | --- |
| GPU | Range | Max* | Game Settings |
| 1050GTX | 599-750$ | 600$ | Med-High |
| Radeon 540X | 599-750$ | 550$ | Low-Med |
| MX450 | 580-750 | 600$ | Med-High |
| MX350 | 580-750 | 550$ | Low-Med |
| MX250 | 580-750 | 550$ | Low-Med |
Note that integrated GPUs will have the same performance of the Radeon 540X, MX250 and MX150 (if you add extra RAM to it ~12-16GB).
Integrated
Yup, integrated GPUs have gone a long way over the past few years.  They will support most games at low settings and the most powerful ones (Intel Xe and RX Vega 7 & 8) can match the performance of those two dGPUs. 
Pair that with a good CPU and you've  got yourself a rig that can outdo some gaming laptops with oudated dGPUs.
Again only two or three iGPUs will do that for you. 
| | | |
| --- | --- | --- |
| iGPU | Equiv. | Max Price |
| Intel Xe Graphics* | MX330 | 550$ |
| Vega 7 | MX250 | 550$ |
| Vega 8 | MX150 | 500$ |
| Vega 3 | —- | 400$ |
| HD 620 | —- | 400$ |
Now there are a dozen more integrated GPUs but , with the exception of these two, they are all outdated ( Ex: Vega 3 and Intel HD 620) . Thus they don't even get close to the performance of the latest ones listed on the table and they can be just as expensive.
CPU
Another way to get the best performance out of a laptop that doesn't have the  MX350, MX450 , 1050Ti or a 1050GTX it's to focus solely on the CPU.
Doing that will automatically set you up with the best iGPU you can find since the best iGPUs are always attached to the latest and fastest CPUs.
The following table ranks CPU according to gaming performance (taking into account the iGPU). I've listed the min price you can find them on. Anything lower is a bargain.
| | | | | |
| --- | --- | --- | --- | --- |
| Name |  Price$ | Speed | Turbo | Cores/Virtual |
| Ryzen 5 5500U | 510$ |  2.1 |  4.04 | 6/12 |
| Core i5 1135G7 | 550$ | 2.4 | 4.2 | 4/8 |
| Ryzen 3 5300U | 400$ |  2.6 | 3.8  | 4/8  |
| Core i3 1115G4 | 350$ |  3 | 4.1 |  2/4 |
*There are obviously more CPUs available under 600$ but they're just older variants of the above. Not only will they lack the recent iGPU but they'll also be slightly slower. 
Price change: 
There are reasons for the price to go up: extra RAM and Storage are good reasons to pay as high as 560$. FHD IPS panels are NOT a good reason to pay extra cash, those displays should come with any laptop above 400$.
Remember, if you go over 570$, you're already stepping into MX350 territory.
RAM
8GB vs 4GB
If you're paying anything over $400 you are entitled to have 8GB on a laptop. Virtually all laptops above 400$ will have 8GB RAM.
8GB RAM will be fine for gaming as long as you've got a dedicated GPU. However…
16GB: A must for iGPUs
Yup, if you want that iGPU to have the performance of dedicated GPUs. You must go beyond 8GB. 
Fail to do this and the iGPU will take RAM resources from the CPU which will slow down CPU performance.
If you go beyond 8GB, you ensure both the CPU and GPU have enough RAM for Windows 11, background process and gaming. 
Now don't go around buying laptops with 16GB, those are just going to be expensive.  RAM only costs 20 bucks AT THE MOST. It's always cheaper to do the upgrade. I've written a guide here on how to do this.
Dual Channel
You can squeeze even more framerates by making RAM dual-channel. Which is basically having two RAM sticks of the same size (x2 8GB = 16GB, x2 4GB = 8GB).
This set up makes sure the CPU can access data in equal chunks from both sticks asynchronously thus increasing data reading (processing) efficiency outputting more framerates. 
Storage
HDD vs SSD
As of 2022, virtually every laptop will have a Solid State Drive. 
Software and games today assume you have one so if you find a refurbished machine with a dedicated GPU, make sure to take out the HDD and replace it with an SSD if it doesn't have one.
SSD Type: PCIe NVMe vs SATA III SSD
There are basically two types of SSDs on laptops: NVMe and SATA III.
NVMe SSDs are the most common SSD types.  There may be "faster" variants of NVMe SSDs or slower variants (SATA III) of SSDs on laptops but for gaming purposes, it doesn't matter, you will not get higher framerates with "better" SSDs.
Every single SSD will give you the same performance which is basically only when you load a game/wait for loading bars/switch instances,etc, basically anything that needs to be "read" faster regardless of what SSD you're getting.
The fastest SSDs are only useful for people moving a large amount of files back and forth on a regular basis.
Display
60Hz/FHD
It's impossible to get 120Hz displays under 600$.
60Hz + FHD is as good as it's going to get.
You also won't get higher resolutions unless you spend over 1000$.
What may happen instead is that you may not get a FHD(1080p) display if your budget is under 450$. Regarless of what your budget is , you should ALWAYS demand one even if you've got a Core i3 w/ an iGPU  that can only play the game at low settings for 300$.
IPS vs TN
It's true that IPS panels have better viewing angles and the colors look better but not having an IPS panel is not going to take a toll on your gaming. 
So if you find a great deal that has TN display over an IPS display, go for it.
Most laptops will have IPS displays anyways.
In fact, TN displays are actually much faster at showing images and for FPS games like CS:GO this is a good thing.
Comments?
If you have questions, suggestions or laptop recommendations please leave a comment below.  I will reply ASAP.