Let's skip intros and cut the chase.
The latest releases: Modern Warfare, Warzone & Vanguard are extremely taxing on most gaming laptops.
The game is unplayable  with mainstream GPUs like a 1650GTX unless graphics are set to very low (~60fps on Warzone). 
It seems….
VanGuard is a little less hardware demanding (at least on the early release & Beta) so expect higher fps.
But if you ever want to go rambo against an entire team you will need to step it a lil' higher and get a sort of mid-range GPU like the 3050Ti which should get you ~80fps on High settings.
If you have a little more cash…
You could get what I think (I will prove it through benchmark videos comparing laptops soon) is the best dGPU for this gameplay at 1080p: the 3060RTX (115-130W) (~125fps on HIGH w/ RTX ON on both Warzone & Vanguard).
Surprisingly…
3060RTX laptops will perform just as good as most 3070RTX & 3080RTX because most laptops will operate at low TGP (power) and hence the high end dGPUs will be unable to show their true strengths. 
The above is just a summary for more details, footage and links to benchmarks check out the last section.
*We are not including Black Ops 4 on this post because it's very obselete and it's just as hardware demanding as the latest two releases. 
Anyways, before we go over the best deals let's make it all clear and also add a few more interesting info so you can get the best bang for your buck in this game. These are all based  on benchmarks from gamers on youtube and on my channel.
But basically the best laptop spec for Call of Duty is a mid-range or high-end dedicated GPU operating at full power (130-155W as opposed to 90W). 
I'll try to be brief here but you can check out all the details in the last section.
GPU
3060RTX: My favorite dGPU for this game for reasons explained above. CPU & RAM are important too but not as much as getting a 3060RTX running at high wattage(115-130W).  

3070RTX & 3080RTX: These become super useful ONLY if you want to play at 1440p & 4k resolutions. It doesn't seem to return significant performance gains at 1080p over the 3060RTX. The main issue however is that it's rare (and super expensive) to find them running at FULL POWER (130W-165W).
1650GTX & 3050Ti: After some tweaks and tips (will be discussed briefly), you can  get 60fps on High 1080p at best.
Unplayable: MX350, MX450,1050GTX, AMD Radeon RX 550/540/555/560.
Playable: 1050Ti, AMD Radeon 5550M.
CPU
Choosing the best CPU isn't nearly as important as picking a laptop with a dGPU operating at higher wattage.
CPUs DO become a big factor when you buy mainstream GPUs like the 1650GTX/3050Ti*. Paying a lil' more for one over the other can get you +20-30 more fps.
Ex:
Ryzen 7 5800H vs Core i7 11800H. Both are equally good provided a 3060RTX/3070RTX/3080RTX is running at high wattage (135W-165W). 
Ryzen 5 5600H vs Core i5 10300H. The former can get you +20fps on 1650GTX / 3050Ti Laptops.
RAM
8GB vs 16GB: Tons of RAM is not a must but you're going to lose a LOT of framerates with just 8GB.
Dual Channel: your laptop's framerates don't match the benchmarks on youtube? Yup, you have to make it dual-channeled.

Storage
512GB: CoD: Warzone can take up to 120GB. VanGuard can take up to 60GB. Add Windows 11 (60GB) and 256GB starts becoming insufficient.
Display
60Hz vs 120Hz/144Hz: Refresh rates are useful only if you get at least a 3060RTX. Laptops w/ lower dGPUs: 1650GTX/3050Ti/1050GTX won't go past 70fps even at low settings with everything disabled.
The first three laptops on this list will have a 3060RTX, 3070RTX and a 3080RTX so they may be out of your budget. The last two, are budget friendly laptops with a 1650GTX / 3050Ti PAIRED with a GOOD CPU so you can at least play competitively on low-med settings.
We'll start with a 3060RTX laptop, which as you will come to realize soon: will give you the best bang for your buck for 1080p CoD: VanGuard Gaming.
---
Gaming Laptop For Call Of Duty
  Core i7-11800H
  16GB RAM DDR4
   GTX 3060RTX
  512GB PCIe NVMe SSD (2x PCie Nvme slots free)
  15" IPS full HD 144Hz
  5.07lbs
  4 hours

This year's Predator comes with the 3060RTX which will let you play on High Settings (Ultra in VanGuard) with ease but that's not the reason WHY you should choose it over ALL the other 3060RTX laptops which MAY be slightly cheaper or WAY more expensive.
GPU
3060RTX: 105W vs 130W
Here's the thing. This laptop only has the 105W 3060RTX so yes you'll get less framerates than what you'd get on a 3060RTX (130W) model. 
However, this model will give you the same framerates as several of the more expensive laptops that have even  BETTER CPUs like the ASUS ROG Zephyrus with the Core i9. 
You can double check this fact by looking at the performance of the Core i9 11900H + 3060RTX (105W) which is way more expensive on the Youtube Links above and compare it to the performance in the same map here of the Acer Predator Helios 300:
CPU
i7 11800H vs Ryzen 7 5800H vs i9 11900H
The Acer Predator Helios 300 and its variants all have a Core i7 11800H.
For CoD, this is fine as the game seems to make no more use than 6 cores. There's very little performance gains on being picky about CPU's clock speeds and #cores.
If you want a 3060RTX with framerates that approach the performance of max-Q 3070RTX laptops then you need to look for the 3060(130W) version such as this one:
This should get you +30-35 fps.
OR
You could bio-flash the Acer Predator to 130W. You're going to need special cooling for it, maybe take it to a computer repairman to add liquid go up to 140W at  68C. 
I would not do either though 85-90fps on ULTRA is pretty good for competitive gaming at 1080p. If you check the video, framerates still are around those numbers on 1v1 fights.
---
The Best Gaming Laptop For Call of Duty  1440p 
  Core i7 11800H
  16GB DDR4
   NVIDIA RTX 3070 125W
  512GB NVMe SSD
  15" QHD 240Hz IPS
  5.93 lbs
  3 hours

A 3070RTX should on paper be substantially more powerful than the 3060RTX.
However on laptops, a lot of these 3070RTX laptops perform either slightly worse or just as good as 115-130W 3060RTX laptops.
This is  NOT due to lower RAM speed or CPU's lack of clock speed, it's about GPU's wattage!
Hence why you have to research what WATTAGE a GPU has before purchase.  Manufacturers will try to hide it, be careful or you'll end up paying a lot of money for a laptop that isn't really going to outout more framerates or tolerate 1440p gaming any better than cheaper 3060RTX laptops.
That's an issue with MOST  ASUS ROG models (115W), Razer Blades (90W) and even MSI Raider laptops (85W-100W).
GPU
3070RTX: 80W – 130W
Notice how ONLY the 3070RTX (140W) laptop is able to beat the 3060RTX(130W)  and the 3070RTX (80-100W dynamic boost) with a damn Ryzen 9 5900HX does not perform any better than the 3060RTX(130W) EVEN with RTX OFF!!!!
The ALIENWARE laptop only runs at 125W and you bet it's going to run MUCH faster than ANY 3060RTX laptop (you can read amazon reviews to double check).
Now there's another model that's a little less popular and that's the GIGABYTE AORUS which has a 3070RTX running at 130W, you can choose either the call is on you.
1600$ is a lot cheaper than paying 2500$ for the Razer Blade Pro 17 with the same 130W 3070RTX  for sure. The price of the Alienware and especially the GIGABYTE AORUS is just as low as the price of lower wattage 3070RTX laptops!
How about 140W 3070RTX laptops?
The one benchmarked in the link description on the table is the MSI GE76 Raider, the 17" version which is A LOT more expensive than 130W 3070RTX laptops and you are not necessarily going to get much higher framerates though (perhaps 10-15fps but way more at 1400p).
If you have the cash, be my guest obviously every bit helps in this game:
CPU
Core i7: 11800H vs Ryzen 9 5900HX 
Now the alienware has a Core i7 11800H which is definitely A LOT less powerful than the Ryzen 9 5900HX MOST 3070RTX gaming laptops have but like I've been saying throughout this post.
CPU's clock speed and # cores matters very little compared to GPU's wattage.
On the other hand, if all things remain equal:  you manage to find a 3070RTX(130W-140W) , the same RAM, the same awesome display then yes a Ryzen 9 5900HX is going to help outout higher framerates at 1080p (FHD gaming is usually bottlenecked by CPU).
Paying a few hundred more dollars does necessarily make it a good investment though as most of the workload, at least on CoD, is done by the GPU so you won't get super AMAZING fps gains.

---
The Best Laptop For Call of Duty: Modern Warfare and Vanguard
  Core i9 12900H
  32GB DDR5 RAM
   NVIDIA RTX 3080Ti 16GB
  1TB NVMe SSD
  15" 144Hz 4k (UHD)  IPS
  8.75 lbs 
  1.5 hours 

GPU
3080RTX vs 3080Ti RTX (130W)
You'll get the best performance out of laptops with either the 3080RTX or the 3080Ti but the same problem is still present on 3080RTX: wattage. 

In fact, most 3080RTX GPUs on laptops operate at super low wattage (85-115W) to make laptops slimmer which perform a lot worse than 3070RTX. It seems manufacturers right now think that most consumers do not care about GPU performance and that consumers just want that 3080RTX sticker on top of their laptops.
Even the slightly higher wattage 3080RTX GPUs (130W) only perform about 10% bettr than 3070RTX GPUs of the same wattage (130W) so it doesn't really seem like a great investment if you're paying an extra 600 or even 800$ more.
The solution? Just trust me and buy a good 3060RTX. You're gaming isn't necessarily going to get better with 3080RTX GPUs (unless you buy the desktop version).
Now, if you still want a 3080RTX laptop, just buy those with at least 155W (not worth going below that). Those are not only going to be rare but extremely expensive but you'll definitely be getting the best performance especially in VanGuard which seems to be (at least in Beta) less hardware demanding as shown below.
3080Ti RTX
A much better choice would be to invest on a 3080Ti RTX Laptop which I'm featuring here because high wattage or not, it will outperform 3080 & 3070 (non-Ti) RTX laptops. 
The ASUS ROG G15 here runs the 3080Ti RTX at 130W which although lower than the two 3080RTX(155W), will give you the same performance. You can either do that or get one of the two laptops on the Youtube Links in the table.
---
Best Budget Gaming Laptop For Call of Duty
  AMD Ryzen 5 5600H
  8GB DDR4
   3050TI GTX 4GB vRAM
  256GB PCIe NVMe SSD
  15.6" 120Hz Full HD IPS

  4.95lbs
  5 hours

If you're on a budget, it's likely you can't even afford a 3060RTX laptop (~1300$).
GPU: 3050Ti RTX
Laptops with a 3050Ti are still quite powerful for this game and although they can't support 1440p resolution (no one uses that resolution to play competitively anyway), you can still pull off up to 100fps on High at least on Vanguard (which is a little less hardware demanding than Warzone).
A 3050Ti is still an RTX GPU by the way so you can set RTX mode ON if you want (unavailable on Vanguard as of April 2022) but most importantly DLSS mode which should let you squeeze up to 15 fps.
CPU: AMD Ryzen 5 5600H
Both benchmarks above used a Core i5 11400H CPU however the model I'm featuring here has a AMD Ryzen 5 5600H.
Now an AMD Ryzen 5 5600H does not have more "clock speed" than a Core i5 11400H , in fact, it might be a little lower…
HOWEVER…
AMD Ryzen CPUs have better "clock speed performance/core" which means several cores on a Ryzen will have the same clock speed performance. An Intel Core i5 CPU on the other hand, will be faster but only in a few cores (usually just 1 or 2). This is the reason why an AMD Ryzen CPU (at least on mainstream low-end dGPUs) will give you the best banf for your buck.
I've already made the comparison on my channel and you can see the results below:
So that's why you should be getting AT LEAST 85 fps on High (if not a bit more).
If you DUAL-CHANNEL your RAM, you can squeeze 5 fps and you'll be approaching the three digit framerates.
Obviously, if you go for the those models with Ryzen 7 CPUs/Core i7, you'll definitely get better performance but those are a lot more expensive.
---
Cheapest Laptop for Call of Duty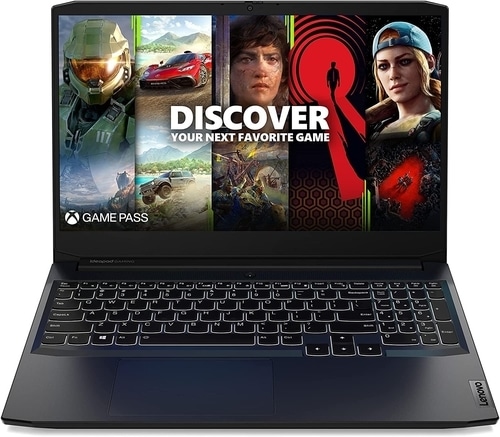 AMD Ryzen 5 5600H
  8GB RAM
   1650GTX 4GB vRAM 
  256GB PCIe SSD
  15" FHD IPS 120Hz
  4.96lbs
  4 hours

This is the cheapest laptop of the cheapest laptop which will handle CoD at low settings.
GPU: 1650GTX 
The 1650GTX is the absolute minimum for the game to be playable on a laptop. That doesn't mean the game will barely run though as you can see on the video below…even a 1650GTX laptop with a slightly older CPU works just fine as long as you set settings to very low and disable most of fancy graphic settings.
1650GTX laptops sell anywhere from 600-700$. I don't think it's wise to pay anything more for one because you will then be able to afford a 3050Ti (~770$). Nor is it wise to pay for the cheaper MX450 laptops because the game needs a bare minimum of 4GB vRAM. If you're really really on a budge, you could go as low as a 1050Ti though.
CPU: AMD Ryzen 5 5600H vs Core i5 11300H/11400H
1650GTX laptops will come with a myrid of different CPUs and will probably have a few more now that the 12th generation Intel CPU & 6th gen Ryzen CPUs are almost here.
Now as discussed in the last review, you'll get the best performance out of AMD Ryzen 5 5600H. So try to up your budget a little more 20$ more bucks will make a huge difference here as you've seen on the benchmarks shown before.
If you dual-channel RAM(the benchmarks were not dual-channeled) you should be getting at least 80fps on Low, this is good enough for competitive gaming. I was able to get quite a few kills on both laptops regardless and had no issues with lag spikes or anything like that.
Display: 120Hz 
The AMD Ryzen 5 5600H is not the only reason why I featured the Lenovo here. It's also about the display for 20 more bucks (comapred to the MSI model w/ the Core i5 10200H on the table), not only are you getting a better CPU but also a 120Hz display which you will definitely put to good use as framerates will go well beyond 60fps.
---
This section will not only list the official minimum and recommended requirements but also talk about the benchmark results from different GPU + CPU configurations on my channel and by other youtube channels so we can come up with more reliable information on what specific specs are worth paying for.
Since most people came here to see the official requirements, we'll do that briefly. Benchmarks and discussion of framerates results will follow after.
Official Minimum & Recommended Requirements
The official requirements are listed for desktops but translated to laptops, they're basically:
With that out of the way, let's see what benchmarks have to say about those requirements and what framerates they can output.
GPU
We'll only focus on GPUs throughout this post because GPU performance overshadows a CPU's contribution. There is a small section  about CPU's relative performance after this section which you can use to see their contribution and extra perhaps a few framerates. 
iGPUs vs dGPUs (Integrated GPUs vs Dedicated GPUs) 
For those newcomers to the game, know that the game is COMPLETELY UNPLAYABLE on integrated GPUs and even some dedicated GPUs will struggle at running the game even on very low settings:
Warning: The game is unplayable on dedicated GPUs with those in gray, no matter how good they look or how they seemingly powerful they are (maybe they've got a good CPU), you will get choppy framerates and lag spikes.
The following framerates are taken when either you're fighting someone (parenthesis) or when moving around an area that has a lot of building in proximity. They are not average framerates. This is done for comparison purposes.
MainStream GPUs
Any framerate in parenthesis are the framerates you'd get in a 1v1 fight on multiplayer mode ONLINE
These are the bare minimum to play the game at low settings with everything disabled assuming you want to play competitively w/ 80-100fps. I found the game playable at HIGH settings with everything turned on ONLY on Ryzen 5 laptops. It seems that the game makes GOOD use of 6 core CPUs. 
The AMD Ryzen CPUs seem to outperform Intel Core laptops on 1650GTX laptops despite the lack of a MUX Switch (in other words the 1650GTX is not taking over the entire load, it is somewhat shared with the iGPU). 
TL;DR: 1650GTX laptops can run the game at three digit framerates and even on somewhat high settings at 60fps as long as you pair it up with a Ryzen CPU.
Note that the above tip only applies to 1650GTX, CPU matter very little for higher GPUs.
Mid-Range GPUs: 1650GTX, 1050Ti
GPU's wattage: You'll see (100W, 85W) on parenthesis on some of the next dGPU. This is the power a GPU runs at (configured by the manufacturer) this is probably the most important laptop spec for the game.  As you'll see soon "weaker" GPUs with high wattage will outrun "higher" GPUs running at low power
The DLSS option will increase framerates by 10-15 fps. Notice what a difference it makes on the 2060RTX highlighted in blue returning almost the same framerates at Low & High settings. Only available on RTX GPUs: 3050Ti & 2060RTX
RTX Mode is not available on Call of Duty: Vanguard
Both the 3050Ti/1660Ti do not have their "POWER" reduced on these benchmarks (though this is generally the case for 3050Ti laptops, they're always running at full power). Only the 2060RTX (in this bracket) may have it anywhere from 85W to 115W.
Note how the 2060RTX(115W) performs way better than the 2060RTX(95W) despite Warzone being more hardware demanding AND despite having a weaker CPU.

Only the 2060RTX GPUs seem to make the game playable at 1440p. 

3050Ti GPUs will perform just as good as 1660Ti laptops despite being a lot cheaper. The 2060RTX slightly outruns the 3050Ti so if you find a good deal on a 2060RTX grab it even if it has old generation CPUs.
High Mid-Range GPUs: 3060RTX, 2070RTX
Wattage starts becoming extremely important from here on
Low Wattage 3060RTX: 90W / 105W
Whether you get a 105 or a 90W doesn't seem to matter much until you step into 1440p resolution where you only get +10-15 more framerates with a 105W 3060RTX. Both laptops have 16GB and are dual-channeled. Both CPUs are within a few percent in performance.
High Wattage 3060RTX: 115W-130W
Though not 100% accurate (benchmarks are taken on different maps here), both the 115W & 130W variants perform WAY better at both 1080p & 1440p resolutions. The CPU, again, matter very little since the Ryzen 7 above is faster than the Core i7 10th CPU. Also note that these two GPUs were benchmarked on Warzone which is more hardware demanding than Vanguard.
Older 2070RTX: 
The older 2070RTX variant can perform just as good as any 3060RTX running at full power as long as it runs on high power too.  
High End GPUs: 3070RTX , 3080RTX
Here is where it gets REALLY interesting and if you're set on buying a 3070RTX or even a 3080RTX laptop, you MUST pay close attention to what follows next because all of these laptops are EXTREMELY expensive. 
Call of Duty: Warzone 
Call of Duty:  VanGuard
---
A lot of conclusions to draw from here but the main takeaway here should be that:
1080P: Only 3070RTX & 3080RTX GPU opearting at high wattage (140W-155W) will give you BETTER performance than 3060RTX (full wattage) laptops.

Do not buy 3070RTX/3080RTX GPUs unless you know for sure they're running at high wattage!

1440P: The low wattage 3070RTX & 3080RTX GPUs are USELESS even at 1440p compared to full wattage 3060(130W) GPUs. 

Do not waste unnecessary cash on low wattage 3070RTX & 3080RTX laptops

3070RTX vs 3080RTX: you are not guaranteed to get more framerates from a 3080RTX GPU even if it's running at higher wattage. 
Conclusion: Buying 3070RTX & 3080RTX is extremely tricky. It's best to buy the exact same model you see on the benchmark list to be completely sure you'll get the framerates you're after
Now it's true that any game that has several players on a map with lots of buildings and shootings going off will be extremely CPU intensive because all of the stuff being calculated in the background.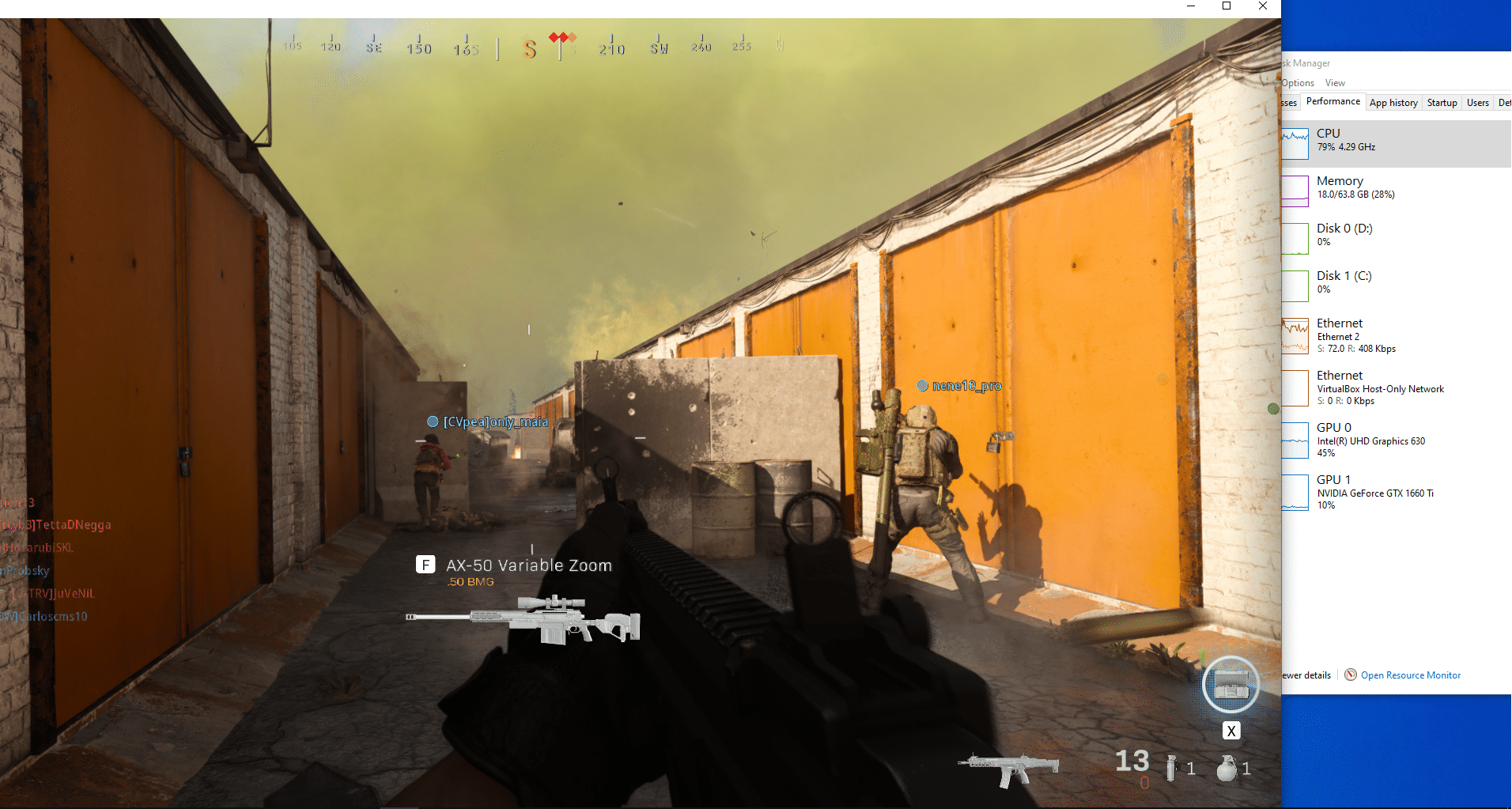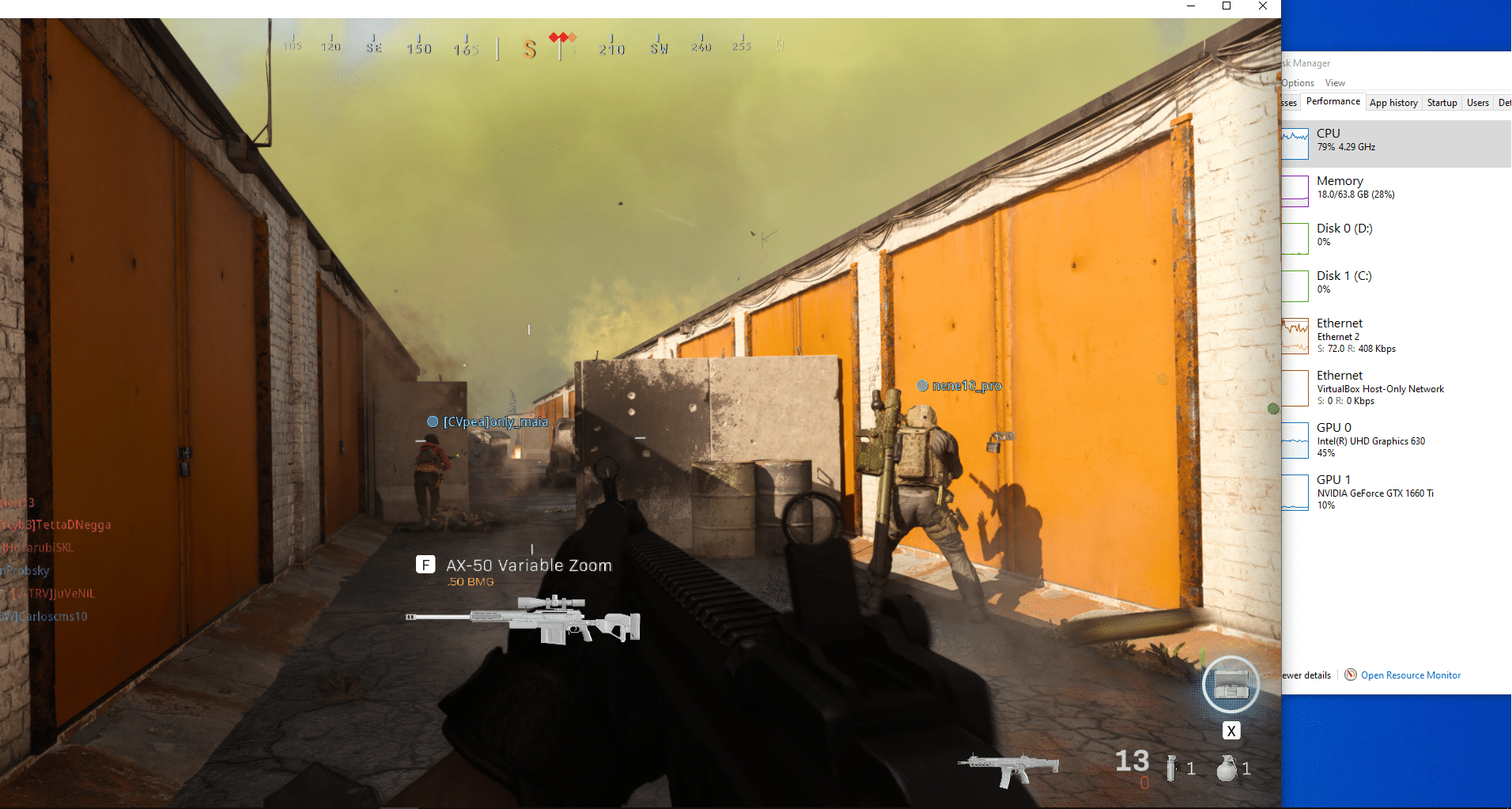 Here I'm hitting 80% on an i7-8700k DESKTOP CPU which is by far, way faster than even 11th gen laptop CPUs. It's a little insane. 
However…
On laptops, CPUs are much weaker and although some are extremely more powerful than others at the end of the day, the dGPU will handle MOST of the workloard.
So instead of worrying about which CPU is faster, you should first make sure you're getting the HIGHEST WATTAGE for a given dGPU that would give you FAR MORE FRAMERATES than a faster CPU.
Once you've chosen the best dGPU with the highest wattage,  then consider  CPU's performance.
Cores vs Frequency
Now assuming you've got a lot of options with the same GPU and WATTAGE ( sorry to sound like a broken record), the best CPU for the game will USUALLY be the one with more "clock speed performance". 
Not the one with the highest number of cores.
Call of Duty is a multi-threadd game TRUE!
However it will only use up to four cores and most CPUs, if not all CPUs, found on laptops have at leat FOUR.
CPU Performance 
RAM
8GB vs 16GB
Most games will be fine with 8GB and a dGPU but this is not the case for Call of Duty because the game takes a huge amount of vRAM. It will probably use all of it once you max out settings. Once it does that it will need a little more than 8GB RAM.
This is why I originally had some minor issues with 8GB until I upped my RAM to 16GB, the ram run NOTICEABLY better (~15+ fps).
DDR5 vs DDR4 vs DDR3
What actually gets you a lot more framerates is faster RAM. The latest is DDR5 but you're not going to find these until mid-2022 unless you buy one of the latest 3080Ti laptops with the 6th gen Ryzen or 12th gen Intel CPUs.
Dual Channeled
Most benchmarks ran here had laptops with dual-channeld RAM which is just RAM divided into two portions : x2 8GB RAM (16GB RAM) , x2 4GB RAM (8GB), etc.
This sounds simple but it makes a huge difference on framerates too way more than "getting a better CPU" after you maxed out on the dGPU.
Storage
Size
Most laptops now have Solid States Drives and that's good because the game needs super fast reading speeds (installation files are several Gigabytes each). The problem with SSDs is that they have limited storage size, usually 256GB and you'd have to pay a little extra to 512GB.
256GB: This is only useful to install one version of the game. Modern Warfare or Warzone.
512GB: You're going to need this much if you want to have all four: Black OPS 4, MW, Warzone & Vanguard.